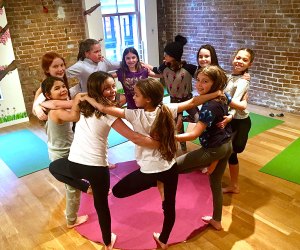 Girl Power: Classes, Camps, and Workshops Just for Girls in NYC
One of my greatest priorities in raising a young girl is to give her a strong foundation, so that she has a positive self-image and feels empowered to be herself. Part of that work involves seeking out girls-only spaces across the city where she feels heard, valued, and has the opportunity to meet strong-minded, brilliant female role models.
There are more than enough opportunities to keep kiddos busy in the city, but girls-focused programs are specifically designed to allow girls to explore their world freely. From STEM to sports, many of these programs are run by women who, of course, know what it's like to be a young girl coming into her own.
We've rounded up our favorite activities, camps, and programs that pack major girl power. Be sure to click through to the listings for all the details, including times, locations and recommended ages. You can search through dozens of classes by type or location in our Classes Guide and Directory Listings as well.
14th Street Y Girls Only Basketball — East Village
Geared toward girls who have a passion for basketball and want to improve their game, this class focuses on individual skills including dribbling, shooting, passing, defense, and rebounding. The skills are developed during mock basketball game situations as well as drills. This is a fun, stamina-building way for girls ages 6-9 to learn basketball.
The Brooklyn Robot Foundry — Upper East Side, Tribeca, Boerum Hill, Park Slope
​The Brooklyn Robot Foundry is a workshop and camp program for K-4th graders who are interested in hands-on STEM projects, including robotics and other types of engineering. This year, the Foundry began offering girls-only classes at all locations to encourage girls to explore the wonders of engineering.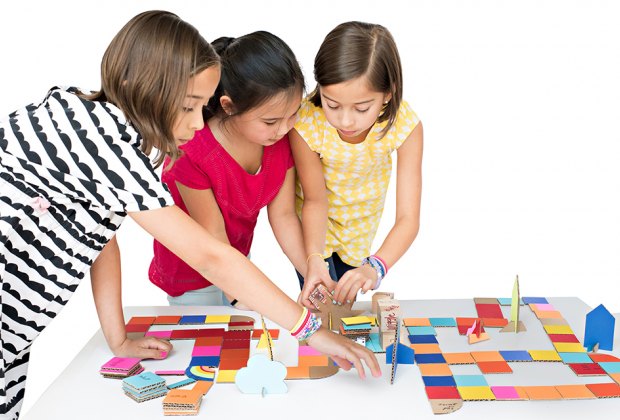 Curious Jane gives girls a love of science and creativity. Photo by Caroline Kaye
Curious Jane — Gowanus, Brooklyn
Curious Jane was founded in 2009 by a Brooklyn-based mother who wanted to give her daughters, and all girls, a place to be creative in a fun, high-energy environment. Classes revolve around science, design, arts, and engineering, and empower girls through hands-on, project-based work. They also offer summer programs, birthday parties, and workshops, and publish a magazine for girls age 6-11.
Dynamo Girl — Midtown East
Dynamo Girl offers girls ages 5 and up an all-female, safe and encouraging environment in which they can become better athletes. Founded by an athlete and graduate of all-women's college, the program is designed to eliminate the intimidation of intense competition or self-consciousness of a co-ed environment. The space allows girls to try new things and take risks both physically and emotionally, while building their courage and confidence.
Fashion Camp NYC — Garment District
Fashion Camp NYC introduces girls ages 12-18 to the world of fashion through classes with industry professionals, projects, and trips to stores and showrooms around New York City. Campers learn about career and internship opportunities, develop new skills, and make friends from around the world.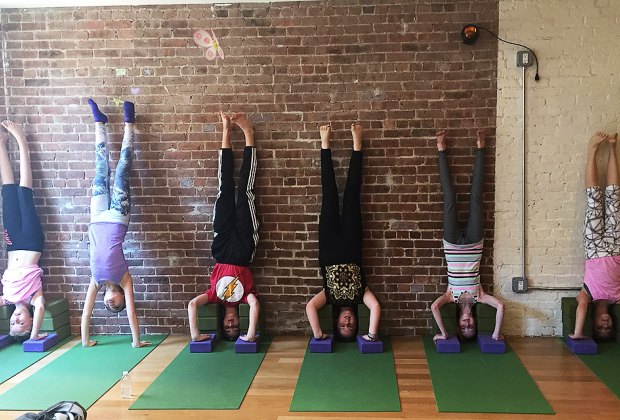 Learn the art of strength through yoga at Girl Power Yoga. Photo by Luke Volpe
Girl Power Yoga — Flatiron
A non-competitive space where girls age 7 and up can let go of their anxiety and feel great about themselves, Girl Power Yoga teaches basic and challenging yoga poses, as well as partner and group poses. Together, girls journal, meditate, and participate in games that encourage supporting one another and learning about themselves. The focus is on positive self-image, self-love, strength, and kindness towards oneself and others.
Girls on the Run — Dumbo, Brooklyn
Girls on the Run, open to girls in third through eighth grades, creatively integrates running into a fun, experience-based curriculum that builds confidence and strength. Meeting twice a week in small teams, girls learn life skills and celebrate the joy of movement. At each season's conclusion, the girls and their running buddies complete a 5K event, giving them a tangible sense of achievement as well as a framework for setting and achieving life goals.
The GirlCode Program — Upper East Side, Upper West Side, Park Slope
The GirlCode Program aims to inspire girls to see the power in coding. Through classes and summer camp, small groups of girls to learn how to code, meet amazing female mentors in tech, and immerse themselves in a startup community. Summer camp is offered in one week, two week, or four week packages. Girls of all coding skill levels are welcome.
Girls Who Code Immersion Program — Chelsea
This 8-week program for high school juniors offers hands-on experience in a technology company or university setting. Intensive, daily classroom instruction in robotics, web design, and mobile development is paired with talks, demonstrations, and workshops led by female entrepreneurs, CEOs, developers, designers, and computer science majors that serve as mentors and role models throughout the program.
Mischievous Goddess Camp — Tribeca
This Goddess Summer Camp invites girls ages 5-7 to learn about historical goddesses from around the world. The curriculum focuses on empowerment through meditation, crafts, and dance. Little goddesses will learn about nature and environmentalism, so they can become advocates in the future.
Soccer Friends USA — Forest Hill, Queens
Soccer Friends USA offers all-girls classes for ages 4 and up. This program promotes the enjoyment of soccer and the importance of an active lifestyle. Each class focuses on setting and achieving goals, while building confidence.
Willie Mae Rock Camp For Girls — Prospect Heights, Brooklyn
Willie Mae Rock Camp for Girls empowers girls through music education volunteerism, and activities that foster self-respect, leadership skills, creativity, critical thinking, and collaboration. The camp is a one-week summer day program where girls learn how to play musical instruments, write songs, perform their own music, attend workshops, make band T-shirts and buttons, and generally rock out. In the fall, Willie Mae Music Lab offers group lessons for many instruments, for girls ages 8-18.