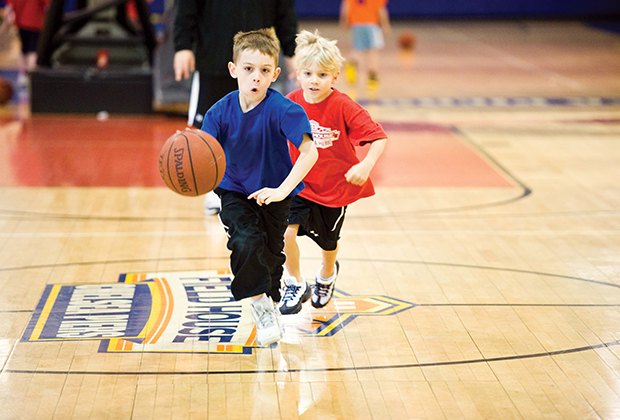 Basketball Classes and Lessons for NYC Kids
Baseball may be our national pastime, but drop by any of NYC's parks and it seems like basketball is the local favorite.
In New York City, there are many basketball programs that teach kids the basics in friendly, non-competitive environments. They differ from basketball leagues, which assume players are ready for full-on competition. With these intro-to-basketball classes, kids learn the rules and fundamentals, and work up to one-on-one or small-team play.
Here are 15 basketball programs for kids in NYC, along with info on where to find FREE one-off clinics. You can find more posts about kids' sports classes in our Classes Guide and class directory.
Basketball Learn-to-Play Programs
14th Street Y – East Village
344 East 14th Street, between First and Second Avenues
Ages 6 to 14
This popular neighborhood hub offers a variety of clinics in addition to league play. New players can participate in a beginner's clinic while more experienced players can try out for an advanced "Hard to Guard" clinic that focuses on developing offensive moves. A girls-only clinic is also offered, as well as shooting, rebounding, and dribbling clinics.
Asphalt Green – Battery Park City
212 North End Avenue at Murray Street
Ages 3 and older
The athletic complex's Battery Park City location offers coed classes organized by age. Its Upper East Side location offers some community hoops leagues and a court open to the public during certain hours, but not a full complement of learn-to-play classes.
Aviator Sports Youth Development Program – Marine Park, Brooklyn
3159 Flatbush Avenue
Ages 5 to 17
In weekly Saturday sessions, kids learn game basics through drills and scrimmages at this massive sports facility in Floyd Bennett Field. For kids who have mastered those skills, Aviator offers in-house basketball leagues and travel programs. There are summer camp options, as well as one-day camps and private lessons.
Basketball City – Lower East Side
299 South Street
Ages 7 to 17
Basketball City offers programs for players of all levels beginning with youth development leagues at age 7. Competitive 3-on-3 leagues are also available; there's an in-house AAU team, too. Individual and group lessons are offered as well as one-day and summer-long camps.
Breakaway Hoops – Manhattan, Brooklyn & the Bronx
Various locations. Visit website for details.
Ages 5 to 15
This Harlem-based organization offers weekend developmental clinics for kids as young as 5. As kids gain more experience, league play is available, too. Breakaway also offers one-day, break, and summer camp options as well as birthday parties.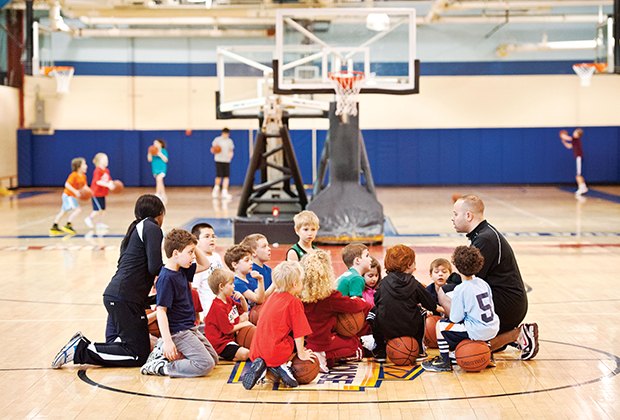 Kids huddle for instruction at a Chelsea Piers basketball clinic. Photos courtesy of the venue/organizations.
Chelsea Piers – Chelsea
62 Chelsea Piers
Ages 3 to 14
Chelsea Piers Field House offers Saturday basketball clinics, where kids work on the basics through drills, scrimmages, and individual lessons. Older kids end their semesters with a basketball showcase.
Dribbl – Manhattan and Brooklyn
Various locations. Visit the website for details.
Ages 3 to 13
Dribbl began in the early '90s as the basketball program for the Dalton School on the Upper East Side. Today it teaches hundreds of boys and girls from all over the city (and beyond!) the basics of the sport in a fun, recreational, no-pressure environment.
Elite Skills – Bayside, Queens
PS 213 (The Carl Ullman School), 231-02 67th Avenue
Ages 3 to 17
Elite Skills offers developmental clinics for kids in addition to league play, camps, and birthday parties at the gymnasium in PS 213.
Fastbreak Sports – Upper East Side
1629 First Avenue, between 84th and 85th Streets
Ages 5 to 18
This high-tech sports academy operates clinics in a spiffy, three-floor, 8,000-square-foot training facility. After-school classes are offered by grade, and weekend classes include extended game play. Competitive teams are also offered, and if you have a hoops-loving kid on your hands, you might consider scheduling his or her next birthday party here. If you've got a wee one who can't wait to get into the game, try Fastbreak Kids Multi-Sport Program for kids ages 1 to 5.
First Shot Basketball School – Queens
Various locations. Visit the website for locations.
Ages 3 to 15
First Shot Basketball was created to help kids build self-esteem through sportsmanship. While the program gets more competitive as children age, younger students shoot junior-size balls at low hoops, and paid coaches are taught to "sandwich" instructions between a pair of positive statements about what children did right. Class sizes are kept intentionally small to allow a high coach-to-kid ratio.
The Little Gym – Citywide
Visit the website for locations.
Ages 3 to 6
For the smallest sports fans, there's Little Gym's "Sports Skills" class. To be clear, this is not strictly a basketball lesson. Kids enjoy drills and games covering a gamut of top sports, including basketball, golf, baseball, football, and soccer. But we thought it was a good option to include here in case you want to explore which sport, basketball or another, your child might enjoy most.
Manhattan Youth Downtown Basketball League – Tribeca
Various locations. Visit the website for details.
Ages 7 to 14
The Downtown Basketball League offers play for boys in grades 2-9 and girls in grades 2-7. Seasons begin with a practice period, where players are taught skills and pitted against one another in scrimmages in November and December. The real fun begins in January: Children are divided into teams for league play. Games are held at local schools on weeknights through March. Manhattan Youth also offers clinics for boys in grades 1-5 and girls in grades 1-7.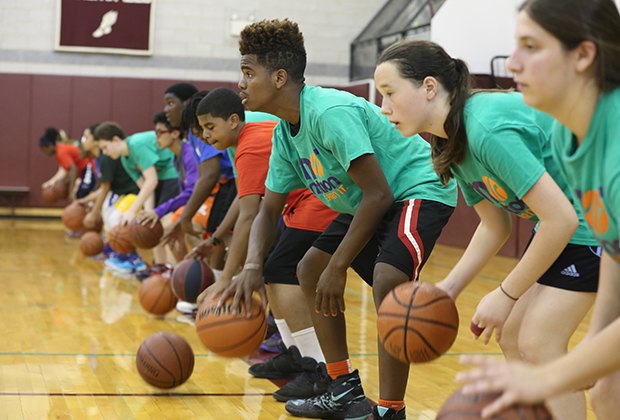 Dribbling drills at Mo' Motion's basketball clinic.
Mo' Motion – Upper East and Upper West Sides
Various locations. Visit the website for locations.
Ages 5 to 18
This nonprofit offers hoops for boys and girls as young as kindergarten during weekday outdoor sessions (weather permitting), weeknight clinics, and weekend indoor programs. Youngsters follow a "Train & Play" format, where time is split between individual skills work, group drills, and, at session's end, scrimmage time. Older players can participate on a team in the Gotham Basketball League.
YMCA – Citywide
Various locations. Visit the website for details.
Ages 4 and older
My 8-year-old son first tried basketball this summer at our local Y. Depending on your location, programs take place after school or on weekend mornings, and it's one of the best deals in town. Prices for nine-class sessions vary by location, but start at about $100.
Yorkville Youth Athletic Association – Upper East Side
Various locations. Visit the website for details.
Ages 3 to 18
One of the oldest community sports groups in NYC, the YYAA offers a basketball league for players of various abilities in Pre-K through 12th grade at locations on the Upper East Side. Kids who outgrow the rec league can graduate to the "Next Level Academy" before moving on to play travel ball for the Eagles.
Free Basketball Clinics
The city Parks Department offers a FREE Jr. Knicks & Jr. Liberty Basketball League from January through April each year; it's also worth checking the calendar for possible one-off clinics.
Battery Park also hosts free weekly basketball lessons in Rockefeller Park during spring and summer. No commitment is required; just show up.
A version of this article was first published in August 2013, but has since been updated.
Photos courtesy of the venues/organizations.