NYC Summer Day Camps With Swimming Programs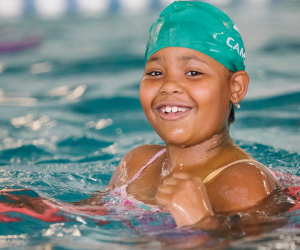 If swimming is a must when it comes to selecting a summer camp for your city kid, you're in luck. Here in NYC, not only will you find camps totally dedicated to swimming, but also traditional day camps where taking a dip is almost always on the agenda, and totally unique camps that combine sports or STEM activities with prioritized pool time.
Whether your kiddo is ready to work on their backstroke or just eager to play a round of Marco Polo, we've gathered some of our favorite partner camps that offer awesome swimming programs in Manhattan, Brooklyn, and across the city. Of course, there are loads of additional options out there. For even more ideas, check out our New York City Camp Guide and our Summer Camp Directory by location, type, and age!