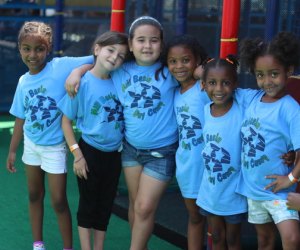 Mill Basin Day Camp is dedicated to providing an exciting and fulfilling camp experience for children ages 2.5 to 14 by offering fun recreational, social, and educational activities. There are 6 unique camp programs available based on your camper's grade in the upcoming September.
All activities take place in Mill Basin Day Camp's fully air-conditioned modern facility, which includes one of the largest outdoor pools in Brooklyn—complete with 4 slides. Parents and families are always welcome to come and tour the facility.
Customize a schedule, with options for 4-8 weeks of enrollment and 3, 4, and 5 days per week. There is a 4-week minimum requirement, which can include any 4 weeks of your choosing. Preschool camp runs from 8:45am-3:30pm daily; all other camps run from 8:45am-4:00pm. Extended days are available if needed. Door-to-door air-conditioned bus service is available to Brooklyn, Queens, Staten Island, and some parts of Long Island.