25 Free (and Educational) Things to Do with Kids this Summer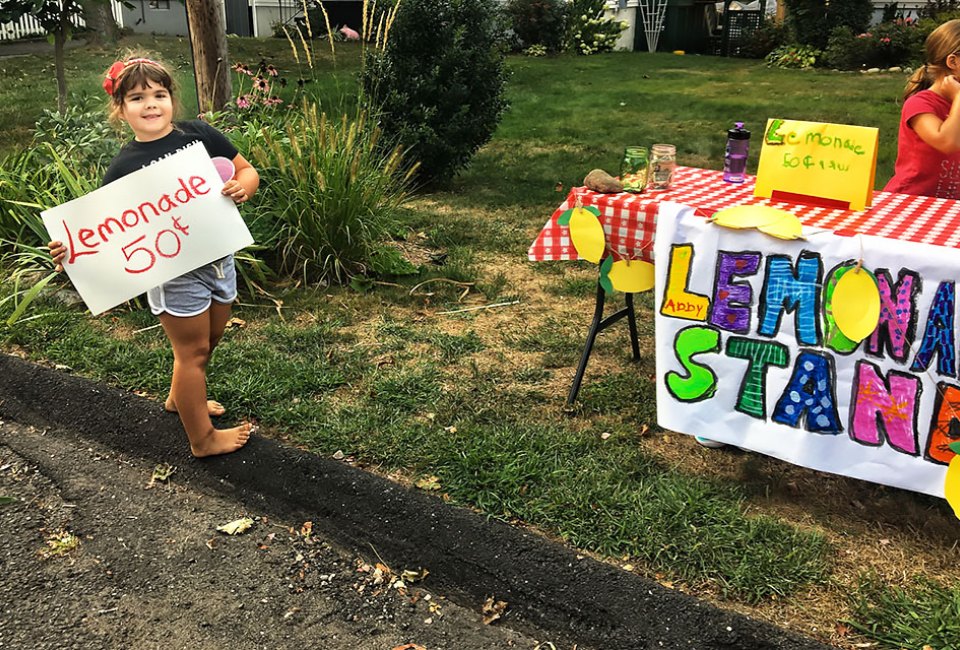 7/16/18
- By
Ally Noel
Summer is all about going to the beach, eating ice cream, exploring the outdoors, and having family-friendly fun—no "reading, writing, and arithmetic" allowed...Right? Well, it turns out that there's a whole world of educational fun to be had while your family enjoys summer, from exploring marine habitats at the beach to learning about science while making your own ice cream.
Whether your summer vacation takes you to the forests of Yosemite or the beaches of Mexico, here's a list of 25 ways to keep kids learning—while having fun—all through their school vacation.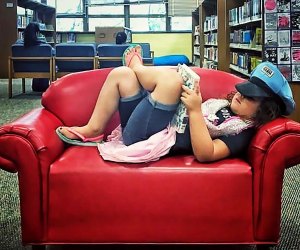 Visit your local library and other nearby libraries for fun and educational summer programming.
1. Hit the Library
Let's start with the obvious—just about every public library across the country has a summer reading program that comes with amazing incentives! There are prizes, kick-off events, patches, ice cream socials and more—all to keep your little ones reading all summer long.
2. Work out the Answer to "Are We There Yet?"
If Car A is traveling at a rate of 55 mph and Summer Vacation is 200 miles away, then how long is it until we are THERE? Just because you are stuck in a car for a seemingly endless amount of time, doesn't mean there's nothing to learn: Atlases and road maps encourage map skills (and a sense of adventure), and with a little bit of basic math, your kids can figure out just how long they have left in the backseat.
3. Download an Audiobook
If your 6 year-old is desperate to read those Harry Potter books she's heard so much about, but she's not quite "there" yet with her reading skills, audiobooks can be a fantastic way to introduce kids to books above their reading level. They also help build listening skills, teach new vocabulary, and—especially for reluctant readers—can bring books to life. An engaging audiobook can also bring peace and calm to a road trip or plane ride: Everyone wins!
Related: 9 Must-See Dinosaur Theme Parks Across the US

Explore nature with your kids this summer: It's still the world's best classroom!
4. Spend Some Time Outdoors
Step away from the screens, and head outside. Outdoor play is an important part of childhood, and requires absolutely no preparation beyond opening your door. Climb, swing, explore—children learn best when they push their limits.
Related: 25 Easy (But Beautiful) Family Hikes Across the US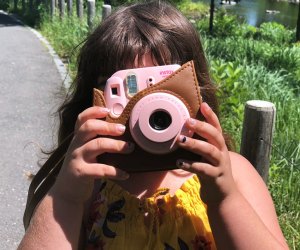 Capture memories of your summer hikes by taking photographs along the way.
5. Become a Nature Photojournalist
Grab a camera, and hit the trails! One of our favorite things to do in the summer is go for hikes. You can add a bit of educational fun to any trek by bringing along a camera to photograph plants, flowers, and other wildlife. When you come home, see if you can identify your findings (we love using the app Seek to help us out!)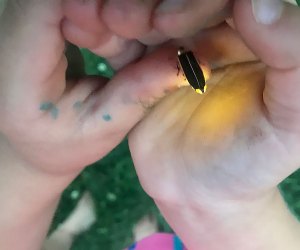 Get dirty and catch bugs!
6. Play "Bugs vs Insects"
"What kind of bug IS that?" Hone your observation skills and see if you can figure out what makes an insect an insect, or are insects different than bugs? (Hint: they are!)
Related: Experiments, Crafts, Recipes, and Hundreds More Boredom-Busters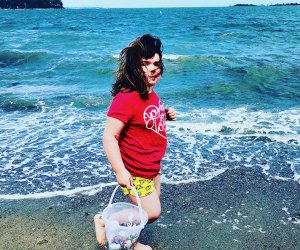 A trip to the beach is relaxing, fun and educational.
7. Plan a Trip to the Beach
Whether you are going on a beach vacation or just a day trip, a trip to the beach presents tons of learning opportunities. For preschoolers, the simple act of digging in the sand or searching for seashells develops fine and gross motor skills. Older kids can enjoy identifying marine life and making observations about habitats. Even before you step out the door, you can engage kids' critical thinking skills by asking them to help you pack: See if they can figure out what you all need to "survive" a trip to the beach.
8. Practice Writing with Water
When you pack for the pool, make sure to stash a paint brush in your bag! Practice writing your letters with this sneaky trick that will keep your kids cool and develop fine motor skills over the summer months.
9. Spend a Day in a Fort
Take a page out of the Waldorf educational philosophy, and encourage your child to build a fort! No need to buy any of those fancy fort building kits you've seen in toy stores. Use natural elements—like branches and leaves—or common household objects like sheets and chairs. Sit back, and watch your child build and explore new worlds.
10. Survival 101: Build A Fire
There are some things that kids need to learn that they are not taught in school—campfire building is one of those things. Next time you are sitting around a campfire, arguing about what to use for tinder or what shape to set up the logs, realize that you are teaching more than just survival. You are fostering confidence and self reliance, and about a bazillion other things that are mentioned in this fantastic article.
11: Edible Science: Make Ice Cream
You don't need any specialized equipment to make ice cream at home. Examine concepts like change of state and the scientific reactions that occur when you mix sugar, half and half, ice, vanilla, and salt. Get the recipe here.
12. Plan a Family Game Night
Whether you play Uno, Chutes & Ladders. or Scrabble, you can practice number and shape recognition, reading, and social skills—all while having some quality family time.
13. Get a Pen Pal
The learning benefits here may seem obvious, but here is no better feeling than getting mail that's addressed to YOU when you're a kid. Go old-school snail-mail with this literacy building activity. Whether you choose a family member, or use a website to find a buddy on the other side of the world, this summer activity helps keep everyone writing all summer long.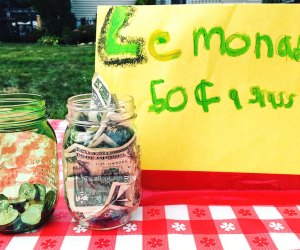 Make a bit of money and have tons of fun running a lemonade stand.
14. Set up a Lemonade Stand
How much should you charge? Where should you set up? How do we tell people about us? What do we sell? How much change do I give? There's a whole lot of learning going on in that lemonade stand.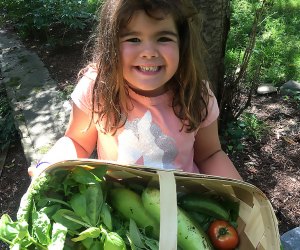 Whether you are a member of a community garden, have a windowsill, deck or a backyard, you can grow veggies with your kids.
15. Grow a Vegetable
Schoolhouse gardens are popping up all over the country—and with good reason! Children can learn the importance of responsibility by taking care of their plants, while becoming more self-confident about food choices.
16. Cook up Some Math in the Kitchen
Baking is all math, with delicious results! See if you can figure out how much flour you would need to double or triple a recipe.
17. Go on a Book Picnic
Pick one of your favorite books, and turn it into a picnic! What would curious George Eat? Why, bananas of course! Get some inspiration for 5 fantastic book picnics here.
18. Keep a Vacation Journal
There are too many benefits to traveling with kids to list here, but getting them to actively journal about their experiences is priceless. Vacation journals solidify travel experiences in a way that allows kids to reflect and extend their knowledge.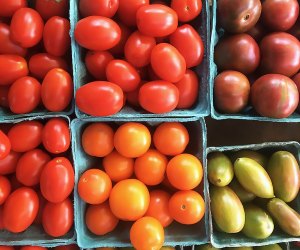 Whatever you can't grow at home or in a community garden you can pick up at your local farmer's market
19. Visit a Farmers Market
Taste the sweetness of local produce at your local farmer's market. Plan a scavenger hunt with your kids and see if you can encourage them to taste the rainbow.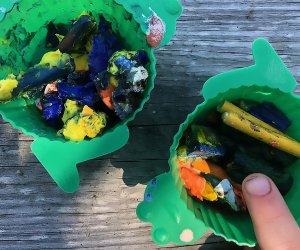 Melting stuff in the sun—cool!
20. Melt Stuff in the Sun
It's HOT out there. But, is it hot enough to melt an ice cube? How about a crayon? Try this simple activity to take advantage of the summer's sun!
21. Shoot Some Hoops
Perfect your free throw and learn about trajectories, motion, statistical probabilities, physical obstacles, and bunch of other "real world" mathematical concepts with a game of basketball. Learn all about them here.
22. Go Fly a Kite
If kites were good enough scientific instruments for da Vinci, Franklin, and Marconi, then they'll inspire your kids, too! Older kids will learn all about lift, drag, horizontal tension, and gravity while trying to engineer the perfect kite.
23. Host a Summer Reading Movie Festival
How many times have you said "you have to read the book before you watch the movie!" Organize a summer reading book club—and keep your end of the deal! Read Charlotte's Web and then set up a movie night for everyone. Since it's summer, you can even set up a backyard movie theater for the whole neighborhood to join.
24. Free Museum Days
The educational benefits of going to a museum may be obvious, but the cost of taking your family to a museum is out of reach for many. While everyone is out of school, take full advantage of the free admission hours that many museums around the country offer.
25. Treasure Hunt with Geocaching
Learning about geography while searching for treasure? Sign me up! There are geocaches hidden all over the world! For added educational value, you also get to work on important 21C skills like collaboration. A simple web search for "geochaching" will get you off on the right foot.
All photos by the author