Halloween Weekend Things To Do in New Jersey: Pumpkin Patch, Boo at the Zoo, Halloween Parades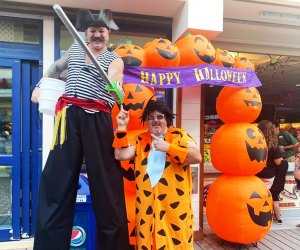 Looking for the best things to do in New Jersey this Halloween weekend? Here are some family-friendly events and activities to add to your list for the Halloween weekend.
It's time to scare up some fun this weekend with the arrival of Halloween! The holiday brings with it a bevy of Halloween activities, from Halloween events at zoos to Halloween drive-thrus, plus plenty of spots to score treats at trick-or-treats and trunk-or-treat events in Cape May, Robbinsville, North Wildwood, and Glassboro among many others. Be sure to show off those Halloween costumes at Halloween parades in Toms River, Glen Rock, Hoboken, and Hopewell, and find more sweet and spooky things to do this weekend in our Guide to Halloween Fun for New Jersey Families.
Look for more Halloween events on our list of the best trunk-or-treats in New Jersey, plus check out our picks for the best trick-or-treating spots in the Garden State.
More Things To Do in New Jersey this Week with Kids: