Best Places To Trick-or-Treat in New Jersey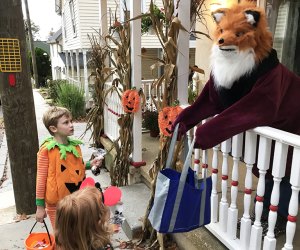 10/14/22
- By
Kaylynn Chiarello Ebner
If you're looking to up your Halloween game this year, we've got the scoop on the best places to trick-or-treat in New Jersey. These Halloween-obsessed New Jersey towns and neighborhoods deck out their homes every year with fabulous Halloween decorations to delight trick-or-treaters big and small. Others turn their streets into festive Halloween block parties.
Where can you join in the fun near your home? We've compiled a list of more than 30 towns and neighborhoods that are worth a visit for trick-or-treating in New Jersey. Those who make the trip can expect lots of treats—not to mention some prime photo-ops.
Find more fun in our Halloween Guide for New Jersey Families, including where to go pumpkin picking and the best FREE Halloween events for local kids.
Subscribe to our newsletters to get stories like this delivered directly to your inbox.
Remember, if you're a guest in these neighborhoods, remind the kids to treat homes and decorations with an extra level of respect. Since big trick-or-treating crowds mean big bucks for homeowners, pitch in if you find a donation bin or crowd-sourcing fund. Or, surprise a couple of generous homeowners by paying it forward with a small token of appreciation or a few bags of candy for them to give out to others.
Where To Go Trick-or-Treating in Bergen County
Alpine
This affluent community (home to many celebrities) puts up incredible decorations every year and is known to be very generous with goodies, which are reported to include full-size candy bars and small gift cards!
Need a little trick-or-treating appetizer? The Fort Lee Business District Alliance holds a nice Falloween event on Halloween afternoon, where kids dress up and trick-or-treat for a celebration in Hudson Lights Park. There's also balloon sculpting, live music, face painting, and free refreshments for all ages.
RELATED: Halloween Train Rides in New Jersey for a Family-Friendly Fall Trip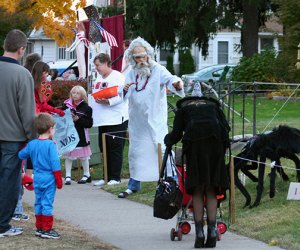 Clinton Place is known as Hackensack's "Halloween Highway." Photo by John Kay via Flickr
Hackensack
Clinton Place is known for having creative and over-the-top Halloween decorations on nearly every home on the street. Each house is more elaborate than the next, with themes that range from scary and macabre to pumpkin-patch sweet. Day or night, you won't be sorry to spend some time on Hackensack's "Halloween Highway." Some years, this community event also doubles as a fundraiser for local charities.
Oakland
Halloween in the college streets section of Oakland is lovely. Homes put out beautiful decorations and play music, and some streets are closed to traffic, making for a laid-back block party vibe.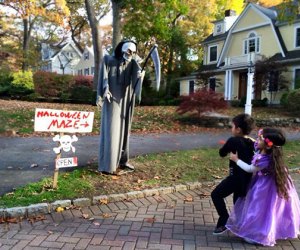 Bring little ones to Ridgewood's Halloween Maze in the daytime, before it gets too spooky.
Ridgewood
Don't miss the Halloween maze on 124 Sheridan Terrace, where the Stewart family turns its backyard into a huge haunted maze that can take up to 30 minutes to travel through. Got young kids? Go in the daytime before the maze creatures come out.
Saddle Brook
The town's annual Halloween house-decorating contest typically has a lot of participants (such as homes on Oxford Avenue and Nedellec Drive), making trick-or-treating extra fun. Drive by after judging night (Saturday, October 30) for a spooky, fun-filled car ride.
Where To Go Trick-or-Treating in Passaic County
Clifton
Every year Dr. Wayne Gangi fills his lawn at 562 Grove Street with an extreme Halloween display. It's pretty scary at night, so take care when visiting this spooky Halloween house with younger kids.
Hawthorne
Not for the faint of heart, the Hawthorne House of Horrors at 193 Lafayette is packed with tons of visitors from the afterlife. It's a traffic stopper for sure!
Wayne
218 inflatables on one lawn?!? Yep, that's what you'll find at the Martorana house at 396 Fairfield Road. This house normally attracts close to 1,000 trick-or-treaters with its display, which is inflated daily 8am-12 midnight.
Entire families get in on the Halloween action, decking out their strollers like parade floats for the annual Ragamuffin Parade, which kicks off at 11am on Washington and 13th Streets. Retailers along Washington Street dole out treats for the crowds, and savvy trick-or-treaters detour to upper Bloomfield Street for a big candy haul.
For family-friendly Halloween fun, check out Newark Avenue Pedestrian Mall for tons of trick-or-treating. Some years, there are kid-friendly events like face painting, a bouncy house, and music. Some fees apply. Businesses along Central Avenue in the Heights attract hordes of trick-or-treaters in the afternoon, too.
RELATED: 20+ Free Halloween Events and Parades in New Jersey for Kids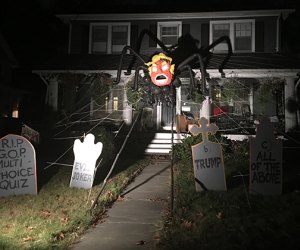 Houses on Prospect Street in Maplewood get creative—and occasionally political. Photo by Rose Gordon Sala
Where To Go Trick-or-Treating in Essex County
Maplewood Avenue (between Baker and Durand) usually closes to cars from 2-5:30 pm for trick-or-treating, music, a parade, and a costume contest on Halloween. Trick-or-treaters' favorite territories include the neighborhoods along Maplewood Avenue, just west of it, and also Golf Island, a sliver of the town lodged between the middle school and the golf course. Those looking for truly tricked-out houses, though, should head to Prospect Street, a long and busy thoroughfare lined with grand homes, many bedecked in ghosts and goblins. There are also some spectacularly decorated homes on Clinton, Salter, and Summit.
Montclair
Locals know Montclair and Midland Avenues are great for trick-or-treating, with lots of beautifully decorated homes. And visit the businesses on Bloomfield and Church streets for extra goodies.
South Orange
Spooky spirits take over downtown for the annual Halloween Festival, which takes place in Spiotta Park from 11am-1pm on Sunday, October 30. The festivities include a costume contest, a visit from Wanda the Giant Witch, and trick-or-treating at local businesses.
Where To Go Trick-or-Treating in Morris County
Chester
Home to popular pick-your-own haven Alstede Farms, Chester has become a fall destination for families throughout the tri-state area—and Halloween night is no exception. Many downtown businesses love visits from trick-or-treating ghosts and ghouls.
Denville
A source close to the action recommends heading to downtown Denville for some excellent trick-or-treating at local businesses, where merchants hand out top-notch treats.
RELATED: Cool Pumpkin Displays, Festivals, and Decorating Events in NJ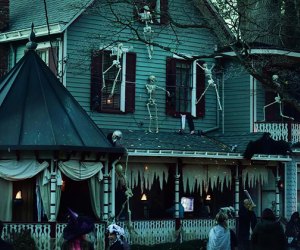 Don't miss the spooky sights at the Dead and Breakfast Inn in Madison.
Madison
The large old houses in Madison make it a fun place to trick-or-treat, and the Dead and Breakfast Inn at 100 Ridgedale Avenue takes decorating to another level. Every window, porch, and tree is decked out with spooky visitors.
Roxbury Township
The Halloween House on Alcott Way in the Succasunna section of Roxbury has been treating visitors to amazing Halloween scenes for years. It takes a month to build this incredible display, which includes tons of skeletons, a graveyard, and an enormous pirate ship complete with a "shooting" cannon. Note that some decorations are a little bit on the scary side, so use discretion with very small children.
Where To Go Trick-or-Treating in Union County
Rahway
An extreme Halloween display haunts Rahway every year on Maple Avenue, courtesy of the D'Emilio family. From zombies and ghouls to jump-out props, this house is sure to raise the hair on the back of your neck. Also in Rahway, there's a Halloween Spooktacular event on Saturday, October 29.
Roselle Park
Bender Avenue is known as Halloween Central to the locals. What was once just a small house-decorating contest has morphed into a not-to-be-missed Halloween event that attracts thousands of people every year.
RELATED: Halloween Drive-thrus Near Tri-state Area

Halloween means it's time for candy galore! Photo by the Laurie Howard Rein
Scotch Plains
Coles Avenue throws killer block parties, and Halloween is no exception. The street is closed to cars, and homeowners treat kids to sweets and a true neighborhood party.
Westfield
Many families head to Dudley Avenue, where large homes with spectacular decorations make for great Halloween fun. On the weekends in October, the Downtown Westfield Corporation sponsors Addams Fest, a Halloween celebration of all creepy and kooky creations of local artist Charles Addams, featuring trunk-or-treating and lots more.
RELATED: Best FREE Halloween Events for NJ Kids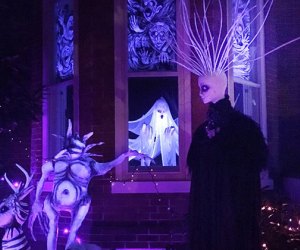 Lambertville goes all-out with its spooky Halloween houses. Photo by Kate Whitman via Instagram
Where To Go Trick-or-Treating in Hunterdon County
Lambertville
Some neighborhoods love Halloween—and then there's Lambertville, which goes above and beyond to get into the Halloween spirit. Among the streets worth visiting is North Union Street (from York to Buttonwood Streets), which boasts elaborate house decorations and neighbors who are eager to treat kids to sweets. The combination makes the area a go-to destination for thousands of trick-or-treaters every year. While you're on North Union, stop by the Halloween House of Lambertville, where a retired art teacher displays her 60+ homemade, glowing, black-light plaster figures. It's a sight you won't want to miss.
Where To Go Trick-or-Treating in Somerset County
Bound Brook
Don't miss 31 Skeletons at 281 Chestnut Street, where the homeowners create an amazing skeleton-inspired Halloween display.
RELATED: Ghost Tours in New Jersey Where Big Kids Can Investigate Paranormal Activity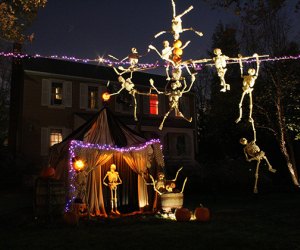 See a rotating roster of incredible skeleton scenes at 13 Skeletons in Bridgewater.
Bridgewater
Continue the skeleton tour and drive by 13 Skeletons at 948 US Highway 202/206, between Heather Hill and Bluestone. Creative scenes involving 13 skeletons magically appear on the property and are changed regularly in the weeks leading up to Halloween.
Somerville
You won't want to miss the Somerville Spooktacular on Friday, October 28. Enjoy music, activities, and entertainment on Division Street, Main Street, and a movie on the courthouse lawn. Businesses will be handing out candy to trick-or-treaters.
Where To Go Trick-or-Treating in Middlesex County
Sayreville
Homeowners here go all-out with fabulous decorations, especially some homes on Main Street.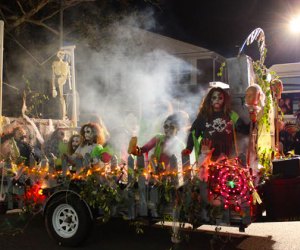 Toms River hosts one of the largest Halloween parades in the world.
Where To Go Trick-or-Treating in Ocean County
Toms River
Toms River is home to one of the largest and most amazing Halloween parades in the world! Sponsored by Toms River Fire Company No. 1, this 81-year-old parade is adored by the community. A change from years past: The 2022 parade will march on Monday, October 31 at 7pm. The parade starts at the Toms River Shopping Centre on the corner of Route 37 and Route 166 (Main Street), marches down Main Street, turns left onto Washington Street, and finishes at the corner of Hooper Avenue.
Also in Toms River—which just might be the Halloween-iest town in New Jersey—is Terror on South Main Street, a family home that transforms into one of the state's coolest Halloween attractions every year. The property hosts a trick-or-treat bash, featuring music, live actors, and plenty of candy.
Where To Go Trick-or-Treating in Burlington County
Bordentown
Halloween is taken very seriously on Thompson Street. What started as a modest community event has become a Halloween attraction that draws crowds from all over South Jersey and Philly. The town celebrates its Halloween parade on Sunday, October 30.

Spooky animatronic ghosts haunt this house in Haddonfield. Photo by the Lisa Warden
Where To Go Trick-or-Treating in Camden County
Haddon Heights
Local homes are decked out for the Halloween House Decorating Contest, sponsored by Haddon Heights Public Library, to compete for prizes for the scariest, most creative, and judge's favorite home.
Haddonfield
Head to Washington Avenue in Haddonfield for an incredible display of Victorian houses all decked out in Halloween decorations. One house is covered in crows, another has skeletons scaling it, and a third is being attacked by a monstrous spider. Our favorite spots are a house that turns its wrap-around porch into a "haunted house" you can tour and another that is covered in scary displays from every Stephen King movie. Goodies are usually top-notch here, with one home even serving its trick-or-treaters cotton candy.
Where To Go Trick-or-Treating in Gloucester County
Monroe Township
A reader tipped us off to the Williamstown area, where the Chestnut Green development really does it up for Halloween. One of the highlights is Ironwood Drive, which features an interactive/walk-through haunted house and whose owners have been known to give out full-size candy bars.
Our son is obsessed with trick-or-treating in Pitman. These adorable Victorian homes go all out with their decorations. One house last year turned their yard into a graveyard with real gravestones and posted a giant funeral home sign in their yard. The way the town is organized, in a spoke wheel pattern around the church in the center, makes it easy to visit a lot of houses in a little bit of time.
Where To Go Trick-or-Treating in Cape May County
North Wildwood
For the Jersey Shore community, North Wildwood's Trunk-or-Treat and Block Party is the place to be on Saturday, October 29. Here, it's the cars' costumes that are showcased, with prizes for the best of the best. Kids can trick-or-treat at this block party along Olde NJ Avenue between Second and Walnut Avenues from 5:30-7pm. Pre-registration is required for vehicles.
Cape May
This southern Jersey Shore town gets spooky at Halloween, and businesses along the Washington Street pedestrian mall are prime trick-or-treat stops. Cape May's annual Halloween parade is held on Sunday, October 23, beginning at Perry Street and ending at the historic Emlen Physick Estate, where prizes are awarded.
Originally published in 2016. Lisa Warden contributed additional reporting. Unless otherwise noted, photos courtesy of the houses/events