Halloween Drive-thrus in the Tri-State Area: Pumpkins, Lights, and Haunted Scenes for 2022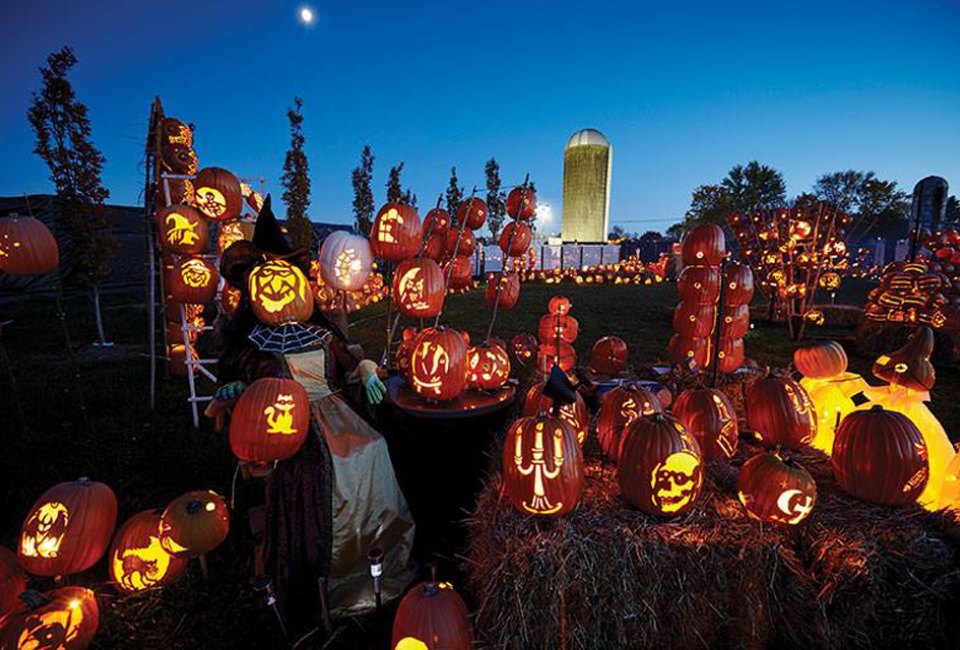 10/6/22
- By
Katie Nave
With Halloween on the horizon, we're ready to load up the car and visit a Halloween drive-thru in the tri-state area. Ranging from sweet to spooky, visiting one of these Halloween dive-thru light shows in New York, New Jersey, and Connecticut makes for a fun night out that's a bit different from the usual spooky celebrations.
So, don your costumes and hop in the car to visit one of these Halloween drive-thrus nearby. There are plenty of options for ghosts and goblins big and little, from drive-thru jack-o'-lantern displays to truly haunting scenes. We've got more seasonal picks in our Guide to Halloween Fun for Families.
Subscribe to our FREE newsletters to get stories like these delivered to your inbox.
Friday, Saturdays, and select Sundays from Friday, September 30-Sunday, October 30
Purchase tickets in advance online.
Theatrical sets and live actors transport you from the comfort of your car to Bloodshed Farms in this haunted attraction. If you want a real scare, consider upgrading to the gory "Psycho Pass" where actors and their props prod your car along the route, dousing it in fake blood, water, soap, and (of course!) ectoplasmic goo. Organizers say the attraction is all-ages, but we're more inclined to recommend it for ages 10+.
Friday, October 14-Sunday, October 16
Massive, hand-carved pumpkins are the stars of the show at this Halloween drive-thru. More than 40 pumpkins are illuminated and on display for passersby. Enjoy the view of these larger-than-life creations, accompanied by a DJ-spun soundtrack, live entertainment on select nights, and a mini-pumpkin as a parting gift. Enjoy a walk-through experience on Wednesday, October 12 and Thursday, October 13. Appropriate for all ages.
RELATED: 20 Hilariously Spooky Halloween Jokes for Kids

Take your vehicle on a guided tour through 32 acres of brilliant Halloween light displays at Demarest Farms.
Daily through Monday, October 31
Purchase tickets in advance online.
Back by popular demand, Demarest Farms is at it again mounting a spooktacular Halloween drive-thru display spread over 32 acres and purported to be the largest display in the state. Once you've navigated the orchard light show, step out of your vehicle to warm up with s'mores and hot cocoa around the fire. This event is great for all ages.
RELATED: Easy Halloween Treats for Kids

Volunteers spend months crafting the intricate displays at Wagner Farm Arboretum's Brite Nights event.
Thursdays, October 13, 20, 27
Purchase timed tickets for the drive-thru in advance online.
Wagner Farm Arboretum's popular Brite Nites Halloween drive-thru attraction returns this season. The family-focused Halloween-themed Brite Nites showcases an elaborate display of intricate, creative hand-carved, and lit pumpkins. Drive through the Pumpkin Path to view the many different displays meant to delight old and young alike and see the complex pumpkin sculptures that take volunteers months to carve. If you prefer to see it on foot, Brite Nights operates as a walk-through attraction Friday and Saturday nights from Friday, October 14-Saturday, October 29. Brite Nites Halloween drive-thru is all-ages appropriate.
RELATED: Easy Halloween Costumes for Kids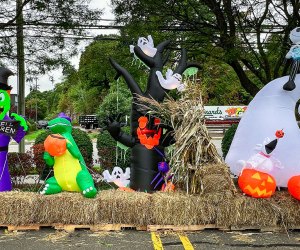 Spooky signs of the season abound at Stew Leonard's Halloween drive-thru attractions.
Daily through Monday, October 31
Families are invited to Stew Leonard's for a Halloween drive-thru celebration. Cars follow a path through more than a dozen family-friendly Halloween-themed scenes featuring inflatable characters. Perfect for kids ages 10 and younger, it's all conveniently located in the parking lot just steps from Stew's pumpkin patch. Customers can tune their car's radio to the right station to catch Clover the Cow's spooky Halloween soundtrack. Stew Leonard's is hosting similar drive-thru events at its Newington and Norwalk, Connecticut locations, plus its Yonkers, New York, store, too. The Halloween drive-thru is FREE and family-friendly.
Select dates from Friday, October 15-Saturday, October 30
Purchase tickets in advance online.
Exciting sights await on the magical Pony Trail Halloween drive-thru at Ray of Light Farm. The evening comes to life with costumed characters greeting visitors along the way and doling out treats to little ghouls and goblins as they glide by. This Halloween drive-thru is all-ages appropriate.
RELATED: 20 Kid-Friendly Pumpkin Recipes for Fall and All Year Long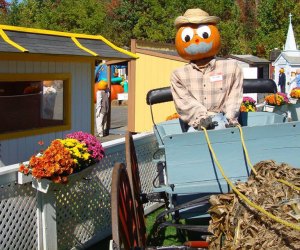 Take a ride around the popular and non-scary Pumpkintown USA.
Daily through Sunday, October 31
One of New England's premier non-scary Halloween villages, Pumpkintown USA annually draws about 25,000 visitors and is perfect for all ages. During a 1-mile drive, guests traverse the seasonal landscape to view more than 30 pumpkin people set up in whimsical woodland scenes. Reservations are required for this Halloween drive-thru. If you want to up the fun factor, pre-purchase seasonal treats to enjoy while you roll down the Pumpkintown trail. An adjacent Pumpkintown Village can be explored on foot—for an additional fee. All ages are welcome at this sweet Halloween drive-thru.
Originally published in October 2020. All photos courtesy of the respective attractions
t Click Here to Sign Up!