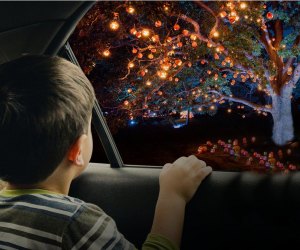 Halloween Drive-thru Events in the Tristate Area in 2020
With Halloween on the horizon, we're all trying to figure out how to find some safe, spooky family-friendly fun this season. Thankfully, the holiday isn't canceled, and many of our favorite annual attractions have gotten creative, pivoting to offer drive-thru Halloween attractions. Ranging from sweet to spooky, visiting one of these haunts makes for an out of the ordinary celebration.
So, don your costume and hop in the car to visit one of these drive-thru or drive-in Halloween attractions in New York, New Jersey, and Connecticut. We've even got the details on a preschool-friendly pick in Pennsylvania. There are plenty of options for ghosts and goblins big and little, from drive-thru jack-o'-lantern displays to haunted houses and horror movies.
Use your outing as inspiration to plan an at-home Halloween party complete with fun games and spooky snacks, and find more safe Halloween ideas in our Guide to Halloween Family Fun at Home.
Subscribe to our FREE newsletters to get stories like these delivered to your inbox.
Drive-Thru Halloween Attractions in New York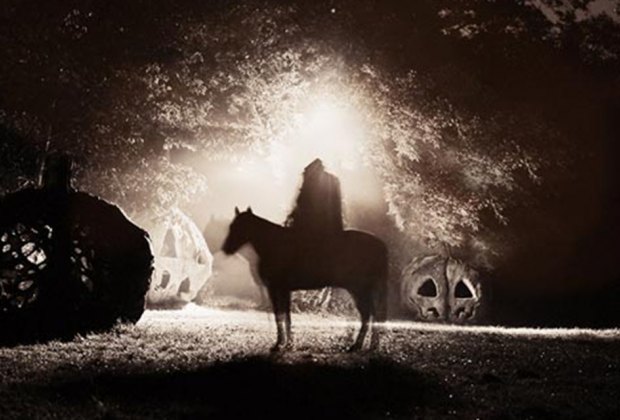 Drive through the Horseman's Trail—if you dare—and try to spot the Headless Horseman.
Fridays, Saturdays, and Sundays through Saturday, October 31
Ages 13+ for the Haunted night time attraction; children's day is all-ages
Purchase tickets in advance online.
Visitors are invited to drive through the haunted Horseman's Trail. Walkthrough attractions, like a haunted corn maze and a haunted house, are also located on the premises and observe COVID-safety precautions. The Headless Horseman also hosts Children's Days with a daytime drive-thru fun and visits from family-friendly characters.
Fridays, Saturdays, and Sundays from Friday, October 16-Sunday, November 1
Age appropriateness varies by film
Purchase tickets in advance online.
Woodbury Commons Premium Outlets hosts a drive-in Halloween experience during October weekends. Each weekend has a theme, including The Nightmare Before Christmas, Beetlejuice, and Casper. The nightly fun includes Broadway-style musical performances, stand-up comedy, trivia, raffles, treats, and (of course!) showings of the classic Halloween flicks.
Fridays and Saturdays through Saturday, October 31
Ages 13+
Purchase tickets in advance online.
This year, Gateway's Haunted Playhouse hosts The Forgotten Road, a drive-thru attraction at Southaven Park. The 1.5-mile journey invites guests to solve a haunting mystery as you're immersed in the chilling details of a 40-year-old "cold case." If you don't solve it by attraction's end, you might find yourself haunted long past your visit.
Nightly through Saturday, October 31
All-ages
Purchase tickets in advance online.
Halloween At The Park is more sweet than spooky and invites families to drive down a 1-mile path to see festive Halloween-themed displays along the spooky trail. Attractions include the witch's shoe house, the ghost's barnyard, skeleton graveyard, and the spider forest.
Daily through Saturday, October 31
Ages 10 and younger
Families are invited to Stew Leonard's for a drive-thru Halloween celebration. Cars follow a path through more than a dozen family-friendly Halloween-themed scenes featuring inflatable characters. It's all conveniently located in the parking lot just steps from Stew's pumpkin patch. Customers can also tune their car's radio to the right station to catch Clover the Cow's spooky Halloween soundtrack. This Halloween attraction isn't limited to the East Meadow location. Stew Leonard's is hosting similar drive-thrus at its Norwalk, Connecticut, and Paramus, New Jersey, locations, too.
Saturday, October 31
All-ages
Bach to Rock Music School hosts this safe, socially distant, fun Halloween celebration. Enjoy an outdoor drive-in event featuring live music, DJs, trunk-or-treating, a prize wheel, and more. Student bands and solo artists perform in the parking lot. An RSVP is required to ensure social distancing measures are followed. Space is extremely limited to 10 cars per time slot, so RSVP as soon as possible to guarantee attendance.
Saturday, October 31
All-ages
Purchase tickets in advance online.
Drive through Dracula's Farm, aka the North Shore Horse Rescue, to see Halloween-themed horses and decorated paddocks from the safety of your car. Each vehicle receives a Halloween candy basket. Space is limited, and reservations are required.
Fridays and Saturdays through Saturday, October 31
Ages 7+
Purchase tickets in advance online.
Classic, black-and-white Halloween thrillers are shown every weekend in October as part of The Center for the Performing Arts double-feature drive-in series. Films are presented on a 40-foot screen on the Great Lawn. On Halloween, guests receive a goody bag.
Friday, October 16-Saturday, October 17 and Friday, October 23-Saturday, October 24
Ages 6+
Purchase tickets in advance online.
An annual fundraiser for special needs Camp Paquatuck, Spooky Walk has pivoted to offer a drive-thru in 2020. Haunted exhibits range from the Living Hell Hospital to a spooky dance club, and an Alice in Wonderland scene more befitting a nightmare than a fantasy. All that said, the frights are generally on the mild side, making this haunt more kid-friendly than others.
Drive-Thru Halloween Attractions in New Jersey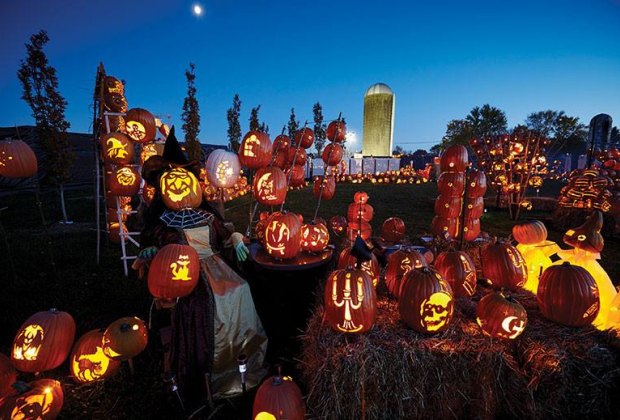 Brite Nites at the Wagner Arboretum brings the grounds to life with the glow of jack-o'-lanterns.
Wednesdays through Sundays through Sunday, November 1
All-ages
Purchase tickets in advance online.
Wagner Farm Arboretum's popular Brite Nite attraction returns for a ninth season, in drive-thru form for 2020. The family-focused Halloween-themed Brite Nites showcases an elaborate display of intricate, creative hand-carved, and lit pumpkins, which pay homage to first responders. Drive through the Pumpkin Path to view the many different displays meant to delight old and young alike and see the complex pumpkin sculptures that take volunteers months to carve.
Daily through Sunday, November 1
All-ages
Purchase tickets in advance online.
Take a drive through Skylands Stadium, decorated with more than 5,000 jack-o'-lanterns throughout the stadium, property, and surrounding cornfields. You'll see a wide variety of pumpkin creations ranging from tiny creatures—gremlins!—to gigantic dragons, and popular comic book and Disney princess characters. After the drive-thru, visit the Outdoor Fall Festival, with rides, games, and food.
Saturday, October 31
All-ages
Purchase tickets in advance online.
Celebrate Halloween safely from your own vehicle in this festive car parade. You'll decorate your car and then navigate the parade route, passing by themed floats positioned along the bucolic farm road on St. Michaels Farm Preserve. Goody bags filled with nature-inspired surprises are doled out to participants. The parade is limited to 300 cars, and you must preregister.
Friday, Saturdays, and select Sundays through Saturday, October 31
All-ages
Purchase tickets in advance online.
Theatrical sets and live actors transport you from the comfort of your car to Bloodshed Farms in this haunted attraction. If you want a real scare, consider upgrading to the gory VIP package where actors and their props prod your car along the route, dousing it in fake blood, water, soap, and (of course!) ectoplasmic goo. Organizers say the attraction is all-ages, but we're more included to recommend it for ages 10+.
Drive-Thru Halloween Attractions in Connecticut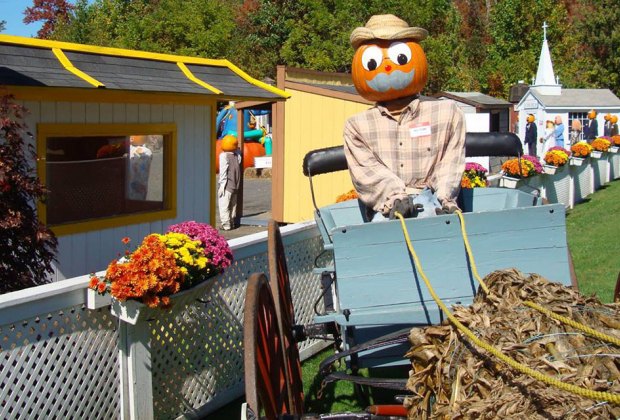 Take a ride around the popular and non-scary Pumpkintown USA.
Daily through Saturday, October 31
All-ages
Purchase tickets in advance online.
One of New England's premier non-scary Halloween villages, Pumpkintown USA annually draws about 25,000 visitors. For 2020, guests can enjoy the normally walkthrough experience during a 1-mile drive. Traverse the seasonal landscape to view more than 30 pumpkin-head people set up in whimsical woodland scenes. Reservations are required. If you want to up the fun factor, pre-purchase seasonal treats to enjoy while you roll down the Pumpkintown trail.
Saturday, October 31
All ages
Join New Haven Youth & Recreation for a drive-thru version of its annual spooky trunk-or-treat event. Carloads of costumed characters are welcome to drive-thru Edgewood Park where all kids in the car receive individually packaged bags of candy from volunteers. If you arrive on foot, head to the Coogan Pavilion to get your share of the goodies.
Select weekend nights through Saturday, October 31
All-ages
Purchase tickets in advance online.
Halloween-themed drive-in movies at Foxwoods Casino start with a costume parade at 6pm where kids are sure to collect plenty of treats. Following the parade, a family-friendly movie is enjoyed on the big screen. Make sure you disappear before the 10pm flick plays, though, as it's got a decidedly spookier feel.
RELATED: Haunted Houses, Trails, and Rides Near Boston for 2020 Halloween Thrills

See The Count, Elmo, and more from the comfort of your own car at Sesame Place's Not-Too-Spooky Drive-Thru.
Tuesdays and Wednesdays through Wednesday, October 28
All-ages
We realize this pick is a little further afield, but parents of preschoolers may appreciate a little mid-week diversion. Earn some cool parent cred when you take your little one on a drive down Sesame Street as they spot their favorite characters costumed for the holiday. Lights, festive decor, and a spooky soundtrack round out the experience. Of course, there are treats to collect when you exit!
All photos courtesy of the respective attractions