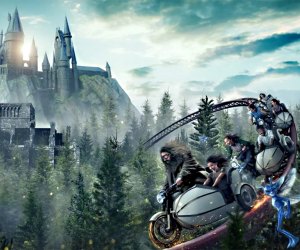 Star Wars, Potter, and More New Theme Park Rides at Disney and Beyond
Amusement parks are a spring break and family vacation staple. From coast to coast, amusement and water parks abound, offering fun and thrills to parents and children ranging from toddlers to teens alike.
While there's never any shortage of excitement, having an opportunity to check out new attractions only adds to the kids' enjoyment. Take a look at which popular destinations are introducing everything from state-of-the-art roller coasters to gentle kiddie rides, and which are celebrating the opening of entirely new sections of their already-enticing parks in 2019. We've rounded up new rides (including water park fun) from California's Disneyland to Orlando, Florida and even along the New Jersey Shore boardwalks and in Pittsburgh, Chicago, and Texas.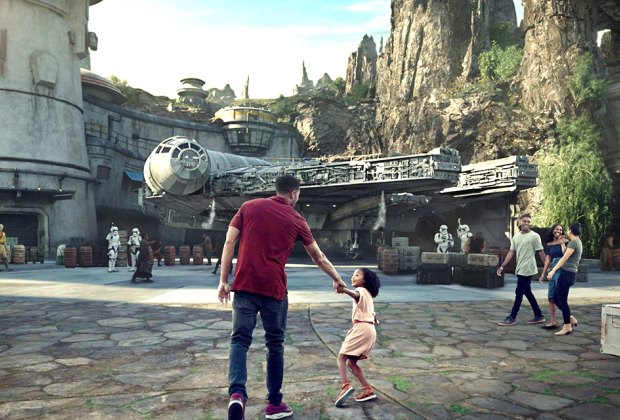 Star Wars: Galaxy's Edge, opens inside California's Disneyland in summer 2019. Rendering courtesy of Disney
Disney Parks– California, Florida
For families who've longed to live in (or at least visit) a galaxy far, far away, Star Wars: Galaxy's Edge, a brand-new 14-acre land opens at both California's Disneyland and Walt Disney World in Orlando, Florida this year. However, California's park opens first, this spring (May 31), while the Florida attraction won't be ready until late summer (August 29).
Either way, kids will be transported to Planet Batuu, where rogue traders, strange creatures, and droids roam. While there, check out the fastest ship in the galaxy, Millennium Falcon: Smugglers Run, where you're in the cockpit and can pilot the famed Falcon. Hurtle through hyperspace at top speed if you dare. Another attraction, Star Wars: Rise of the Resistance (opening in June 2019 in California) invites you to an epic battle between the Resistance and the First Order, where you'll come face-to-face with Kylo Ren.
Also at the House of Mouse in Orlando, families can climb aboard the first-ever Mickey Mouse ride. That's right, Mickey & Minnie's Runaway Railway will open in fall 2019 inside Disney's Hollywood Studios at Walt Disney World. Hop into a cartoon short and embark on a wild ride with Goofy in the driver's seat.
Epcot, also in Orlando, will undergo a makeover. Updates include a new play pavilion, which invites guests into an "innovative, interactive city bursting with games and hands-on activities," according to a press release issued in February. A reimagined main entrance and an Experience Center highlighting the park's future are among other planned enhancements.
Sea World — Orlando, San Antonio
Bringing one of kids' favorite streets to life, SeaWorld Orlando introduces its Sesame Street section, featuring familiar venues like Mr. Hooper's store and that iconic 123 stoop. This colorful land is also home to six themed rides perfect for young visitors. Attractions include Elmo's ChooChoo Train, Cookie Drop, Big Bird's Twirl N' Whirl, Abbey's Flower Tower, and Slimey's Slider.
Fans of that loved blue muppet can ride Super Grover's Box Car Derby in San Antonio, too. This family-friendly coaster is the perfect introduction to thrill rides as it tackles hills, turns, and mini-dives at gentle speeds.
Universal Islands of Adventure — Orlando
Most Harry Potter fans find the original Wizarding World enthralling just as it is, but the magical lair is about to get even more exciting. A new coaster, set to debut in mid-June, will replace the Dragon Challenge coasters, which closed in 2017. Hagrid's Magical Creatures Motorbike Adventure will take passengers indoors and out through the Forbidden Forest with Hagrid the half-giant at the helm.
RELATED: 30 Warm Destination Vacation Ideas for Families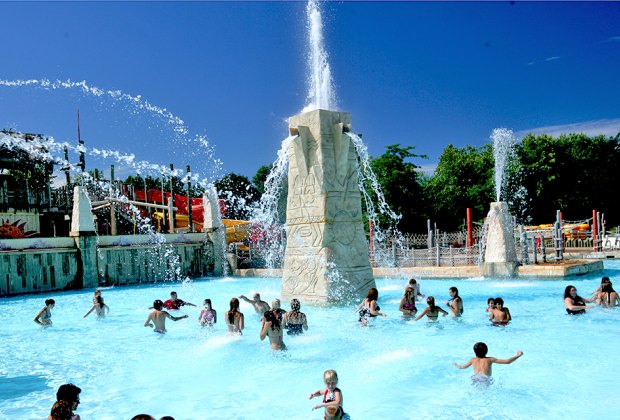 The enormous Calypso Springs is a beach-style entry pool opening at Six Flags Hurricane Harbor in New Jersey. Rendering courtesy of Six Flags
Six Flags — New Jersey, New York, Chicago, Houston, California
Six Flags Hurricane Harbor in Jackson, New Jersey, is about to get even cooler thanks to the addition of Calypso Springs, a massive, 100,000-gallon beach-style entry pool. This enormous activity pool is the water park's largest new attraction since 2000 when the water world opened. This new area will also feature an expansive lounge deck for sunbathers, oversized umbrellas for those who prefer shade, and a brand new dining location.
At neighboring Six Flags Great Adventure & Safari, Wonder Woman's Lasso of Truth makes its debut to the delight of DC Comics fans. You'll need the courage of a superhero to board this floor-less "wonder," which swings 40 brave passengers at a time up to 17 stories. The dizzying thriller spins in counterclockwise circles while riders feet dangle in the air.
Meanwhile, Buffalo, New York's Darien Lake will be rebranded to become Six Flags Darien Lake after EPR Properties acquired it last year. In addition to undergoing some major renovations, the upstate park will feature a new attraction this season: Six Flags SkyScreamer. This goosebump-inducing swing ride will be hailed as the tallest attraction in the Empire State, standing at 242 feet above the park. Thirty-two guests per ride will have an opportunity to take in the awesome aerial view at 35 miles per hour—if they're brave enough to keep their eyes open.
Also, in New York, Six Flags Great Escape's outdoor water park in the Lake George area will now be known as Hurricane Harbor for the 2019 season. To the delight of guests, the park will introduce two new opportunities to cool down. Bucket Blasters invites riders to spin in barrels while engaging in a water gun showdown, while Shipwreck Cove takes water play to new levels of fun thanks to geysers, fountains, and water sprays.
In another acquisition, Houston's largest water park, Wet & Wild Splashtown, will be renamed Six Flags Hurricane Harbor. To celebrate, the park will install a six-story water slide, Wahoo Wave, that sends four thrill-seekers on a ride they won't forget. Plunging 30 feet straight down before getting swept across the top of a giant waterfall, daredevils drop into a pool waiting below. The park also features two children's areas for younger guests.
Paying homage to Formula 1 racing cars, Six Flags Great America in Chicago introduces Maxx Force, a triple record breaker. Not only will this be the fastest launch roller coaster in North America, zooming up to 78 miles per hour in under two seconds, it also features the fastest inversion on the planet and the tallest double inversion in the world.
At Six Flags Magic Mountain in Valencia, California, visitors can engage in a friendly race along the rails. West Coast Racers features two trains that come dangerously close to colliding 14 times while competing on side-by-side tracks. The world's first racing launch coaster, this ride features a real-time "pit stop" that's sure to make it a memorable adventure.
RELATED: Affordable Spring Break Ideas for Families Traveling with Kids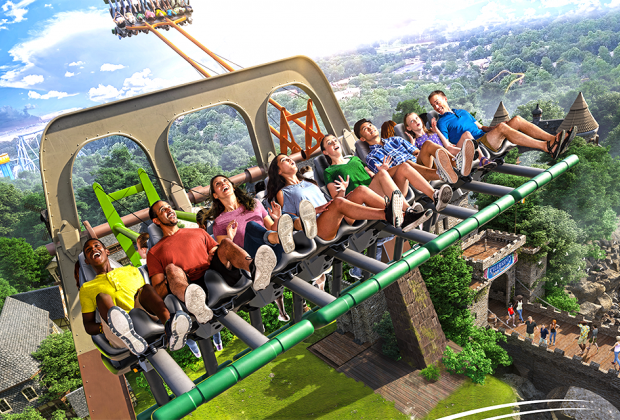 Finnegan's Flyer takes riders for a 45-mph ride above the faux Celtic Coast! Rendering courtesy Busch Gardens
Busch Gardens — Williamsburg, VA, Tampa, FL
Finnegan's Flyer, a brand-new swing ride will take 32 riders at a time soaring over the cliffs along the Celtic coast inside Busch Gardens Williamsburg, Virginia park's Ireland village. Reaching more than 80 feet at a speed of 45 miles per hour, this thriller can be found near the equally exciting Loch Ness Monster coaster.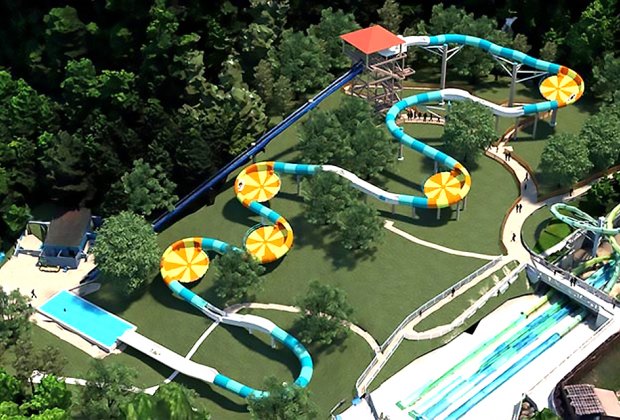 Cutback Water Coaster is a wilder alternative to your traditional log flume ride. Photo courtesy Busch Gardens
Also in Williamsburg, at nearby Water Country, the brand-new Cutback Water Coaster boasts more than 850 feet of slide and combines a water jet propulsion system with an exhilarating saucer. On a four-person raft, riders race along curves and take steep drops in stride. Think of it as a wilder alternative to your traditional log flume ride.
A trip to these two Virginia theme parks makes for an easy add-on to any family getaway to the historic Colonial Williamsburg.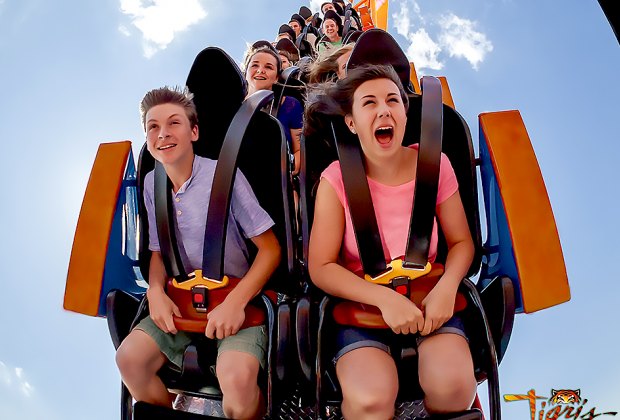 The Tigris debuts with a 150-foot surge and possibly the title of Florida's tallest roller coaster at Busch Gardens Tampa. Rendering courtesy the park
Busch Gardens Tampa will introduce Tigris in spring 2019, which it says will be Florida's tallest roller coaster. At more than 60 miles per hour, riders are shot through loops and twists while rocketing forward and backward along 1,800 feet of steel track. The coaster's name and motion is a tribute to the speed and agility of the world's most impressive cat—the tiger—and this ride is only for the family's absolute daredevils (and those 54-inches and taller)!
Jersey Shore Boardwalks
Morey's Piers — Wildwood
If Surfside Pier in Wildwood, New Jersey, looks a little different to you this summer, it's because this classic destination, featuring more than 100 rides, had to make way for a new family-friendly coaster. Coming summer 2019, Morey's welcomes the Runaway Tram, which is patterned after the old-time Wildwood Sightseer Tramcar, which made its debut almost 70 years ago. Climbing to heights of 40 feet, the Runaway Tram, with 10 two-person passenger cars, twists and turns along 922 feet of track. This is a great introduction to coasters for the younger set who aren't quite ready to take on more thrills.
Casino Pier & Breakwater Beach — Seaside Heights
Let the sea air help you work up your nerve as you prepare to board Centrifuge, the park's indoor scrambler that will reopen in 2019 after being destroyed by Hurricane Sandy. Riders experience strobe lights, music, and more spins than they can imagine. Also new for 2019 is a kiddie ride that gives tots the chance to soar in the sky aboard the Elephant Express, which features six two-seater elephants that allow little flyers to decide how high they're ready to go.
RELATED: 10 Top Indoor Water Parks Across the Country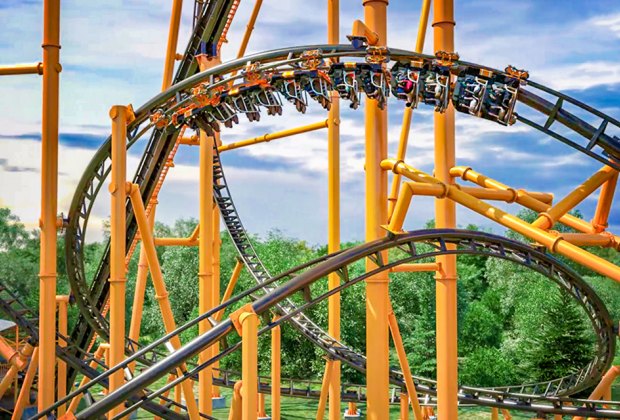 The Steel Curtain sets the North American record for inversions, at 9! Courtesy of Kennywood
Pennsylvania
Kennywood — Pittsburgh
A brand-new football-themed section will open in Kennywood Park this summer: Steeler's Country. And at the heart of Steeler's Country will be what is billed as Pennsylvania's tallest coaster: The Steel Curtain. With more than 4,000 feet of bright gold track, this coaster will take passengers 220 feet in the air, providing them with a great view of the park—if they're willing to sneak a peek—while traveling at 76 miles per hour and enduring nine inversions.
Hersheypark — Harrisburg
Chocolate lovers and gamers can experience the best of both worlds by riding Reese's Cupfusion, an interactive attraction at Hersheypark that tasks riders with protecting the Reese's peanut butter cup factory. This sweet and savory adventure will test your ability to get out of sticky situations at this candy lover's paradise.