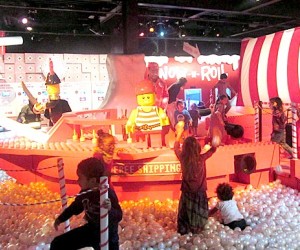 Target Debuts Pop-Up Holiday Play Zone and Shop in Chelsea
Target lovers take note: The retail giant is opening a 16,000-square-foot pop-up store and indoor play zone for kids in Chelsea this holiday season, saving New Yorkers the schlep to the Bronx, Brooklyn or East Harlem for those last-minute shopping needs.
"Target Wonderland" officially opens to the public on Wednesday, December 9, but we got a sneak peek.
Billed by the retailer as "part retail store, part holiday playground," the experience definitely leaned toward the latter with more play options than product. You'll find primarily toys and other children's items for sale, but everything is built into the Wonderland experience, rather than seeing shelves and shelves of goods. Kids raced around, trying to catch all the playtime action in a frenzied, Black-Friday-type of state.
Located across the street from the Chelsea Market at 70 Tenth Avenue (at 15th Street), Target Wonderland invites shoppers to participate in nine different shopping experiences, ranging from a giant Etch A Sketch that will take a photo of you and draw it, before inviting you to buy the classic toy, to a Frozen-inspired castle where staffers busily apply glitter tattoos within sight of a toy castle, sing-along Elsa doll and complete set of Disney Princesses. All of which can be yours should you choose to purchase.
RELATED: NYC Holiday Windows Walk — Macy's, Saks and More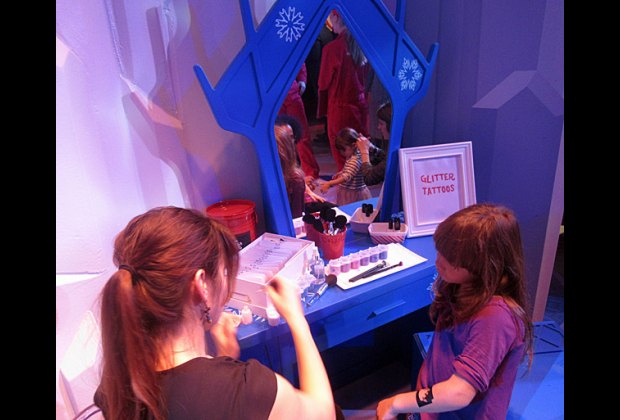 My daughter was in heaven in the Frozen-themed area.
There's an enclosed area where kids and kids-at-heart can try their hand at flying a remote-controlled Millennium Falcon and a towering tree made entirely of Hulk night-lights. Both toys are for sale here.
The biggest kiddie-draw is the S.S. Free Shipping, a life-sized Lego ship surrounded by a ball pit where gleeful kids happily played while parents tried, futilely, to get them to leave the fun behind and check out the rest of the shop's offerings. My 2-year-old would still be there had she not been kicked out at closing time.
RELATED: 21 NYC Holiday Activities Every Kid Should Try Once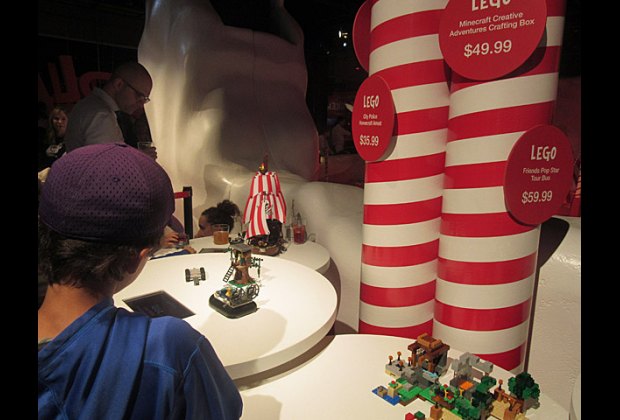 Eyeing some of the Legos for sale at Target Wonderland after romping on the Lego ship and in the ball pit.
With all the action in the "holiday playground," the retail element often gets lost, but Target sees to it with a fancy new-age tech gadget. Visitors are given a lanyard with a barcode upon entry. You can register this to your email or social media feeds and anytime you take a photo, it's emailed to you or posted on your behalf. The barcode is also your ticket to making purchases. Each toy station has a scanner, so when you see something you want, simply scan your code. Once you're done playing, head to the register where your code can be scanned and you can pay for everything you've picked out. Each toy seemed to have a two-item limit.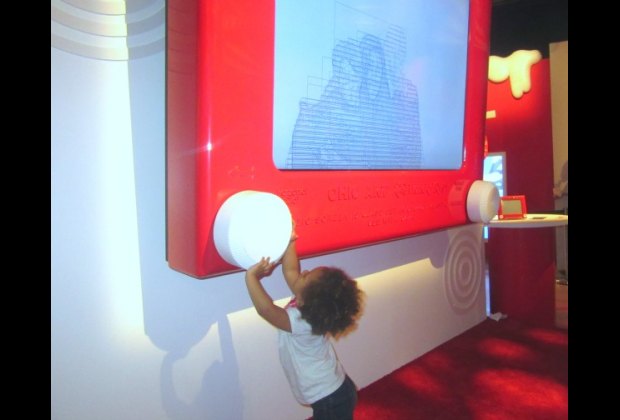 The giant Etch A Sketch snaps a family photo and turns it into a doodle.
Other quirky holiday fun at Target's pop-up includes a station that engraves a basic ornament and a twist on the usual Santa experience where kids can sit in a cozy, space-age looking chair for a virtual visit with St. Nick.
Target Wonderland isn't the retail giant's first pop-up, or even the first pop-up it's hosted in NYC. Back in 2002, the retailer launched one of its first pop-up shops with the Target Boat in Chelsea Piers.
Target Wonderland opens to the public on Wednesday, December 9 and runs through Tuesday, December 22. Store hours are Monday-Saturday, 10am-8pm and Sunday, 10am-6pm.
Afterward take a walk on the High Line, try out the new Whitney or one of our other kid-friendly suggestions for Chelsea, or nearby West Village or Union Square.
Good to Know Before You Go
Be prepared to park your stroller curbside. It's a spacious shop, but the winding walkways don't accommodate strollers very well. Use the "stroller parking" tent set up on the sidewalk.

There are also no public bathrooms onsite. Plan that potty break before you arrive.
Looking for more holiday shopping help? Visit our NYC Shopping and Local Gift Guide.
All photos by Mommy Poppins.