Giggle Opens New Baby Store in Soho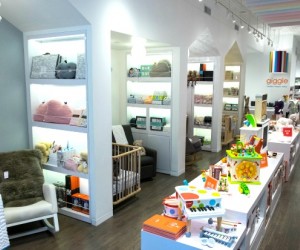 High-end baby retailer Giggle recently opened its new Soho boutique just blocks away from its previous store. The single-floor store—its third in NYC—aims to speak to design-conscious parents with a unique layout of its baby and toddler furnishings, toys, clothing and, of course, all that other gear like strollers and car seats.
At 1,800 square feet, it's smaller in size than its Upper East and West Side shops, but the cozier digs were intentional, it says. Giggle turned to a new store design that might remind some shoppers of a prettier, sweeter version of Ikea's showrooms. It carved out four separate sections within the store to create a series o nursery "vignettes," or layouts, so parents can see its stylish wares set up in different ways. Innovative shelving makes use of the vertical space giving the whole NYC children's shop a sophisticated and airy feel to it.
The new Soho space replaces the retailer's original neighborhood location on Wooster, which closed in October to make room for the new store. Regulars will recognize the brand's familiar striped awning outside and colorful striped chandeliers throughout the store, but the rest of the look will feel new. The product lineup is very much the same, just presented differently. For example, toys at the front are grouped by interest with a musical section, imagination toys and cozier, plush ones on another table.
RELATED: 12 Things to Do in NYC Before Your Baby Turns 1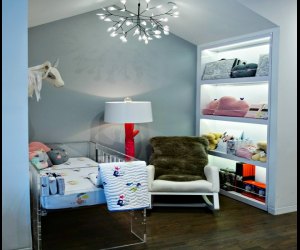 One of the four vignettes, or nursery layouts, lets parents imagine the possibilities.
Beth Guastella, giggle's CEO, was on hand for the store opening in late November. "The inspiration was to speak to smart, clean design, plus happy for today's design-conscious new parents," she later told us. "We created four distinct nursery settings to showcase our nursery furniture and décor assortment, as inspiration to our customers."
RELATED: NYC Children's Boutiques and Shopping Guide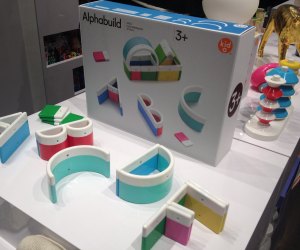 The retailer carries furniture and baby gear, but also modern toys, sweet layettes and gifts. Photo by Mommy Poppins.
The store continues to offer its signature stroller parking and you will find a bathroom and changing table available for tots. While there's no designated play area, kids can test out any of the many toys on display. Although my son is well past the baby and toddler days, I have to admit I still found myself drooling over the new style of highchairs and modern toys stocked by giggle. You'll be lucky to escape here without handing over your credit card.
giggle Soho is located at 451 West Broadway between Prince and Houston Streets.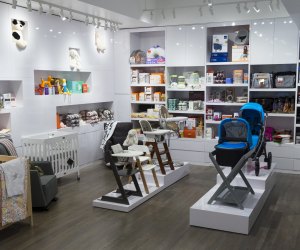 The new design encourages shopping in a low-stress, pretty environment, making it hard to leave!
Top photo: Giggle's new home in Soho includes mini nursery showrooms carved into the store. All images provided by giggle except where noted.