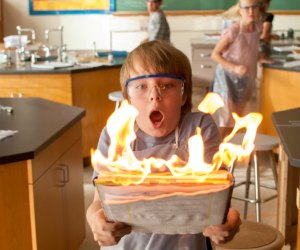 Alexander and the Terrible, Horrible, No Good, Very Bad Day: Parent Movie Review & Kid Reactions
While my friends who still find time to read grown-up books argue over the merits of the film version of Gone Girl, I've been worried about a completely different page-to-screen adaptation: Disney's live-action take on Judith Viorst's 1972 kids' classic Alexander and the Terrible, Horrible, No Good, Very Bad Day (PG). I know from experience that sweet and slim picture books often become stale and bloated family movies. Yet my nine-year-old still insists on seeing pretty much every one of them, especially when they're based on a beloved book like Alexander, which she read so many times its spine finally gave out.

But though the title is tailor-made for bad reviews, Alexander is far from terrible, horrible and all those other negative adjectives. The film cleverly expands on the premise and moral of the book—that we all have bad days—by making every member of Alexander's family suffer the same kind of rotten luck and humiliation he usually does. My daughter and I laughed out loud several times during the brisk 80-minute movie, though often at different things. And looking around the New York International Children's Film Festival preview screening we attended, most families seemed to have a similar experience. The kids were particularly enthusiastic about the movie—afterward, a bunch of them shared their hilarious reactions on video.
Fans of the book will recognize some of the indignities Alexander suffers on his terrible day, as well as his ongoing obsession with Australia (funnily enough, the charming actor playing him, Ed Oxenbould, is from Down Under despite his flawless American accent). But the film almost immediately strays from the original (as it must; 32 pages with illustrations does not equal a feature-length film), and also incorporates timely adult concerns like the difficulties of work-life balance (mom, a high-powered publishing exec, can't find it), being downsized (dad was recently laid off) and the challenges of stay-at-home fathers (here dubbed "fommies").

Out of frustration, Alexander wishes everyone in his family could experience bad luck, just like him. Sure enough, he wakes the next morning to find that his mom, dad, older sister and brother, and even baby brother all seem to be cursed. Throughout the day, they survive various misadventures. Giving specifics would give too many of the great gags away. Suffice to say they range from small (an ugly zit on big brother's forehead, though it is prom) to potentially life changing (two funny/scary incidents with fire; a totaled minivan). While all of the disasters are done in a broad, slapstick sort of way, I was surprised that there were no consequences for some pretty negligent behavior—perhaps because mom and dad are often careless, too. That may be a confusing message to send to very young children, who, frankly, probably won't be able to follow the fast-paced movie, anyway. It's really aimed at school-age children who will understand that it's just a funny fantasy, and won't get freaked out when potentially scary things happen.

Unsurprisingly, the kids in the audience went nuts whenever someone got hurt/puked on/set afire—poor Steve Carell as the optimistic dad bears the brunt of all that. But grown-ups may respond more to the great cameos by sitcom stars (Jennifer Coolidge from Two Broke Girls as a driving instructor; Donald Glover from Community as a hipster video game designer; the legendary Dick Van Dyke playing a very angry version of himself), and insightful punch lines about modern-day parenting. My favorite moment hands-down was when Jennifer Garner as the already stretched-too-thin mom is talking with her boss (Megan Mullally of Will & Grace fame) about a possible promotion. When she reminds her employer that she has four children and needs to make time to see them, Mullally's deadpan response should elicit a knowing chuckle from any working mother.

While Alexander is no new classic and quite predictable, I had a smile on my face throughout and no headache (a lot of kids' movies give me those). My only quibbles are the rampant product placement (can't get away from that these days) and one naughty joke at the very end which didn't bother me, but might be objectionable to some parents (spoiler: it involves strippers but nothing is shown). After the movie, my daughter asked how many stars I would give it out of five. I said three; she said four, and I think those ratings will probably apply to most families. The kids at the screening we attended were certainly fans. Check out this video of their reactions to the flick, produced by the folks behind the New York International Children's Film Festival.
OUR LATEST VIDEOS