Artificial Intelligence with Scratch Online Camp
Young Gates - Kids Online Personalized Classes

Online Robotics Camp
Young Gates - Kids Online Personalized Classes

Spark Math: Free Trial Class
Virtual
Sign up for our free newsletters.
Spring Break 2023: 20 Fun Things To Do In Houston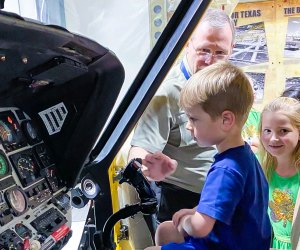 3/10/23
- By
Sarah Banks
Spring Break 2023 in Houston runs from March 13 through 17, and we have plenty of ideas for fun things to do during Spring Break in Houston for families. Take a look at our top 20 top things to do over Spring Break in Houston to keep kids entertained, or click on our Houston March guide. Whether you want to join in a Houston tradition like the Rodeo or the St. Patrick's Day Parade, like to enjoy nature in the city on foot or your bike, or prefer to enjoy an indoor playground or climbing wall, we have twenty great recommendations for you. There's no need to be bored this Spring Break 2023, so read on to find out more!
1. Grab your cowboy hat and pull on your boots! One of H-Town's biggest and most historic annual events, the Houston Rodeo, runs right through Spring Break. Find out more in our guide: Houston Rodeo With Kids: What You Need to Know.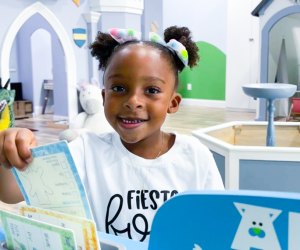 We might get some rain over Spring Break 2023, which is a great opportunity to visit an indoor playground. Photo courtesy of the Frogs, Snails and Fairy Tales Playspace
2. Climb, swing, jump, and giggle at one of Houston's fun indoor play spaces.
3. Charge your batteries for the rest of the school year by cuddling up and watching some of the 100 Best Kids' TV Shows of All Time. Make it a special event with popcorn or candy and a furry blanket.
4. With 90,000 square feet of fun, kids love the Houston Children's Museum. Their special Spring Break Destination Celebration includes bungee trampolines, a shaving cream pie fight on March 14, and a chance to roll in human hamster balls.
5. If your kids love comics, head north of Houston on the first weekend of Spring Break (Mar 10 - 12) to Comic Con in Conroe.
6. Learn about the Egyptian pyramids and mummies at the King Tut's Tomb Discovery Experience exhibition at the Houston Museum of Natural Science.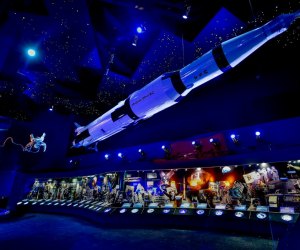 Spring Break is a great time to finally check out Space Center Houston. Photo courtesy of Space Center Houston.
7. Have Spring Break fun by finding out the latest about the upcoming missions to get the first US woman on the moon and travel to Mars at the Space Center Houston.
8. There will be special appearances from Black Panther characters and Jurassic Park dinosaurs as part of the Discovery Green Spring Break activities, as well as a roller rink.
9. Blessington Farms reopens in March and will be open throughout Spring Break. The gem-mining, jump-pad, and camel feeding are among the 20+ regular fun attractions.
10. Visit the Lone Star Flight Museum and join in their special 2023 Spring Break events week, including an indoor R/C air show and the chance to sit in helicopters and planes.
11. Enjoy the warmer weather and head out on a hike on one of the Amazing Kid-Friendly Hiking Trails in Houston. You can spot animals, collect leaves or have running races to keep everyone interested and moving.
12. Complete a Forest Detective Wildlife Checklist when getting out in nature, for example at the Houston Arboretum and Nature Center
13. Kids of all ages can climb to giddy heights at one of the Rock Climbing Gyms and Walls Around Houston.
14. Dress up in Irish green and enjoy the fun of the free two-hour Houston 61st Annual St. Patrick's Day parade - one of the largest in the US.
15. See flowers and plants start to unfurl for Spring at Mercer Botanic Gardens in Humble and see amazing visiting sculptures. You can visit the arboretum with two playgrounds, a picnic area, and walking trails, or admire the bamboo, ferns, and more in the botanic gardens.
16. Bike, hike, birdwatch, fish, and boat an hour north of Houston at Huntsville State Park. Why not camp overnight there in a tent, RV or a cabin and roast s'mores over the fire!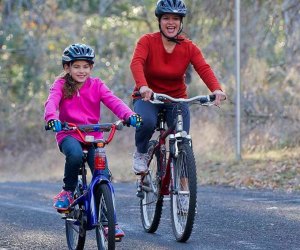 Spring Break 2023 calls for seasonable temps and great biking weather. Photo courtesy of Texas Parks and Wildlife
17. Dust off your bikes or scooters and head round one of Houston's Best Parks and Trails for Family Bike Rides.
18. Grab your fishing pole and some bait and head to one of the Best Fishing Spots around Houston for Kids and Families. Take a picnic and make a day of it! See who can catch the largest fish!
19. The weather's often warm enough to dig out your bucket and spade and enjoy our 20 Top Things To Do in Galveston with Kids. Even if it rains, you can enjoy Moody Garden pyramids and a variety of amusements, restaurants, and museums.
20. Thrill your kids with an alligator encounter. You can see alligators and even feed alligators after checking out our guide to Get Up Close with Alligators Near Houston, which provides recommendations for any budget.