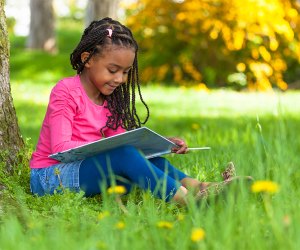 Best New Kids' Books for Summer Reading: Age-by-Age Lists for Preschoolers to Teens
Mandatory summer reading lists can be a bit of a drag in normal years, but let's face it: We all need ideas for great new kids' books now more than ever. With distance learning petering out, camp in question, and many kids stuck at home, it's the perfect time for kids to get lost in a book (or five). So we polled librarians, parents, and publishers for their top summer reading picks, and came up with 30 exciting new books published in 2020 to suit various age groups, including preschoolers, early readers, middle schoolers, and high schoolers.
When they're not escaping to lands of unicorns, purple people, a volcanic village, or the Hunger Games, kids can busy themselves with hundreds of boredom busters in our Stay-at-Home Guide for Summer.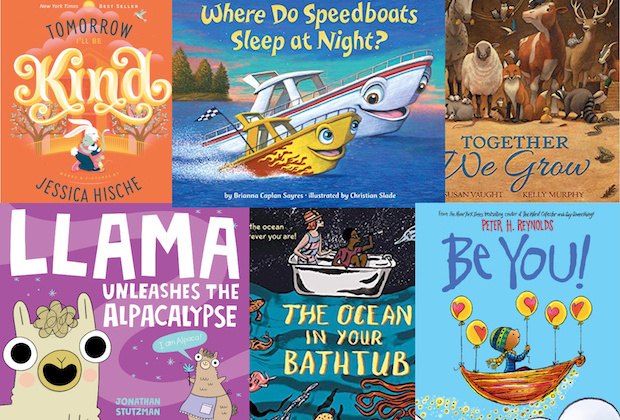 Summer Reading Books for Ages 3-5
1. The World Needs More Purple People by Kristen Bell, Benjamin Hart; illustrated by Daniel Wiseman
Actress (and mom) Kristen Bell is behind this book about the "purple people" who look out for others, speak up for what's right, and make people around them feel good.
2. Where Do Speedboats Sleep At Night? by Brianna Caplan Sayres; illustrated by Christian Slade
Little transportation junkies who loved Where Do Diggers Sleep at Night? will be psyched to find out what cruise ships, canoes, fishing boats, and more do before getting docked at night.
3. Tomorrow I'll Be Kind by Jessica Hische
Enjoy beautiful hand-lettered inspirational messages and illustrations in this tender follow up to Tomorrow I'll Be Brave.
4. It's Okay To Be a Unicorn! by Jason Tharp
Cornelius J. Sparklesteed pretends to be a horse―until he learns to embrace his true self.
5. Be You! by Peter H. Reynolds
The Dot creator's newest book encourages readers to be their "own work of art."
6. Together We Grow by Susan Vaught; illustrated by Kelly Murphy
Animals teach us there "room for all" in the wake of a terrible storm in a gentle tale for our times.
7. Llama Unleashes the Alpacalypse by Jonathan Stutzman; illustrated by Heather Fox
In the second installment of this smart and goofy series, Llama clones a fastidious friend to help him clean his house.
8. The Ocean in Your Bathtub by Seth Fishman and Isabel Greenberg
Whimsical and detailed illustrations help kids understand the connection between the water in their homes and the health of the ocean.
RELATED: 10 Outdoor Games from the '70s that it's Time to Teach to Your Kids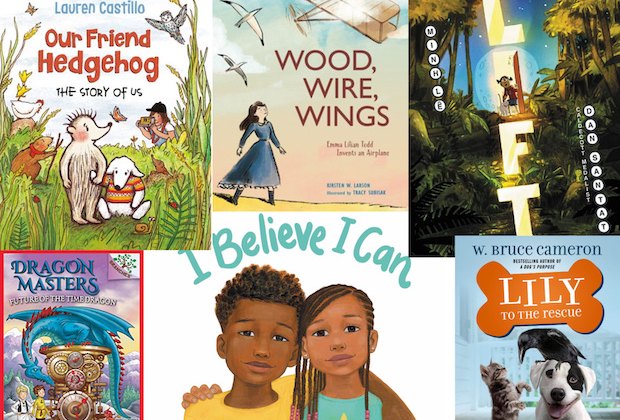 Summer Reading Books for Ages 6-8
9. Our Friend Hedgehog by Lauren Castillo
A hedgehog recruits new friends to help him find a lost lovey in a sweet tale by Caldecott-winner Castillo.
10. I Believe I Can by Grace Byers; illustrated by Keturah Bobo
These poignant, yet simply told, messages about kids achieving no matter their backgrounds are thought-provoking for early readers.
11. Lift by Minh Le; illustrated by Dan Santat
Gorgeous illustrations "elevate" this captivating tale about a child dealing with a new sibling and the discovery of a secret elevator.
12. Lily to the Rescue by W. Bruce Cameron; illustrated by Jennifer L. Meyer
This new first chapter book series by A Dog's Purpose creator centers on a rescue dog who goes on to rescue other animals.
13. Wood, Wire, Wings: Emma Lilian Todd Invents an Airplane by Kirsten W. Larson; illustrated by Tracy Subisak
This illustrated biography tells the little-known story of pioneering female engineer Todd, who designed early airplanes.
14. The Boy Who Grew Dragons by Andy Shepherd; illustrated by Sara Ogilvie
Fantasy meets humor in this beginner's chapter book about a boy who discovers dragons in his grandfather's garden.
15. Charlie & Mouse Outdoors by Laurel Snyder; illustrated by Emily Hughes
In the fourth installment of this fun and friendly beginner's chapter book series, readers follow the brothers as they go camping with their parents.
16. Dragon Masters Book 15: Future of the Time Dragon by Tracey West; illustrated by Daniel Griffo
The latest in the wildly popular easy chapter book series explores the notion of time in more exciting adventures for Drake, Rori, and their dragon friends.
RELATED: Crafts for Kids: 100 Awesome Projects for Creative At-Home Fun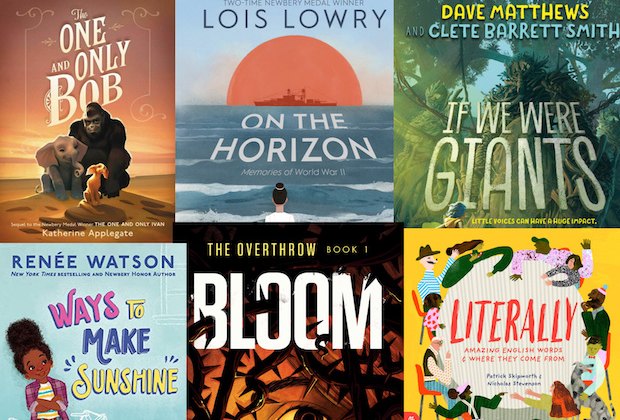 Summer Reading Books for Ages 9-12
17. On the Horizon by Lois Lowry; illustrated by Kenard Pak​
The legendary author draws on her childhood memories for these side-by-side stories of people whose lives were forever changed by the events at Pearl Harbor and Hiroshima.
18. If We Were Giants by Dave Matthews, Clete Barrett Smith; illustrated by Antonio Javier Caparo
Is this the same Dave Matthews who was "Under the Table and Dreaming" during our teen years? Yes—and this fantastical tale of a girl who lives in a dormant volcano is getting rave reviews.
19. The One and Only Bob by Katherine Applegate; illustrated by Patricia Castelao
Applegate delivers another exciting and utterly charming story about the life and minds of animals in this sequel to her beloved The One and Only Ivan (a widely taught book that's been remade as a movie set to release later this year).
20. Ways to Make Sunshine by Renee Watson; illustrated by Nina Mata
Ramona Quimby for a new generation, Ryan Hart is dealing with some family issues (money is tight), but she makes the most of it with an upbeat spirit and clever ideas. Watson is a Newbery Honor and Coretta Scott King Author Award winner.
21. The Space Between Lost and Found by Sandy Stark-Mcginnis
When her vibrant mom is diagnosed with early-onset Alzheimer's, Cassie comes up with creative ideas to connect with her in this touching book.
22. Bloom: The Overthrow by Kenneth Oppel
Three kids who are immune to the toxic plants that overtake their world become heroes in this thrilling book, the first in a sci-fi trilogy.
23. Literally: Amazing Words and Where They Come From by Patrick Skipworth; illustrated by Nicholas Stevenson
This entertaining vocabulary builder will have your kid teaching you the etymology of words during dinnertime.
RELATED: Best Board Games for All-Ages: Two Dozen Picks for Family Game Night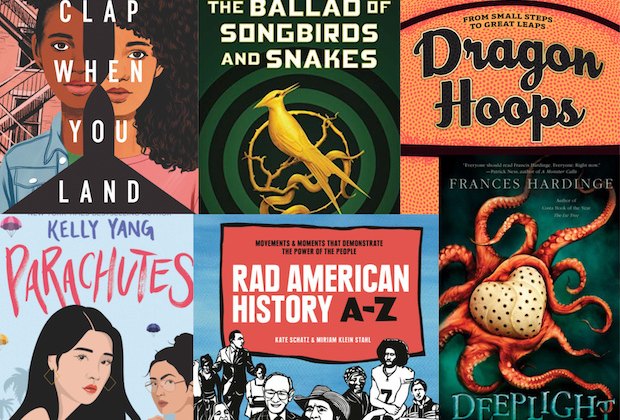 Summer Reading Books for Teens
24. The Ballad of Songbirds and Snakes by Suzanne Collins
Of course, this is the book teens will be talking about this summer. Coriolanus Snow learns empathy when tasked with mentoring a young tribute in the 10th annual Hunger Games.
25. Deeplight by Frances Hardinge
Mythology meets medicine: A 15-year-old discovers the still-beating heart of a dormant deity and tries to use it to save a friend while struggling to keep it away from smugglers and scientists.
26. Clap When You Land by Elizabeth Acevedo
When their father dies in a plane crash, two girls living in different countries learn of each other's existence in this poignant story by National Book Award winner Acevedo.
27. Dragon Hoops by Gene Luen Yang
In this entertaining memoir, written in graphic-novel form, Yang connects with the basketball stars at the high school where he teaches.
28. Midnight Sun by Stephenie Meyer
YA's most iconic love story—between Twilight's Edward and Bella, natch—is told from the vampire's point of view.
29. Parachutes by Kelly Yang
Yang tells the story of two wealthy Asian girls who are sent—"parachuted in"—to American homes to study in the United States.
30. Rad American History A-Z: Movements and Moments That Demonstrate the Power of People by Kate Schatz; illustrated by Miriam Klein Stahl
Rad Women authors introduce teens to activist movements throughout history, from Alcatraz to Zuccotti Park.

This article contains some affiliate links, which means we might earn a small commission if you make a purchase. There is no extra cost to the reader. We only recommend products and services that we have personally used or have thoroughly researched.
All photos of book covers are courtesy of the books' publishers.