Best Black Friday & Cyber Monday Deals for Parents and Kids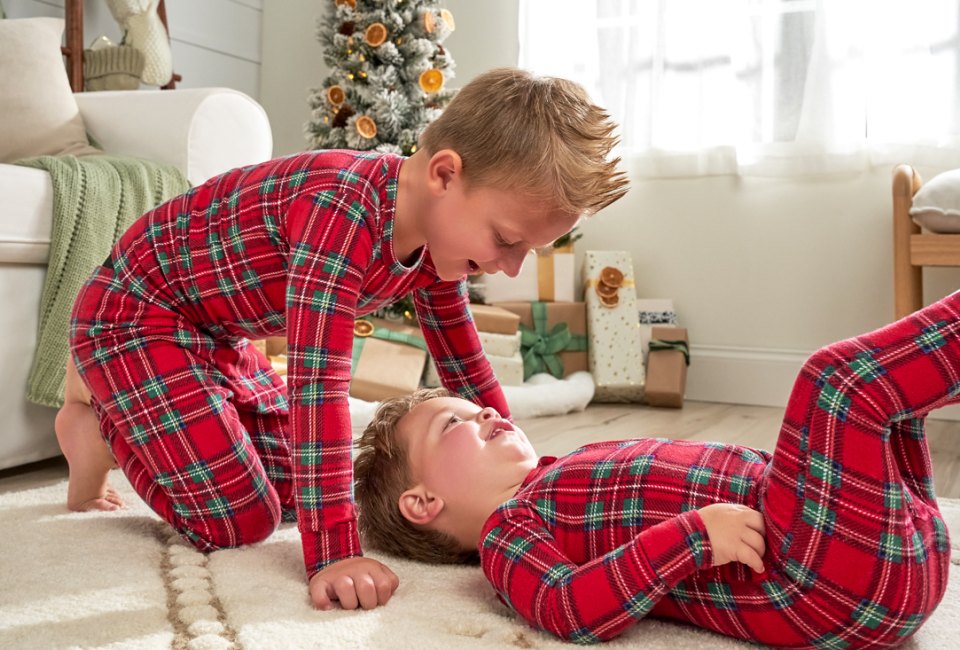 11/16/23
- By
Meghan Rose
Getting bombarded by Black Friday, early Black Friday, Cyber Monday, Cyber Week, etc deals. It's fantastic that all these sales are taking place, so parents can save money on all the toys and gear we want to get our kids for the holidays.
What's not so great? Spending time away from your family to scroll through pages and pages of deals, trying to find ones that are really worth it, actual money savers, truly great & useful products. So we did it for you! From Barbie's Dream House to Nintendo Switch to stunning wooden indoor/outdoor playhouses, we've rounded up the best Black Friday deals for kids.
For more holiday ideas, from gifts for all ages to affordable stocking stuffers, we've got a fabulous NEW Gift Guide.
Most stores will have some kind of sale, so you can definitely start by looking at Amazon and Target for the items on your kids' wish lists (early sales have already started). And if you're not sure what your kids want, check out our thoroughly researched and tested Gift Guides, where you're sure to find something from babies to teens that will surprise and delight them!
You can also check out some of our favorite deals and steals that are taking place, that we've unearthed: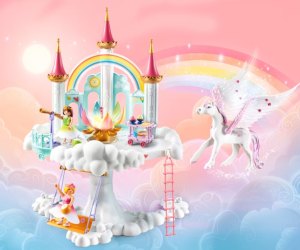 Rainbow Castle in the Clouds photo courtesy of Playmobil.
Top Black Friday Deals on Toys for Kids
Playmobil on sale for 25%-30% off
November 23-26, get 30% off $50+, and then from November 27-December 3, get 25% off purchases at the Playmobil webshop. This includes last-minute advent calendars and loads of gifts for all interests!

Wood House Desk with Chair photo courtesy of the Avenlur Amazon Store.
Avenlur's Montessori-inspired wooden play equipment is 30% off
November 17- 27, select products in the Avenlur Amazon Store are on sale. These indoor and outdoor play structures and toys are amazing. They're not cheap, and rarely on sale, but they'll last forever and are incredible.
Clixo toys are up to 40% off
November 23-28, you can save 20%-40% on all toys on the Clixo website. (Or from November 24-27, you can save 20% on some products on Amazon.) If you're new to Clixo, you'll love it. It's for kids who adore Lego and Magna-Tiles, but are maybe looking for something new.
Lovevery's sale is under embargo at press time!
The specifics of the Lovevery Black Friday deal are under embargo, but this brand is beloved for its play-based and Montessori-inspired play kits and toys. Any sale here is exciting, so even though we can't share the specifics, we'll be checking it out and thought you should know about the impending sale.

Barbie Malibu House courtesy of Mattel and Walmart.
Barbie's Malibu House is $30 off at Walmart
This has been a big year for all things Barbie, so we have to mention that Barbie's Malibu House is on sale for Black Friday (already; you can order it now!) for just $69.99 at Walmart.
Throwing your Barbie lover a party? We've got loads of tips and ideas in our Barbie birthday party guide.
The Teoayeah Ride On Car photo courtesy of the TEOAYEH Amazon Store.
TEOAYEAH Ride On Car is over $100 off
This mini drivable offroader for kids is a whopping 44% off for early Black Friday deals. This is the giant present that brings a huge smile, and it's the lowest price I've ever seen.
For more awesome ride ons, check out our roundup of favorite ride on toys for kids of all ages.
Lego sets are on sale at Target and Amazon
Do we need to sell you on Lego? No. So, we'll just let you know that many Lego sets are on sale at Target and Amazon for Black Friday, with deals changing all the time. Then use those kits with our roundup of 100 fun things to do with Legos.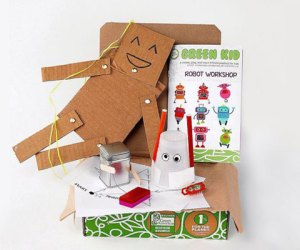 Robot Workshop craft box photo courtesy of Green Kid Crafts.
Green Kid Crafts has a special discount code for our readers
Green Kid Crafts is one of our favorite subscription boxes. Each box has a theme such as "Robot Workshop" with crafts intended for children ages 2-10 and starting at $25 per month. For Black Friday, you can save 25% with the code: BESTDEAL. (You can also sign up for a 12-month plan and get 3 months free or a 6-month plan and get 2 months free.)
Mel Science also has a Black Friday discount code!
And if you've got a bigger scientist (ages 9-14), Mel Science subscription service boasts hundreds of experiments to help your kids go beyond theory and into practical science. For 50% off your first box, use the code: HOLIDAY50.
Nintendo Switch accessories bundles are on sale at Amazon
While devices and video games might not be tops on a parent's wish list, they definitely are tops for kids. So, when there's a sale this great on something they already love, sometimes we can't resist making kids' dreams come true. Accessories bundles are on sale for 25% off, PLUS an additional $10 coupon can be applied on the page.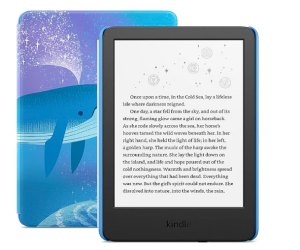 Amazon's Kid Kindle gets kids reading. Photo courtesy of Amazon
Kids' Kindle at Black Friday prices on Amazon
With parental controls and an extensive library, it's a tech-savvy way to get kids reading. I got them for my kids to read on the bus, so they always have a book or two with them that doesn't take up much space. Prices aren't yet available, but Kindles always feature prominently in Amazon's Black Friday and Prime Day deals, so I'm keeping my eyes on the price drops starting the day after Thanksgiving.
Check out our guide to the best kids' books for suggestions on what to load that Kindle up with!
Favorite Black Friday Deals on Kid & Baby Gear
Loulou Lollipop is 25% off
November 21-27, almost everything is 25% off (excludes sale, Eric Carle, bundles, & gift cards), at this shop that has my favorite sleepers and rompers.
Gerber Childrenswear has doorbuster deals on everything
Gerber Childrenswear already has Black Friday deals going, with doorbuster deals on apparel, outerwear, and Onesies for babies and toddlers until November 25. Stock up! (The fox PJs are crazy cute and like $4 each!)
Copper Pearl is up to 90% off sitewide
I mean! These super soft robes for mom and clothes for baby made our baby registry of favorite things, so stock up on the cutest and softest kids' clothes and swaddle blankets. (And maybe get yourself a new pair of PJs.)
Nicebay Hairbrush at Amazon is 70% off
While this goes in your kid's stocking, it's really a gift for you! This miracle brush that's usually well over $100 is now on sale for $39.99. It straightens, smooths, and detangles instantly and with no tears.
These are our favorite detangling sprays and leave-in conditioners, if you want to pair the brush with something!

Trouble photo courtesy of the Hasbro Store on Amazon.
Best Black Friday Deals on Gifts for the Whole Family
Hasbro Games at Amazon are over 50% off
Games like Trouble and Connect 4 are just $5. Stock up! These make great classroom gifts and toys to donate!
Black Friday trampoline deals at Walmart
A fantastic outlet for kids' energy, trampolines encourage physical activity, balance, and outdoor fun. Three cool trampoline options are all over 50% off.
Fitbits are $60 off, available at Best Buy
It's not just a fitness tracker; it's a motivator for healthy habits, turning exercise into an exciting game, and Fitbits are a big hit with teen athletes.
Outdoor equipment at REI
REI is closed on Black Friday (the brick-and-mortar stores) so employees can spend time on the holidays with their families. Not only do we love supporting companies that love their employees, we love the great online deals available at the Cyber Week online sale that starts November 25.

Lego advent calendar photo courtesy of the Lego Store on Amazon.
Black Friday Deals on Holiday Treats and Decor
Lego advent calendars on sale!
Makes our list of top advent calendars every single year, and often they sell out at above retail prices by now. This year, they're on sale at 25% off for the Lego Friends, Lego Marvel, and Lego Star Wars advent calendars. You've got plenty of time to order them and have them ready for December 1. You can even stock up for next year!
Holiday decor on sale at Target for 20-50% off
Decor is 20% off, trees are 50% off, and family matching pajamas are 30% off, so you can get all your holiday decor needs in one place (and without leaving your house)!
Christmas trees at Michaels
If you come down on the artificial side of the great real or fake tree debate, we've got a treat for you. At Michaels this year, the tree sale has trees for up to 70% off, plus free shipping!

Photo courtesy of Legoland in Florida
Best Black Friday Deals on Travel and Tickets
Legoland & Discovery Centers
Almost every major metro area has a Lego Discovery Center, or perhaps you're taking a trip to Legoland at Legoland Florida, Legoland California, or Legoland New York. If so, save big by purchasing tickets now. Give the gift of play with a Legoland or Lego Discovery Center Annual Pass or Gift Tickets during the Black Friday sale. Tickets and passes are at discounted prices from November 13-27.
Expedia
If you're planning a warm & sunny winter getaway or summer vacation somewhere international (like Paris or Iceland), Expedia is having a huge Black Friday deal: Book travel from November 17-29 to save at least 30% on thousands of hotels.
This article contains some affiliate links, which means we might earn a small commission if you make a purchase. There is no extra cost to the reader. We only recommend products and services that we have personally used or have thoroughly researched.