Best Kids' Ride On Toys for Kids of All Ages for a Gift That Will WOW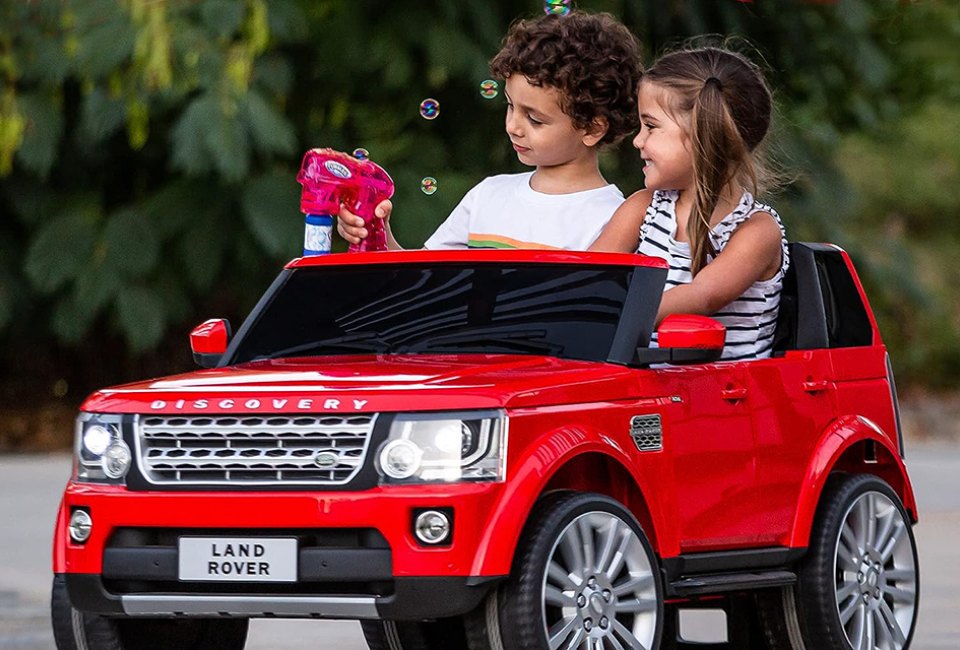 11/7/23
- By
Jennifer Marino Walters
Ride on toys are the perfect gift to give a child if you really want to "wow" them. After all, what's more fun than zooming around town—or the house—on two, three, or four wheels? Plus, many kids' ride on toys have the added benefit of building balance, coordination, muscle strength, and fine motor schools.
We've rounded up 21 of the best ride on toys for kids of all ages, from toddlers all the way through teens (and even adults). These kids' ride on toys run the gamut from ride on horse toys to scooters to tricked-out electric cars for kids. With these ride on toys, your kiddo will surely be cruising the neighborhood in style.
Find more awesome gifts for kids, from the best first birthday gifts to the best gifts for tweens and teens, in our Mommy Poppins Gift Guide.

With 17 sensory activities, the Radio Flyer Busy Buggy provides endless entertainment for toddlers.
Best Kids' Ride On Toys for Toddlers and Preschoolers
This pint-sized ride on toy allows toddlers to practice moving their legs to propel themselves forward. When they need a rest, they can enjoy the buggy's 17 sensory activities including sliding beads, interlocking gears, and a clicking spare tire. The under-seat storage area is the perfect place to stash toys.
RELATED: 100 Classic Toys for Kids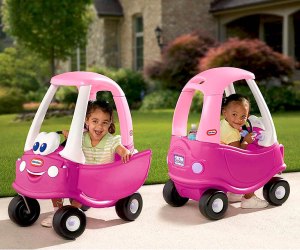 The Little Tikes Cozy Coupe is one of the most classic ride on toys for toddlers.
The foot-powered Cozy Coupe is the classic first ride for toddlers, and it now offers many options besides the recognizable red and yellow version. Try the princess model, the dinosaur version, or even the Cozy Ice Tream Truck. Every model has a push handle and a removable floorboard, so parents can push riders until they're big enough to move the car with their feet.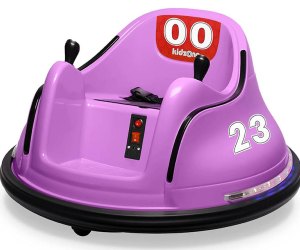 Little ones can drive the Kidzone 6V Electric Ride On Bumper Car independently.
Kids will squeal with delight as they spin 360 degrees on this battery-powered electric bumper car with colorful LED lights. Parents can use the remote control to guide the toy for toddlers, then kids can operate it themselves as they get older. The bumper car comes in 10 colors, and kids can use the included number stickers to customize it.
RELATED: Best Toddler Gifts: Toys, Books, and More for 2- & 3-Year-Olds

The Step2 Up & Down Roller Coaster is like an at-home amusement park for little ones.
This fun roller coaster toy turns your backyard into a mini theme park. Your toddler can ride the toy car along nine feet of bumpy plastic track. It may look simple, but little ones absolutely love it. The car can be used as a separate ride on toy as well, giving you more bang for your buck. Get the track expansion pack to extend the fun with four extra feet of track.
RELATED: Best Gifts and Toys for 4- and 5-Year-Olds

Micro's Kickboard Mini offers a stable ride that supports toddlers and small children as they master balance and coordination.
The durable, award-winning Micro Kickboard Mini Deluxe is a perfect first scooter for kids. It has three wheels for added balance, an adjustable handlebar that grows with your child, and a grippy footplate for extra safety. It also comes in several colors and patterns to suit any little one's tastes.

The Radio Flyer Chestnut Plush Interactive Riding Horse responds to toddlers' motion with life-like sounds.
Best Ride On Horse Toys for Toddlers and Preschoolers
The classic hard, plastic version of this stationary horse has gotten an upgrade—the horse now has a plush coat and a padded head to prevent bumps and bruises. It features three levels of riding action—walking, trotting, and galloping—and responds to toddlers' motion with lifelike sounds. Little ones can "feed" the horse the included carrot to activate chewing sounds.

Little ones will want to bounce around all day on the adorable, world-famous inflatable horse, Rody.

Little ones will want to bounce around all day on this adorable, world-famous inflatable horse made of latex-free and phthalate-free vinyl. Rody comes in over 10 bright colors and helps kids improve balance, build muscle and core strength, and develop gross motor skills. If you've ever been in a day care center or preschool, chances are you've seen Rody!

The PonyCycle Authentic Horse Ride on Toy can be used indoors and outdoors.
Yeehaw! Your little cowboy or cowgirl will love riding this plush wheeled pony both indoors and outdoors. Kids use their arms, waist, and legs to move the pony, just like in real horseback riding. A hand brake brings the pony to a safe stop, and riders can push a button to trigger realistic neighing and galloping sounds. Lasso not included!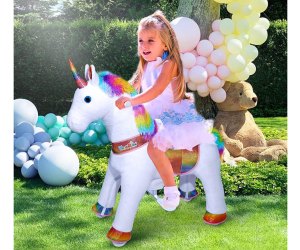 The WondeRides Ride on Unicorn Plush Horse Toy requires no batteries.
This wheeled ride on unicorn is a dream gift for a unicorn lover. Riders gently push up and down on the footrests to make the unicorn move forward with an easy "gallop and go" motion. The handlebars make it simple to steer, and kids can go as fast or slow as they wish.

Reach exhilarating speeds of up to 6 mph on the PlasmaCar.
Best Ride On Toys for Kids in Elementary School
Even the adults in your house will be clamoring for a turn on the award-winning PlasmaCar, which holds up to 220 pounds. There are no batteries, gears, or pedals: Riders simply put their feet up on the footrests and turn the steering wheel to move. The PlasmaCar uses the natural forces of inertia, centrifugal force, gravity, and friction to reach speeds of up to 6 mph. This was a favorite in our family!
RELATED: Gift Guide to the Best Toys & Gifts for Kids, 5-Year-Olds to 9-Year-Olds

The Razor A3 is a lightweight, durable scooter that gives a smooth ride.
This scooter is a great choice for kids who have graduated to two wheels. It features easy-adjust handlebars, a rear-fender brake, and a wheelie bar. Its larger wheels and front vibration-dampening suspension system make for a smooth ride, and the scooter folds up for easy transport. Plus, you can't beat Razor's durability!

Just lean left and right to change direction on the Rollplay Nighthawk Storm Electric Ride On Toy.
Kids will love zipping around at speeds of up to 6.5 mph on the Nighthawk, which has food pedals, a brake, and a 6.5-foot turn radius. Riders can hold onto the side handlebars and lean their bodies left and right to change direction. The Nighthawk comes in white or black, and both colors feature a red tail flag so drivers and pedestrians can easily spot riders.

Kids can zoom down snowy hills on the Costzon Snow Racer Sled.
Why use a boring old sled when you can ride this awesome ski sled? It's kitted out with a steering wheel, foot brakes, and three skis for exhilarating downhill skiing. Parents can pull younger kids with the extra rope. Snow days will never be the same!
RELATED: Toys Sure to Entertain Kids for Hours and Hours Again and Again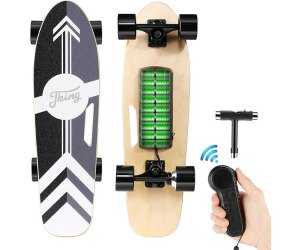 The Caroma Electric Skateboard is suitable for everyone from beginners to professional skateboarders.
Best Kids' Ride On Toys for Tweens and Teens
Take your skater boy or girl's board up a notch with this electric skateboard that comes with a wireless remote control. The skateboard has three speeds—6.2 mph, 9.3 mph, and 12.4 mph. The battery life lasts six to eight miles, but no worries if it runs out—just ride the board like a traditional skateboard until you can get it charged again.

The Gotrax E4/E5 All Terrain Hoverboard is perfect for adventure-seekers who love to ride on all kinds of roads.
There are lots of great hoverboards on the market, but we love this one because its off-road tires provide better grip and stability on any terrain. It can even roll over small obstacles! Riders can connect a smartphone to play music through the built-in speaker, and the bright LED light makes riding at night safer. The self-balancing control system helps new riders with stability.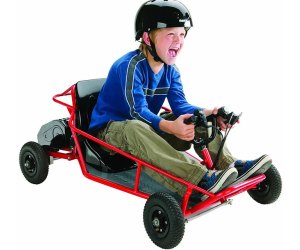 Ths compact Razor Dune Buggy requires no fuel and reaches speeds of up to 9 mph.
This dune buggy is a major splurge, but it's a great gift if you want to truly knock the recipient's socks off. Its powerful, 350-watt electric motor helps riders reach speeds of up to 9 mph. Kids can steer it using the hand throttle and brake controls. Tweens and teens will love zipping around town in this awesome buggy, and parents will love its vintage vibes.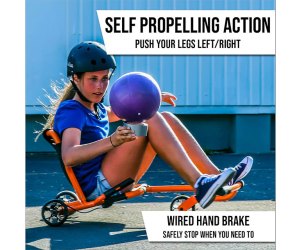 Even grown-ups can enjoy ride on toys like the EzyRoller New Pro-X.
The award-winning EzyRoller Pro-X is tons of fun for tweens, teens, and adults who are young kids at heart. Riders push their feet back and forth against the foot bar to hit speeds of up to 10 mph—the faster you push, the faster it goes. It's great exercise! The EzyRoller Pro-X comes in six colors—blue, green, orange, pink, purple, and red.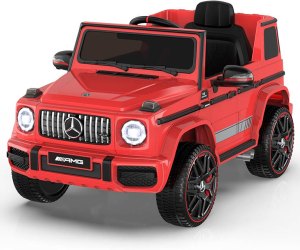 Little ones can cruise the neighborhood in style on the ANPABO Licensed Mercedes-Benz G63 Car.
Best Electric Cars for Kids
Picture them rollin' down the sidewalk in their very own red, white, or black Benz, which parents can steer with a remote control until kids are old enough to drive themselves. The car is tricked out with working headlights, horn and engine sounds, realistic pedal acceleration, and built-in songs. Or, connect a smartphone so kids can choose their music. Treaded wheels, a seat belt, and an emergency-stop feature make this car as safe as it is flashy.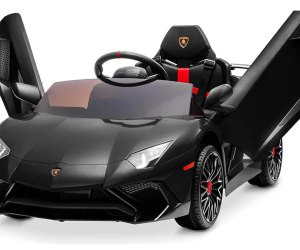 Make your child's superhero dreams come true with the Kidzone Kids Electric Ride On Lamborghini Aventador.
Your kiddo doesn't have to wait until they grow up to get their dream car. The hydraulic-powered doors on this officially licensed electric car swing open like a real Lamborghini's. It also has LED headlights, horn and engine sounds, an adjustable seat belt, and wear-resistant, all-terrain wheels. Parents can steer it using the remote control, or kids can use the steering wheel and pedal. The sweet ride comes in eight colors, including pink!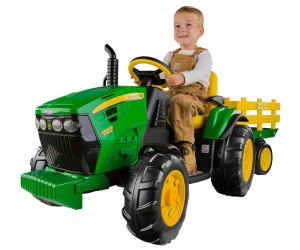 Kids can get to work on the Peg Perego John Deere Ground Force Tractor.
This green tractor looks just like the real thing, but is perfectly sized for kids. It goes two speeds (2 1/4 mph and 4 1/2 mph) and features an accelerator pedal with automatic brakes, a trailer to carry things around, an adjustable seat with flip-up armrests, a working FM radio, and traction on grass, dirt, gravel, or pavement. Your little farmer will have everything he or she needs.

The Licensed Land Rover Ride On Car Toy is one of the coolest ride on toys for kids.
Kids can channel their inner Barbie as they roll around town in this pink SUV with two-wheel suspension, treaded tires, and a remote control. Startup sounds, a horn, LED highlights, and the ability to play music by plugging in a device make the car feel realistic. There's even room for Ken—er, a friend! If pink is not your kiddo's jam, the Land Rover also comes in black, red, and white.
Photos courtesy of the manufacturers via Amazon
This article contains some affiliate links, which means we might earn a small commission if you make a purchase. There is no extra cost to the reader. We only recommend products and services that we have personally used or have thoroughly researched.
t Click Here to Sign Up!