Online Robotics Camp
Young Gates - Kids Online Personalized Classes

Artificial Intelligence with Scratch Online Camp
Young Gates - Kids Online Personalized Classes

Spark Math: Free Trial Class
Virtual
Sign up for our free newsletters.
Art Classes for Kids Near Westchester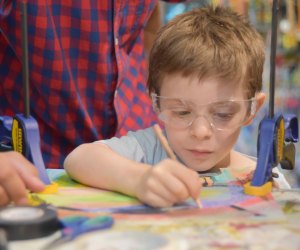 9/1/21
- By
Marisa Iallonardo
Whether you're in the "please don't color on the walls" phase or your tween is serious about honing her painting skills, you'll find a creative and enriching art class available in Westchester. The best part? There are classes for any and all interests—from painting and cartooning to clay-making and silk screening.
We've rounded up destinations in Westchester where kids can get creative. Have a writer or musician instead? We've got them covered too. Check out our full Classes Guide for even more picks.
The Best Art Classes for Kids in Westchester
Creatively inclined kids can get super specific about the type of art they want to make at Katonah Art Center. Case in point: Middle- and high school students can take classes called 3D Printing for Teens, Fashion Illustration, and Manga Photoshop. There's lots to choose from for younger kids, too, including drawing and painting, pottery and sewing—and kids as young as 3 can start using clay. The center also offers summer and school-break camps.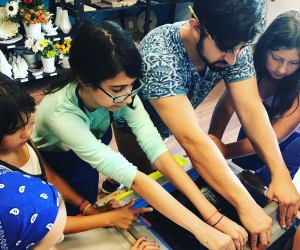 Kids can learn to screenprint at a MADE summer art workshop. Photo courtesy of the venue.
This art studio offers after-school workshops in mixed media, canvas painting, and more. It also is currently offering pottery wheel sessions for kids and teens.
Almost every day of the week brings a different type of class for kids at Pelham Art Center—from using clay on Tuesdays to watercolor painting on Saturdays. Camps and workshops are available, too.
While kids can enjoy fundamental painting and drawing classes at this Rye studio, they can also take their interests a step further and try classes in everything from cartooning to making clay jewelry Classes usually run per season—so spring, summer etc.—and it also offers workshops, virtual options, and gallery shows.
RELATED: Sports Classes for Kids in Westchester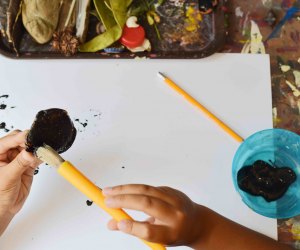 Scribble Art Workshop in Dobbs Ferry offers classes in sculpture, printmaking, and more.
Toddlers ("miniscribblers") will use everything from watercolors to fabric, while preschoolers will learn techniques from sculpture to printmaking in the young kids classes at this Dobbs Ferry studio. Elementary schoolers can try their hand at sculpture, collage-making, and more. The studio also offers drop-in classes as well as private lessons.
Started by a pair of art teachers, this studio, housed in Pleasantville Presbyterian Church, offers Kids Create classes on Mondays and Saturdays for elementary schoolers. Kids use various materials, including charcoal, watercolors and pastels. For tweens and teens interested in drawing and painting, classes are taught by Alan Reingold, an artist who has taught at Parsons and the Rhode Island schools of design.
While the Scarsdale studio has closed its doors, Young at Art still offers lots of opportunities for kids, including online classes and backyard parent-and-kid classes for toddlers and preschoolers, where they can do everything from sensory play to craft projects. Currently, it is also doing classes at the Greenburgh Parks & Recreation Department in Ardsley, for 2-year-olds through fifth-graders in art and drawing, with classes tailored to the particular age group.
This post was originally published in 2018. It was updated in September 2021.