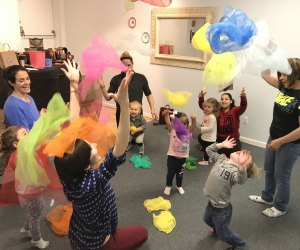 Mommy and Me Music Classes in Westchester
It's never too early to get started on music appreciation with your child. Taking a baby & me music class can boost your tot's brain power, help develop social skills, and foster creativity. It's also the perfect excuse to let your guard down and boogie to your favorite kid tunes.
Here's our comprehensive list of the best music classes for babies and toddlers in Westchester. Looking for even more classes for kids? Consult our Classes Guide and sign up for our newsletters!
Amadeus Conservatory of Music – Chappaqua
The Baby & Me class for little ones between the ages of 4-18 months presents music to kids, through the use of both singing and instruments—from tambourines to maracas.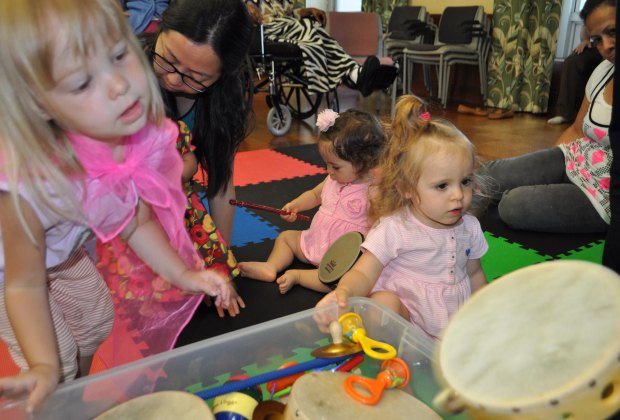 Music brings joy to multiple generations in the Babies & Grands class, which take place in senior care centers.
Babies & Grands Music – Hastings-on-Hudson and Dobbs Ferry
Babies & Grands is a parent-and-child music class with an intergenerational twist: Geared toward children ages 6 months to 5 years old, the class takes place in nursing homes in Hastings-on-Hudson and Dobbs Ferry. It teaches the fundamentals of music and movement to kids by using instruments, recorded music, and traditional music, while allowing parents—and senior residents—to get in on the fun.

Bach to Rock Music School – Mamaroneck
The weekly "Rock N Roll" class is a great choice for toddlers and their caregivers. Each class, which is centered around a theme, lets kids move to the music—and learn at the same time.

Belle School of Music – Scarsdale, White Plains, Yonkers
Kids between the ages of 18 months and 3 years can try their hand at the KinderMusic program at the Belle School of Music. In the class, they and their parent or caregiver can enjoy all types of music—from singing and trying out instruments to "keyboard geography"—in a fun setting.

Concordia Conservatory – Bronxville
Why not combine music and yoga? At Concordia Conservatory's Music Yogis class—for newborns to 3-year-olds and a parent/caregiver—the class incorporates yoga and music, as well as books and more for a well-rounded introduction to music and movement.
Music on Hudson – Croton-on-Hudson
These parent-and-child classes incorporate the Music Together philosophy and curriculum. In the ideal-for-siblings Mixed Ages class—so from newborn up through 5 years old—kids can do everything from singing to trying out instruments, surrounded by kids of various ages.
RELATED: 10 Westchester Spots with Enrichment Programs for Babies

Groove offers Music for Aardvarks classes to kids ages 6 months to 4 years.
Groove – Larchmont
Groove, whose new Larchmont studio opens in the fall of 2019, offers Groove Baby for little ones from 3 to 12 months to introduce them to music. While these classes are offered a couple times a week, the Mixed Ages class—for kids starting at 6 months old—has a session every morning except Sundays.
​
Gymboree – Scarsdale
Gymboree offers four music classes starting at 6 months and running up through 5 years old, including a Family Music class. These weekly programs focus on developing a love of music and enhancing the power of rhythm and beat through song, dance, movement games, and instruments.

Hoff–Barthelson Music School – Scarsdale
The Guppies program, for 1 to 2 year olds at HBMS, is a weekly introduction to music—at a music school that's been around for 75 years.

JCC of Mid-Westchester – Scarsdale
Join your baby or preschooler (6-36 months) for a class with Marc the Music Man at the JCC for singing, dancing, and movement games set to fun music. And new for 2018: stay tuned for the upcoming Itsy Bitsy Junior class for parents and kids age newborn through 12 months.
RELATED: 12 Mommy & Me Classes You Can Take on the Weekend in Westchester

Kids can get hands-on with all kinds of instruments in Larchmont Music Academy's KinderMusik classes.
Larchmont Music Academy – Larchmont
Dance, explore instruments, and share songs with your baby at weekly KinderMusik classes for kids ages 4 months to 18 months.
The Little Red – Dobbs Ferry
This learning center offers a host of classes, including Music 'n Play for infants up through 4-year-olds. Twelve-week sessions take place on Tuesdays and Thursdays.

Music Conservatory of Westchester – White Plains
The First Notes classes for babies and toddlers begins at 4 months here, and your kids will discover a passion for music through songs, sound exploration, and more—including Spanish—in an upbeat environment.

Music School of Westchester – Larchmont
For slightly older kids—so we're talking 2 and 3 year olds for this—there's the Wee Boogie Woogie class at this music school, where "parent participation is recommended." And in the class, kids will do everything from singing and dancing to reading and even trying their hand at the keyboard.

Musical Munchkins – Multiple Locations
Musical Munchkins introduces babies, toddlers, and preschoolers to music through instrument play, song, and creative movement through their many classes held throughout Westchester.
Mustard Seed Music Studio – Katonah
You'll find two different classes designed to enhance your child's love of music: Music Together for newborns through 5 years, and the Toddlers 2's and 3's class specifically for that age group.

Rye YMCA – Rye
Rye offers several parent-and-child options: The Moving & Grooving, Moving to the Beat With Dawny Dew is a young-family favorite. Geared toward babies from 9 months old up through age 4, the class includes songs, of course, as well as puppets, parachutes, and more. Just note that the class is actually at the Rye Arts Center on Milton Road.

Parents and babies alike get down in Shake, Rattle & Roll classes.
Shake, Rattle & Roll – Multiple Locations
Located primarily in lower Westchester, the parent-and-child classes here place an emphasis on musical growth and development through singing, instruments, and dancing.
Songs for Seeds – Scarsdale, Port Chester, Armonk
With three locations in Westchester, you'll be able to find a class that works for your family—and enjoy this music class, which features a live, three-piece band. There are classes geared towards kids from birth through age 6, depending on the location you visit.

Sounds Good Westchester – Multiple Locations
Music Together classes are also offered through Sounds Good Westchester, which has locations primarily along the Sound Shore. You'll find both Mixed Age classes, for kids as old as 4, as well as a Babies class, specifically for infants up to 7 months.
Starlight Starbright Music – Scarsdale, Chappaqua, Tarrytown
A Mommy Poppins Bestie Award winner for favorite baby & me class, Starlight Starbright Music runs Music Together classes at its studio in Scarsdale, as well as at the Community Center in Chappaqua and the Mozartina Musical Arts Conservatory in Tarrytown.
Tig & Peach – Pelham
Opening in September 2019, this new play space will offer a roster of kids' classes, including Multilingual Music for babies through age 5.
This post was originally published in 2016 and has been updated since. All photos courtesy of the programs.