Best Fun Restaurants for Kids' Birthdays Near DC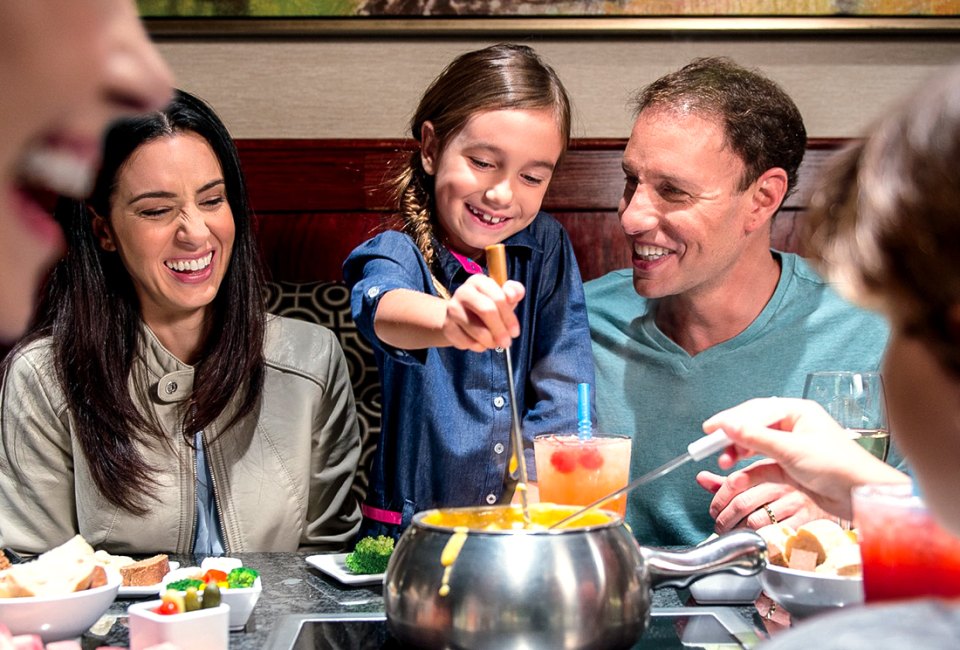 4/28/23
- By
Katie Sivinski
If you're looking for more than just the average lunch or dinner out for your child's birthday, the DC area is full of fun restaurants that provide a truly memorable birthday meal. Whether it's games your family can play, amazing desserts you can savor, a killer birthday song, or an interactive experience, these fun restaurants near DC offer some special touches to make your kid's birthday extra festive and special. With all types of cuisines and options in DC, Maryland, and Virginia, you're sure to find a fun birthday restaurant that works for your family.
Read on for 15 fun restaurants for kids' birthdays near Washington, DC. Check out our Kid-Friendly DC Restaurants Guide for even more fun options for a fabulous birthday meal, from the best theme restaurants for families to restaurants where kids can play.

Bowling + bocce + birthdays = big fun! Photo courtesy of Pinstripes
Best Fun Restaurants for Kids' Birthdays with Games to Play
1. Pinstripes — Washington, DC and Bethesda, MD
Delicious food, yummy desserts, and fun games combined will make a birthday great—and Pinstripes has all three of those covered! Families can enjoy bowling or bocce ball while noshing on surprisingly good Italian food, then cap it off with homemade cookies, creamy cheesecake, or another special dessert. The kids' menu is a great deal, offering a starter, an entree such as pizza or mac and cheese, a beverage, and a dessert for just $10. If you've got a larger group, Pinstripes also offers birthday party packages for kids and teens (and grown-ups, too).
2. The Eleanor — Washington, DC and Silver Spring, MD
Like Pinstripes, The Eleanor offers bowling, but it's mini bowling with duckpin-sized pins. The birthday child will also love playing Skee-Ball and arcade games. You can reserve a bowling lane, or you can take your chances and walk in to get on the wait list. At The Eleanor's DC location, arcade games are half-price from 11am-3pm on Sundays. The Eleanor's robust menu includes wood-fired pizzas, pastas, sandwiches, a raw bar, and weekend brunch. For kids, there are hot dogs, pizza, pasta, and fish and chips.
Treat your kid to pizza and ping-pong for their birthday at this DC institution near Chevy Chase. What gets better than that? (For kids, that is. For adults, Comet Ping-Pong serves alcoholic beverages.) The menu also features a variety of appetizers and salads, as well as a perfectly named Chocolate Birthday Cake dessert. The best part of this casual place is that kids will feel comfortable relaxing and being themselves. Plus, the ping-pong is free, and no reservations are required for the tables.
4. Dave & Buster's — Various locations in MD and VA
Dave & Buster's has six locations in the DC metro area—four in Maryland and two in Virginia. It's a go-to place for sports viewing, arcade games, virtual reality, and—depending on the location—air hockey, ping-pong, and billiards. Dave & Buster's serves typical sports-bar fare like bone-in and boneless wings, hamburgers and sandwiches, salads, and pasta. Kids can choose from favorites like pizza, mac and cheese, pretzel hot-dog bites, and more. On Wednesdays, Dave & Buster's offers half-price games from open to close. There are large booths for bigger groups, and grown-ups will enjoy chatting and watching a game while the kids play video game and win prizes.
This casual, family-friendly seafood restaurant has been in the same location since 1971. Kids—and parents nostalgic for childhood—will enjoy playing over 95 vintage and new pinball and arcade games, some of which cost as little as a quarter. The menu features delicious seafood such as crab, shrimp, mussels, fish and chips, and more, as well as landlubber options like salads, burgers, and steak.
RELATED: Best Coffee Shops in DC to Visit with Kids
​
Break open the chocolate pinata at Uncle Julio's! Photo courtesy of the restaurant
Best Fun Restaurants for Kids' Birthdays with Amazing Desserts
6. Uncle Julio's — Various locations in DC, MD, and VA
With its colorful decor, this Tex-Mex restaurant chain brings the fiesta for birthdays. Kids will enjoy the child-sized versions of tacos, quesadillas, fajitas, and other Tex-Mex favorites, while grown-ups will love the huge variety of margaritas. But the best thing about Uncle Julio's for birthdays is its signature dessert—the famous chocolate pinata. Perfect for sharing, this smashable hanging chocolate sphere is filled with toasted churros and fresh fruit that your family can dip into whipped cream and chocolate sauces. Be sure the birthday kid gets to deliver the final blow!
7. HalfSmoke — Washington, DC
At this cozy, casual BBQ spot in DC's Shaw neighborhood, diners can play board games while they wait for their meals. The ribs, fried chicken, mac and cheese, and more are delicious, but don't fill up too much—you'll want to save room for an over-the-top birthday dessert. Try one of the signature milkshakes, like the Cat in the Hat (cookies and cream, crushed Oreos, a marshmallow stick, and a fried Oreo) or the Cake Cake Cake (vanilla ice cream, Fruity Pebbles, strawberry syrup, and a rice crispy treat). Adults can even get boozy versions. Or, treat the birthday kid to a top-your-own funnel cake or a fried-Oreo sundae. Capture all the birthday fun in HalfSmoke's free photo booth.
RELATED: 10 Great Breakfast Restaurants Near DC for Kids and Families

A Ted's Tart with sprinkles makes for a festive birthday dessert. Photo courtesy of Ted's Bulletin
8. Ted's Bulletin — Various locations in DC, MD, and VA
In my family, a common birthday request is breakfast for dinner. Ted's Bulletin serves breakfast all day, but also burgers, sandwiches, meat, seafood, and more for those who want a traditional lunch or dinner. But the real draw for birthdays are the Ted's Tarts, or homemade Pop-Tarts. You can pick one with sprinkles as a birthday treat served a la mode. Ted's also offers a variety of milkshakes (some boozy versions), cakes, and pies to satisfy any sweet tooth.
This modern Italian restaurant has a massive menu of brick-oven pizzas, pasta, meat and seafood entrees, and other Italian favorites. On Thursdays through Saturdays, you can order the kid-friendly Cheese Wheel Experience—handmade fettuccine in a special cream sauce, prepared tableside in a 90-pound parmigiano wheel. The long dessert list includes classics like chocolate cake and cheesecake alongside Italian favorites such as tiramisu and gelato. But the best bet for the birthday kid (as long as they don't have a nut allergy) is the Nutella pizza—a full-sized pizza topped with Nutella, pistachios, whipped mascarpone, and baby marshmallows.
RELATED: National Harbor with Kids: 21 Best Things To Do in National Harbor, Maryland

Hop on stage with the dueling piano players at Bobby McKey's. Photo courtesy of the venue
Best Fun Restaurants with Great Birthday Songs
If a birthday lunch instead of dinner will do the trick, head to Bobby McKey's for its monthly all-ages dueling piano show, which typically takes place on the last Saturday of each month (unless its during a holiday weekend). Enjoy a buffet lunch of chicken tenders, pizza, and other kid-friendly foods while requesting songs from the piano players, who will play everything from the Beatles and Billy Joel to Disney Hits and Baby Shark. Birthday kiddos can go on stage to be serenaded with the birthday song, and you even get their name in lights on the marquee!
A birthday dinner at this Mexican joint, which has locations in Dupont Circle and on U Street, means the birthday kid will be serenaded by the resident mariachi band. How can they not feel special? With a massive menu of tacos, enchiladas, fajitas, and other Mexican favorites, everyone will find something to love at Alero.
12. Buca di Beppo — Washington, DC and Gaithersburg, MD
There are several reasons this red-and-white-checkered-tablecloth chain is so popular for birthday celebrations. Its heaping plates of family-style pastas and entrees make it perfect for large groups. Its kitschy decor, including walls covered with old photographs and old-fashioned lighting, is fun and festive. And then there's the over-the-top birthday song, sung loudly by exuberant, hand-clapping servers. Needless to say, everyone in the restaurant will know it's your kiddo's birthday!
RELATED: Top Kids' Birthday Party Places Near Washington, DC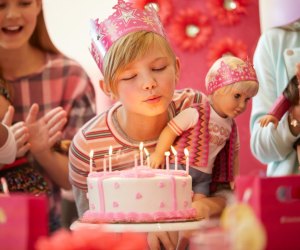 Dolls are invited to a birthday lunch at the American Girl Cafe. Photo courtesy of American Girl
Best Fun Restaurants for Kids' Birthdays with Interactive Dining
Located in Tysons Corner Center, the American Girl Cafe offers several birthday packages for young doll lovers, from intimate meals for two to full-blown parties with up to 14 guests. A Deluxe Happy Birthday Celebration includes lunch, cake and ice cream, a crown for the birthday girl and her doll, and goody bags for young diners. The cafe even provides doll chairs that attach to the table, so the birthday child and their siblings or friends can engage in pretend play while they eat. Fun beverages such as pink lemonade round out the fun.
14. The Melting Pot — Various locations in MD and VA
Kids will love the process of cooking their own meats and dipping bread, fruits, and veggies into melted cheese at this popular fondue chain. But they'll be especially wowed by the dessert—your choice of chocolate fondue with all sorts of fun stuff to dip into it, like brownies, waffle chunks, and fresh fruit. The Melting Pot is known as a special place for celebrations, so waiters will often go the extra mile by writing "Happy Birthday" on your dessert plate and offering other special touches. In other words, this will be more than just a meal—it will be an unforgettable birthday experience.
Hibachi restaurants like Masa are perfect for kids' birthdays because the chefs prepare the meal—and put on quite a show in the process—right in front of you. They tell jokes, do tricks, flip food into diners' mouths, and perform lots of other silly antics. But just seeing the flames coming from the grill is exciting enough for kids. Each meal comes with soup, salad, and a meat or seafood entree with fried rice, vegetables, noodles, and a shrimp appetizer. Masa offers a wide variety of sushi as well.
Sign up for the Mommy Poppins Newsletter today!
i