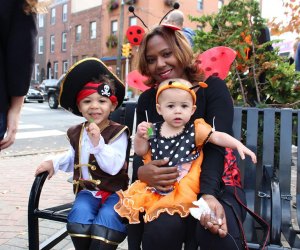 Halloween Weekend Things to Do in Philly with Kids: Trick-or-Treating, Haunted Houses
It's finally time to celebrate the spookiest day of the year, and we've got the best things to do in Philly for Halloween weekend from the city to the 'burbs.
It's the moment our kids have been waiting for...and we're ready for all the Halloween activities we can possibly pack into one weekend. Dress like a princess, superhero, or storybook character, and collect candy along Passyunk Avenue, in Franklin Square, Chestnut Hill, or Manayunk. Train aficionados can find sweets on the railroad aboard New Hope's Trick-or-Treat Train or West Chester's Trick-or-Treat Special, while fans of emergency vehicles can discover sugary surprises at an Emergency Vehicle Trunk or Treat. Older kids looking for frightful fun can hit up the haunted houses at Fright Factory or Sleepy Hollow Haunted Acres.
For even more Halloween events, browse the 50 Top Halloween Events in Philly and Best Free Halloween Events in Philly. To know exactly which doors to knock on, don't miss the Top Trick-or-Treat Neighborhoods in Philadelphia. And most importantly, have a safe and fun weekend filled with lots of Halloween loot!
More Things To Do in Philly this Week with Kids:
OUR LATEST VIDEOS
Best Things To Do in Philly this Week with Kids
More Fun Things to Do in Philly Right Now