Halloween Weekend in Philly: Trick-or-Treat and More Things To Do with Kids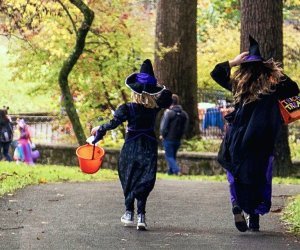 10/26/22
- By
Liz Baill
It's finally time to celebrate the spookiest day of the year, and we've got the best things to do in Philly for Halloween weekend from the city to the 'burbs.
It's a Halloween weekend like no other, as the Phillies start their World Series (!!!) run on Friday to finish out what has indeed been a Red October. Get your Philly kids hyped and sugared up by collecting candy early along Passyunk Avenue, in Franklin Square, Chestnut Hill, or Manayunk. Halloween festivals (or are they Phestivals now?) pop up across the city, from Headhouse to East Falls to Fitler Square. Still need a costume? For kids not dressing as the Phanatic or Bryce Harper, we've got you covered with our list of Halloween costume ideas.
The 31st itself is the first home game of the series, so get that candy ready both for trick-or-treaters and stress-snacking. For even more spooky spectacles, browse our Halloween Activity Guide, featuring our 50+ Top Halloween Events and more.
More Things To Do in Philly this Week with Kids: