How to Join the Phillies Kids Club and Root for the Home Team All Season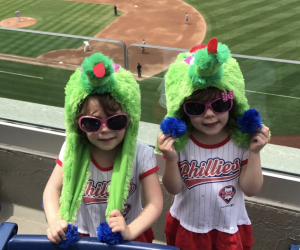 4/2/23
- By
Nicole O'Donnell
Just in time for the Phillies home opener, we've rounded up everything you need to know about taking your kids to the ballgame, from kids clubs to park attractions. Loving baseball has been a long-standing tradition in Philly, and the Philadelphia Phillies have always been a team like no other. Last year, the Phils played exceptionally well, enjoying a long playoff run that ended in a trip to the World Series. The excitement for the team was at an all-time high last fall, and Philly kids caught the Phillies phever!
The ball park offers many options for families, so read on to get geared up for the season and to find out how to get the most out of taking the kids to Citizens Bank Park. For more of ideas to engage your littlest sports lovers, visit our Sports Guide, and find more warm-weather outings for Philly families in our Spring Activities Guide.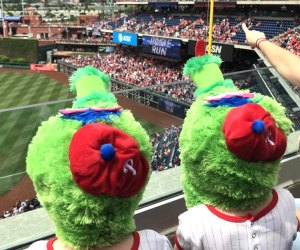 Get decked out in Phillies gear for the game.
Philadelphia Phillies Kid Memberships
Hands down the best way to get your little phanatic pumped for the season, the Phillies Kids Club is a great way to introduce and engage your kids in the excitement of baseball. Membership is open to children 14 and under, and includes a variety of benefits. For a one-time fee of $30, your child will receive:
Swag like a backpack, reversible bucket hat, Phanatic puzzle, and a Phanatic kite
Invitations to members-only events
First in line benefits during Nemours Children's Health Kids Run the Bases
One-time 10% off coupon for the New Era Phillies Team Store
More benefits announced throughout the season
To join the Phillies Kids Club, visit the official Phillies website. Options are provided for purchasing memberships as gifts or as the parent/guardian of the recipient. You can also sign up at the game--visit the Fan Club kiosk located in The Yard. Kids Club memberships are good for the season.
Got a brand new baseball lover at home or one on the way? For new and expectant parents, the Phillies have something special just for you. For a fee of $50 fee you'll get:
A personalized Phillies birth certificate
A PhanaVision birth announcement photo at the game
A red Phillies onesie (size 6 months)
A Phillies newborn club bib
A monthly milestone blanket
A one-time 10% off coupon for the New Era Phillies Team Store
Members can also receive a photo of the Phillies lineup card from their first game that can be redeemed by emailing kidsclub@phillies.com. To register for the Phillies Newborn Club, there is a two-step process on the website. You can also enroll at the Fan Club kiosk in The Yard at the game.
First Phillies Game Certificate
First timer? Don't forget to commemorate that first ballpark trip! Kids 14 and under attending their first game at Citizens Bank Park can get a free certificate available at Guest Services on the Main Concourse (behind Section 122) and the Terrace Level (behind Section 318).
In addition to watching the game, there is so much for kids to see and do at Citizens Bank Park. The Yard is a must-visit destination with family-friendly activities for all to enjoy. Located in right field, this 13,000-square-foot interactive area is designed with kids in mind and offers a variety of exciting activities for the whole family.
Citizens Fan Field
One of the highlights of The Yard is the Citizens Phan Field, a mini-WIFFLE ball field that features a major-league-class dugout and padded outfield wall. With its AstroTurf-covered field that stretches 70-feet deep and unique mural of the city skyline, this authentic play area is designed to resemble the Phillies' big-league field. Kids will love feeling like real Phillies players as they take turns batting, pitching, and fielding in this miniature diamond.
Hatfield Phanatic Hot Dog Launcher
Another fun attraction at The Yard is the Hatfield Phanatic Hot Dog Launcher. Just like the Phanatic on dollar dog nights, kids can test their aim by aiming at targets on the wall and sending foam-frankfurters soaring. This activity is sure to be a hit with kids who love a little friendly competition.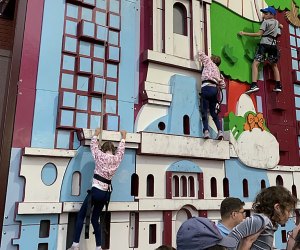 Climb the Philly skyline at The Yard between innings.
Phanatic Climbing Wall
For those who love a challenge, The Yard features a 30-foot Phanatic Climbing Wall that gives fans (in harnesses) the chance to clamber around graphic depictions of Philadelphia's landmark buildings.
Bullpen Speed Pitch
Fans can practice their pitches at the Bullpen Speed Pitch and measure their velocity with a radar gun, just like the pros. This is a great way for kids to hone their skills and get a taste of what it's like to play at the major-league level.
Ice Cream Bar
No visit to The Yard is complete without a stop at the Ice Cream Bar. This ultimate indulgence is sure to be a hit with any child or kid at heart. Plus, there are plenty of kid-sized concessions available, so parents can enjoy a snack while their little ones play.
Philadelphia Phillies Special Events
Make your kiddo's birthday extra amazing with a Kids Birthday Bash Ticket Package. This $420 package includes ten Field Level Baseline tickets near The Yard, concession coupons, foam fingers, a Phillies hat for the birthday kid, and the child's name on the big screen birthday list. The minimum for the package is 10 people; e-mail grouptickets@phillies.com.
The Phillies host a variety of special events and Theme Nights, from Autism Awareness Day to Scouts Nights and even Star Wars Night. Browse the list to find the perfect one for your family.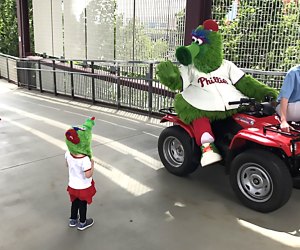 Say hello to the Phillie Phanatic!
More Philadelphia Phillies Ballpark Fun
Phillie Phanatic
Sure to make any Philly kid a phan, the one and only Phillie Phanatic performs on the field at the end of the 5th inning and on the Phillies dugout in the bottom of the 7th inning, so don't make a potty run at those times!
Home Run Liberty Bell
Teach 'em young the meaning of Ring the Bell! When the Phillies hit a homer, fans rejoice as thousands of LED lights in right-center field bring the bell to life.

Grab kids' favorite foods before the game.
Concessions at Citizens Bank Park
Ballgame food is naturally kid friendly and there's no shortage at the Phillies games. Browse your options ahead of time to make a plan.
Know before You Go
Come prepared! Bring a glove for fly balls. And don't forget that sunscreen.
Children two and under do not require a ticket, but need to sit on the lap of an adult.
Changing tables are available in every one of the facility's 61 restrooms.
A nursing mother's lounge is available on the Main Concourse behind Section 125 (between the Phillies Radio Booth and Home Plate lobby).
Only clutches (no larger than 5" x 7"), fanny packs, medical bags, drawstring bags, clear or solid tote bags, and diaper bags are permitted. Diaper bags can be no larger than 16"x16"x8" and will be subject to inspection.
Go Phils!
Photos by the author
Sign up for the Mommy Poppins Newsletter today!