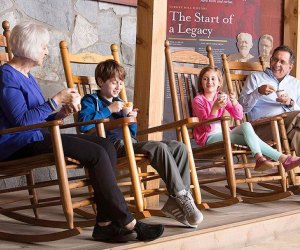 Kid-Friendly Factory Tours for Philly Families
Get behind the scenes on everything from chocolate to motorcycles! What better way to enjoy a family-friendly educational experience than with a factory tour? From Philadelphia to the suburbs, as well as places that may constitute a day trip, Pennsylvania is a state that makes all sorts of things, and many companies are thrilled to have kids and grown-ups check out the process. That's where factory tours come in. Have you ever wondered how Herr's makes such cheesy cheese puffs? Did your little engineer (or passionate teen) ever want to see how they make Harley Davidson Motorcycles?
Whether you are just looking for something to do this weekend or take a longer road trip, we have a list for you. Be sure to call or check the websites for the most up-to-date hours and ticket prices. Looking for something in your immediate vicinity? Our Events Calendar always has the latest scoop, and find more ideas for weekend fun with our Weekend Travel Guide.

The only downside of this tour is that you can't live in this chocolatey world of wonder! Asher's has been in the chocolate game since 1892, and it is the oldest continuously family-owned and operated candy manufacturer in the U.S. This yummy stop offers free, self-guided tours that are open to the public.
Home of handcrafted caroler figurines, this factory tour lets families stroll down a London street and watch skilled crafters from the observation deck. It's like a Christmas wonderland all year long.
Kids can play with crayons in more ways than one at Crayola Experience. Photo from Crayola Experience
The Crayola factory tour is a truly unique family experience. Explore how color, chemistry, and technology create the classic children's supplies for all things creative. This is a self-guided attraction with lots to do. Tours hours do come at a minimal cost, so visit the site for current hours of operation.
Maestros of all ages will enjoy seeing treasured instruments come back to life! This piano restoration factory is one of the oldest and largest in the U.S. Call ahead for details to arrange a tour.
Although it is a bit of a hike from the Philadelphia suburbs, the Harley-Davidson tour is a must see if anyone in the family is a bike enthusiast! The tour includes details about the history of the plant, a chance to see the assembly process, and a special "Kids Rally" area for kids under the age of 12. Note that children under 12 years of age are not allowed to take the factory tour - this one's best for teens. Tours are free and approximately one hour.
Expect fun-filled demonstrations, tasting opportunities, and a chance to see the delicious world of chip and cheese curl making. This science-packed tour is more educational than you would think, and it's a really tasty time for all ages.
The free tour at Hershey's Chocolate World takes visitors through the whole chocolate-making process. In the same building, families can purchase tickets to join a Chocolate Tasting Adventure, the Great Chocolate Factory Mystery in 4D, and a Create Your Own Candy Bar station. Kids and grown-ups alike will enjoy checking out all Hershey has to offer. Plus, you can buy tickets in advance online and save.
Kids get a hands-on lesson in the art of pretzel twisting. Photo from Julius Sturgis Pretzel Bakery
Take a tour of the original pretzel bakery founded by the Sturgis family in 1861. Children can learn the art of pretzel twisting with playdough, learn the history of pretzel making in America, and watch as the bakers make soft pretzels in house. No reservations are needed for groups of less than ten people. The tour costs $2.75 per person ages 4 through 12. For visitors aged 13 and older, tour tickets are $3.75. Admission for children under the age of four is free,
Free guided tours will show how hand-crafted guitars come to life! Tiny strummers, teens, and grown-ups all have a chance to interact with masters in the trade and learn about the history of Martin, which dates to 1833. Tours are approximately one hour long.
The 1747 Mill at Anselma, a National Historic Landmark and working grist mill, loves to educate families about Pennsylvania's agricultural and industrial past through tours and milling demonstrations. The Mill is open from the first Thursday in April through the first part of December each year. It's a neat way to help tweens and teens really get into PA history and industry.
This working history museum produces handmade, decorative tiles in the arts and crafts style. Family tours include orientation video and self-guided walk through, and ceramists demonstrate tile-making processes. Art enthusiasts and budding creators will see original installations, various displays, and selected aspects of current tile production. Admission fees and operating hours are subject to change, so be sure to plan accordingly.
Head to this Lancaster County factory and experience life as an ice cream maker. Besides the factory tour, kids will have a blast creating their own virtual ice cream flavor, milking a mechanical cow, starring in a Turkey Hill commercial, and of course, indulging in the free ice cream and iced tea samples. For the entire experience, visitors should plan on spending one to three hours there. Want to make a trip of it? Read our list of 13 Fun Things to Do with Kids in Lancaster.
Stay super local and see how coins are made! Watch large coils of copper and nickel feed into a press that smoothes and forms them into discs. Free self-guided tours are open to the public at the U.S. Mint in historic Old City Philadelphia. Expect a line to get in, as there are no reservations during peak tourist seasons.
Originally published 2016