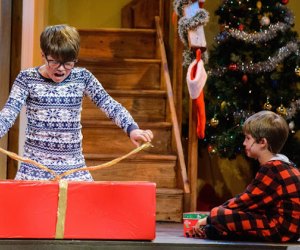 Philadelphia Holiday Shows That Aren't The Nutcracker
The holiday season has arrived, and with it is no shortage of festive family-friendly shows. If you've already seen a performance of the Nutcracker this season, or you're just looking for something different, check out this list of other Christmas shows happening in the area. Enjoy the show and have a happy and safe holiday season!
A Christmas Story- The Musical
Media Theatre- Media, PA
November 9, 2016- January 8, 2017
This classic holiday story comes to life on stage in musical form! All Ralphie wants for Christmas is a Red Ryder BB Gun. Find out if he'll get it this year.
AMT's Christmas Show
American Music Theatre- Lancaster, PA
November 1-December 30, 2016
This family tradition is the perfect way to get into the Christmas spirit. This Winter Wonderland musical features beautiful sets and costumes that the kids will love.
A Winnie-The-Pooh Christmas Tail
Media Theatre- Media, PA
November 12-December 31, 2016
Join Pooh Bear and his friends on a Christmas adventure as they help Eeyore find his lost tail!
A Year with Frog and Toad
Arden Theatre- Philadelphia, PA
November 23, 2016-January 29, 2017
While this one isn't exactly a holiday show, it follows two friends through all four seasons as they get to know eachother and learn about life.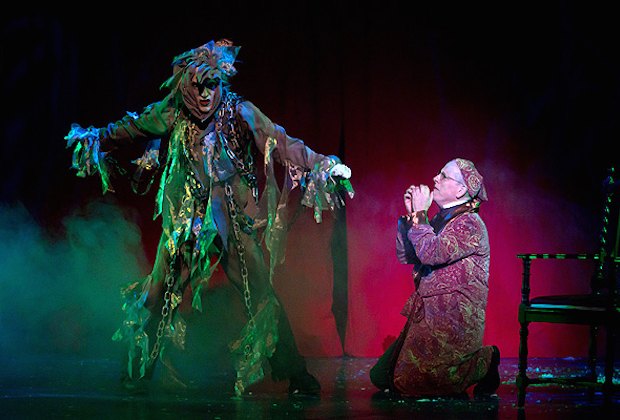 Photo courtesy of Walnut Street Theatre.
Charles Dickens' A Christmas Carol
Walnut Street Theatre- Philadelphia, PA
November 26-December 18, 2016
Watch the heartwarming tale of Ebenezer Scrooge and teach kids about the spirit of giving. This hour-long adaptation incorporates traditional Christmas songs.
An American Celtic Christmas
Bensalem High School- Bensalem, PA
December 3, 2016
Enjoy live music and dance at this Irish show.
Peter Pan
Ambler Theatre- Ambler, PA
December 7, 20, 27, 2016
Two actors perform this version of Peter Pan, which takes place in wintery London (and Neverland, of course!).
A Christmas Carol
Winterthur Garden- Wilmington, DE
December 7 & 8, 2016
Watch as Gerald Charles Dickens, the great-great-grandson of Charles Dickens performs a one-man version of the holiday classic.
Velveteen Rabbit
Rotwitt Theatre at Rosemont College- Rosemont, PA
December 9-11, 2016
Wolf Performing Arts Center presents this beautiful story about a much-loved toy rabbit.
Steadfast Tin Soldier
Lambertville Hall- Lambertville, NJ
December 10, 2016
This adorable puppet show is based on the Hans Christian Andersen tale.
Disney on Ice
Wells Fargo Center- Philadelphia, PA
December 23, 2016-January 1, 2017
Featuring Dory, Anna and Elsa, characters from Inside Out, the Toy Story gang, and Mickey Mouse, Disney on Ice presents Follow Your Heart.
Header image courtesy of Media Theatre.