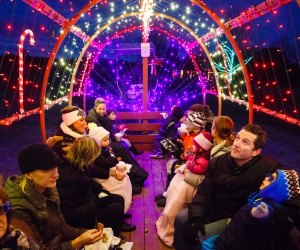 Best Holiday and Christmas Light Shows in Philly and the Suburbs
Every Christmas season, the Philadelphia area comes alive with stunning holiday lights and decorative displays. Festive light shows can be found everywhere, including on the Delaware River, at parks, farms, gardens, and even theme parks. We've picked some of the best Christmas lights events in Philly and the suburbs for families, many professionally choreographed to Christmas music. While most of these events are free, others are so spectacular that they are well worth the price of admission! Looking for more ideas? Find lots of Christmas fun in our Philly holiday guide.
Franklin Square's Holiday Festival—Philadelphia
November 14–December 31, 2019
Free
See Franklin Square's Holiday Festival sparkle each evening for the Electrical Spectacle. More than 80,000 lights make up this impressive holiday light show, which is timed to winter-themed music by Philly Pops. Two alternating shows run every 30 minutes from 4:30 PM to 8 PM daily.on weekdays and 9:00PM on Fridays and Saturdays. Look for mailbox to return where kids can send letters directly to Santa, or deliver them in person for "Santa Saturdays."
Christmas Candylane at Hershey Park—Hershey
November 15–December 31, 2019
Admission fees apply, but children 2 and under are free
With more than four million lights, Santa and Reindeer on site, and more than 50 rides to enjoy. There is also a holiday drive through with another two million lights and nearly 600 animated displays.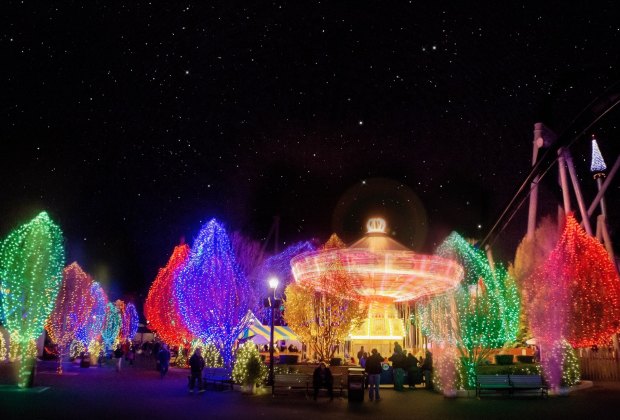 Photo courtesy of Hershey Park
Holiday Light Display at Peddler's Village—Lahaska
November 15, 2019–January 4, 2020
Free
All season long, visitors are dazzled by one million lights illuminating the village. The village is decked out Victorian-style so you can admire the greenery as well as the lights as you stroll around. Be sure to walk through the light tunnel and admire the Gingerbread House display inside the gazebo. The Grand Illumination Celebration kicks off the season on November 16 at 6:15PM sharp! Santa will also be on hand in the village Saturdays, Sundays, and select Fridays.
Shady Brook Farm's Holiday Light Show—Yardley
November 23, 2019–January 5, 2020
Drive your car or take a wagon ride through Shady Brook Farm's Holiday Light Show. More than three million lights make up this dazzling show. Take your time driving through the two-mile trail as there is so much to see! Pay by the carload—coupons are available on their website for weekdays.
.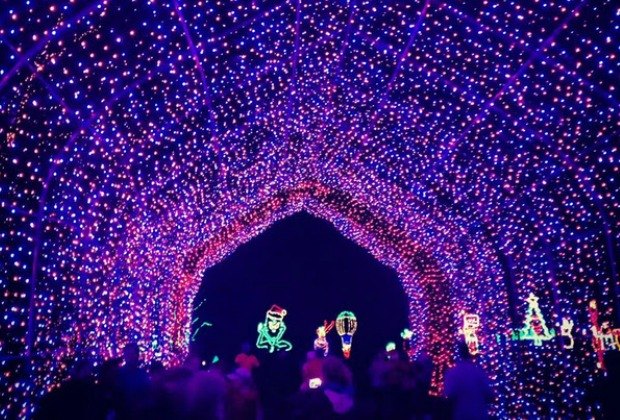 Photo courtesy of Shady Brook Farm
A Very Furry Christmas at Sesame Place—Langhorne
Weekends, November 23, 2019–January 1, 2020
This festive celebration features your favorite characters from Sesame Street, millions of twinkling lights and decorations, and the fun of an amusement park all rolled into one. Rudolph the Red Nose Reindeer is heading "south" to join in on the fun along with other fun holiday guests to create wonderful photo op memories for you and your little one(s).
Winter Wonderland at Dutch Wonderland—Lancaster
Select dates, November 23–December 31, 2019
Enjoy all the fun and rides of Dutch Wonderland and a royal light show. Hundreds of thousands of twinkling lights dance to your favorite tunes. There is also a Toys for Tots drive onsite on November 17 to help bring the holiday spirit truly to life.
Deck the Halls Light Show at Dilworth Park—Philadelphia
November 25, 2019–January 1, 2020
Free
This nightly light show is projected onto City Hall and is set to festive music. A space for Christmas memories, take in the festivities as you ice skate around City Hall during the holidays, ride the carousel, and enjoy hot chocolate from the tent. The Deck the Hall Light Show every hour on the half-hour and more frequently on weekends.
Comcast Center Holiday Spectacular—Philadelphia
November 28, 2019–January 1, 2020
Free
The Comcast Center Holiday Spectacular has become a must-see tradition for Philly families. With 12 animatronic snowmen, some liver performances, and a 15-minute high-tech video includes scenes from the Pennsylvania Ballet production of the Nutcracker, as well as a sleigh ride through snow-covered PA. New this year, visitors with hearing and vision impairments can experience the magic of the show through assistive technology.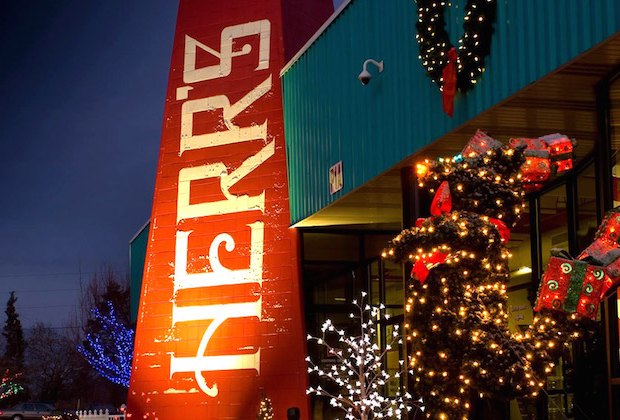 Photo courtesy of Herr's
Herr's Snack Factory—Nottingham
November 27, 2019–January 2, 2020
Free
Take a drive through the Herr's Snack Factory property in Chester County to see their "Snacktacular" light display from your own car from Thanksgiving Night until New Year's Day.
Longwood Gardens—Kennett Square
November 22, 2019–January 5, 2020
Wander through Longwood Gardens and view a half-million lights decorating the grounds, making this a light show you absolutely must see to believe. Visitors can't help but get in the holiday spirit with the Illuminated Fountain show in the Open Air Theatre, the festive trains in the Garden Railway, and the Organ Sing-Alongs. Inspired by the palace of Versailles, make sure to check out the Hall of Mirrors in the Music Room.
Johnson's Corner Farm—Medford, NJ
November 29–December 23, 2019
Load up the car and take a ride to Johnson's Corner Farm in Medford, NJ to see displays with thousands of twinkling lights in the Discovery Barnyard, a musical "light show" hayride, and horse-drawn hayrides throughout the farm. New this year is a light show on the lake.
Macy's Christmas Light Show—Philadelphia
November 29–December 31, 2019
Free
Experience this decades-old tradition of Macy's Christmas Light Show on the four-story wall of the Grand Court, which is accompanied by the music of the historic Wanamaker Organ. Plus, visitors won't want to miss a walk through the Dickens Village ending with a visit with Santa. Please note that the store is closed on Christmas Day.
Festival of Lights at Rose Tree Park—Media
December 1, 2019–January 1, 2020
Free
Stroll through Rose Tree Park to see Media's beautiful display of lights, wooden cutouts of a nativity scene, a Victorian Christmas village, gingerbread men, and toy soldiers. Who knows—there might even be a chance to see Santa walking through the park, talking to visitors.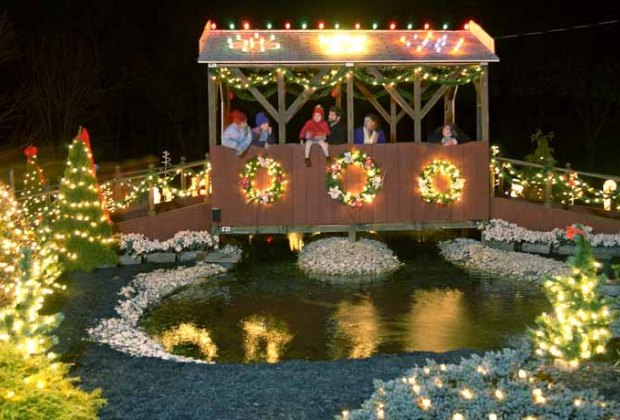 Photo courtesy of Koziar's
Koziar's Christmas Village—Bernville
November 2, 2019–January 1, 2020
Celebrating more than 70 years of Christmas joy, Koziar's will delight you with spectacular views of all the lights as you drive up the hill to enter Christmas Village. Bundle up and walk through this winter wonderland featuring tons of holiday light displays, deliciously warm hot cocoa, toy and ornament shops, and Santa himself!
Wild Lights at Elmwood Park Zoo—Norristown
Weekends, November 22–January 5, 2020
Wild Lights transforms Elmwood Park Zoo into a spectacular winter wonderland. Featuring millions of illuminations across the 16-acre zoo, your kids will love the animated installations, interactive elements, and themed attractions, plus live reindeer!
Luminature at the Philadelphia Zoo—Philadelphia
November 20–January 5, 2020
New this year, the Philadelphia Zoo transforms into a light and musical spectacle, and will feature 12 illuminated scenes, each with its own wildlife message.
Fashion District—Philadelphia
November 14, 2019–January 1, 2020
Free
The newly opened retail and entertainment space is celebrating its first holiday season in style. With a a 45-foot-tall floating tree and a light show timed to music by The Philly POPS. Each five-minute show runs every 30 minutes from 4PM to close.
Holiday Lights Festival—Lansdale
December 7, 2019
Free
Reserve a horse drawn surrey ride through Fischer's Park in Lansdale for the annual Holiday Lights Festival. The local Boy Scouts and Girl Scouts troops help create the festivity with decorations and entertainment. The tree lighting ceremony begins at 6 PM.
Holiday Luminaria—Mont Clare
December 14, 2019
Free; however, donations are appreciated
Over 1,000 luminaries lined along Lock 60 at Schuylkill Canal Park set the canal bank aglow. The Holiday Luminaria takes you back to the Victorian era with a Dickens theme. This festive experience also includes music and a visit from Santa.
Independence Seaport Parade of Lights—Philadelphia
December 7, 2019
Watch dozens of illuminated boats sail down the Delaware River in the Independence Seaport Parade of Lights. Families can watch the display for free from the riverfront or enjoy prime seating and a day full of activities with museum admission.
Updated November 2019. Be sure to browse our calendar for plenty more holiday and Christmas events!