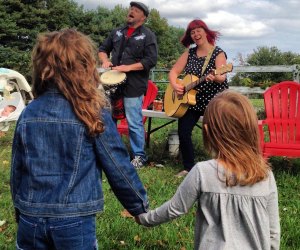 Birthday Party Entertainers to Take Your Party to the Next Level
So, you've decided to throw a birthday party and want to skip the hype of renting, and host the party yourself. Sure, you're an excellent host and have the space to fit a handful of extra kids, but while you may be able to show off some pretty fantastic Pinterest skills, you might want to hire some extra entertainment. Philadelphia is full of local pros who can come to the rescue (some even in superhero costume no less) and take the party off the charts! From song and dance, to wild animals, to face painting, we have you covered! Also, if the idea of cleaning up after a handful of kids suddenly sounds like more work and less play, we have some excellent recommendations for places outside your home to throw an amazing birthday bash!
A Piece of Cake
Cake queen Hila Shiff comes to teach the little ones how to decorate a cake or cupcakes and the results will likely resemble something you'd want to post on Pinterest. Bonus: Hila supplies all the equipment to make a sweet party, which makes things even simpler for you.
Baby Wordplay's Little Theater
Children get to meet Miss Pam who is a pro at leading kids in interactive play. She's the perfect guest for parties of children ages 1-4, but she will only travel to homes in Center City. She leads kids in interactive and very popular StoryPlay — storytelling, puppets, rhyming and singing. Miss Pam's StoryPlay lasts for 35 minutes, so you can prep the food while she entertains the kiddos.
Balloons by Jim
Jim is a Wayne-based balloon sculptor. You name it, he can make it! He will pop by your birthday bash for an hour and make hand-crafted balloon art that will delight kids and adults.
Fabulous Faces
These expert entertainers do it all: face painting, balloon twisting, glitter tattoos, and more. Book a single entertainer or combine a few for some extra fun.
Fairy Tale Party Philly
What could make your kiddo feel more special than having a real princess or their favorite character show up for their birthday? Choose from more than 10 of the most beloved Disney princesses or other adorable characters like Elmo and Doc McStuffins, who will not only make an appearance but provide entertainment for all the littles. Fairy Tale Party Philly also hosts makeover parties if your little ones love to play dress up as well.
The Great Holtzie
This award-winning stand-up comedian doesn't just crack jokes for your 3-year-old; he will have you belly-laughing too. He's pretty popular, so you will want to book him well in advance.
The Lara and Joe Show
This children's rock band really knows how to get the crowd moving. In addition to performing at birthdays, they provide music programs for preschools and daycare centers all across the Philadelphia area. You can get a peak at their performance skills during one of their music groups for babies, toddlers, and preschoolers every week at Center City Pediatrics.
My Dream Visits
In addition to a great list of characters to choose from, My Dream Visits also has a super hero package that comes complete with a favorite super hero visit as well as super hero training for the guests, so they can ward off villains and save the day.
What Knott Farm and Petting Zoo
This Philadelphia Besties winner is a traveling petting zoo that comes to you! If your little one can't get enough of cute animals, this is the perfect birthday entertainment. You can expect 20-25 party animals to help celebrate your little one's special day. Looking for more petting zoos for your animal lover? We've got a list of all the best nearby animal farms and petting zoos.
ZoomDance
ZoomDance isn't just for drop-in classes! You can host this awesome creative movement story time in your home. Kids dance, sing, act (and hopefully get all their post-cake energy out!). You can even get a themed story that fits all the decorations you custom-made! Best for kids ages 4-8.
Photo credit: Lara and Joe Show