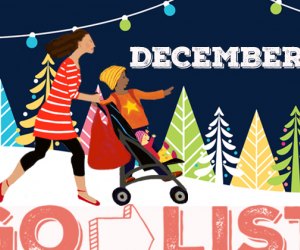 Best Things to Do with NYC Kids: December GoList
Be sure to sign up for our FREE newsletters so you can get our picks delivered directly to your inbox!
If an event piques your interest, click through to our listing for all the details, including addresses, times, and prices. And remember, really cool things to do with kids in NYC book up quickly, especially during the holidays. Buy your tickets ASAP or, in the case of FREE events, arrive as early as possible to beat the crowds.
Now get your calendars ready! Here are the top 14 things to do with kids in New York City this December, half of which are FREE.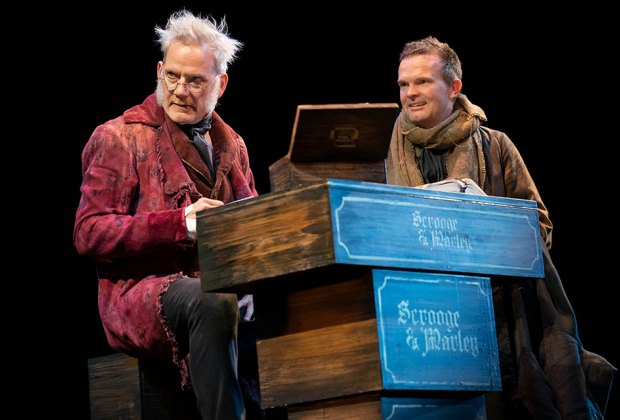 The holiday masterpiece, a Christmas Carol, is bringing joy to Broadway! Photo courtesy of the production
A Christmas Carol — Midtown West
Through Sunday, January 5
There are a slew of Christmas Carols in NYC over the holidays, but it's been decades since Charles Dickens' inspirational tale of transformation has been done on Broadway, and this London import is joyful, charming, and incredibly moving. Holiday cheer fills the house before the show even officially starts, as an on-stage band plays Christmas carols and cast members hand out clementines and bags of cookies. The show is a wonderful choice for families with tweens and teens—even the angsty adolescents cried! Check Playbill for discount codes.
RELATED: 35 Free Holiday Events for NYC Kids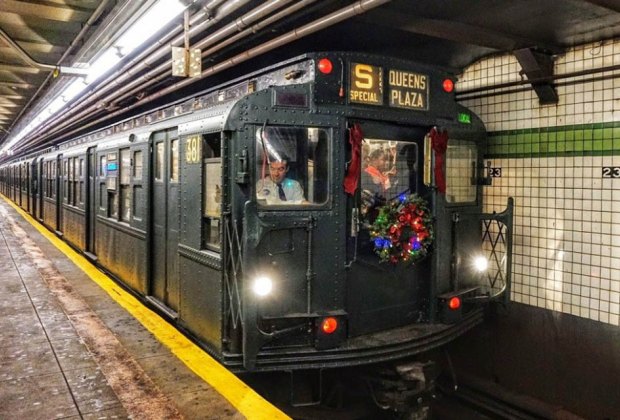 Take a step back in time in one of the MTA's Holiday Nostalgia Trains. Photo courtesy of the MTA.
Holiday Nostalgia Trains — Citywide
Sundays, December 1 through December 29
With a swipe of your MetroCard, you can take retro rides on vintage R1/9 subway trains that date from the 1930s through the 1970s, all meticulously maintained by the New York Transit Museum. Marvel at the old-school details, including rattan seats, ceiling fans, incandescent bulbs, and authentic vintage advertisements (some quaint, others downright funny). This year's Holiday Nostalgia Train will run along new routes, including the F, A, and D train lines, making it even more likely that the fun will roll past your stop. FREE with your MetroCard.
Winter's Eve — Lincoln Center
Monday, December 2
This merry annual street party celebrates 20 years of transforming the Upper West Side into a small town for one evening this year. As always, the evening features a lively lineup of legendary performers, up-and-coming musicians, dancers, street entertainment, kid-friendly activities, and many more ways to get into the holiday spirit. The festivities kick off with a special performance in Dante Park on Broadway and 63rd Street at 5:30pm, with a traditional lighting of Lincoln Square's Upper West Side holiday tree. (Go early, especially with younger kids, and be prepared for crowds.) FREE
RELATED: Best Nutcracker Shows Around NYC for Kids and Families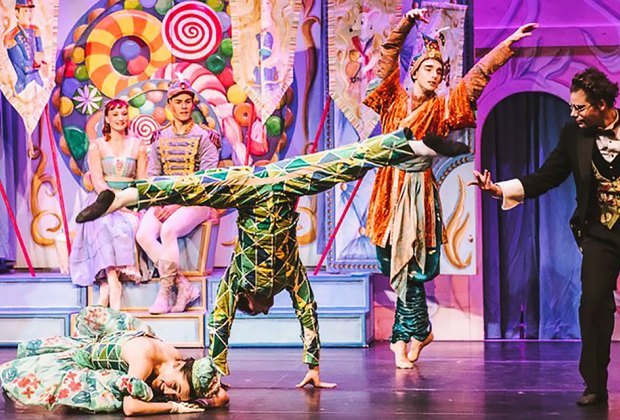 Catch the New York Theatre Ballet's Nutcracker at Brookfield Place for FREE. Photos by Rachel Neville for the New York Theatre Ballet
The Nutcracker at Brookfield Place — Battery Park
Friday, December 6 through Sunday, December 8
Brookfield Place is a great destination for families year-round, but it's particularly magical in December thanks to its festive holiday programming. This year, its Luminaries installation returns with a colorful light show, and there's an outdoor ice skating rink with lovely views of Lady Liberty. And Friday, November 30 through Sunday, December 2, catch NYC's only FREE performance of The Nutcracker in the Winter Garden, an abridged one-hour version by the acclaimed New York Theatre Ballet. Perfect for ages 3 and up! (Please note, seating for these popular performances is first come, first served and early arrival is strongly suggested.) FREE
Holiday Time at PaleyLand — Midtown West
Saturday, December 7 through Sunday, January 5
Watch FREE screenings of holiday TV classics from the Paley Center for Media's historic archive, including A Charlie Brown Christmas, Frosty the Snowman, Rudolph the Red-Nosed Reindeer, and Dr. Seuss' How the Grinch Stole Christmas and many more. Other family-friendly activities on offer include holiday crafts and a Candy Cane forest, and interactive VR games—plus weekly visits from Santa. FREE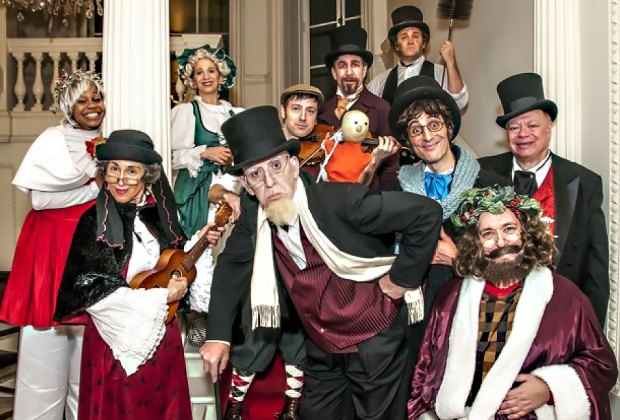 Kick off the holiday season with your family at the Morgan's Winter Family Fair. Photo courtesy of the museum
Winter Family Fair — Murray Hill
Sunday, December 15
Enjoy an old-fashioned celebration at the Morgan's Victorian era-style holiday fete for families in conjunction with its annual display of Charles Dickens' original A Christmas Carol manuscript. Meet Scrooge, Bob Cratchit, the famous ghosts, and the author himself as portrayed by members of the Grand Falloons troupe. Kids also can enjoy holiday movies; strolling magicians, musicians, and other entertainers; art projects led by educators; and dressing up in period costumes for retro photo shoots. The afternoon closes with a festive concert of Christmas carols. Free with museum admission.
45th Annual Merry Tuba Christmas at Rockefeller Center — Midtown West
Sunday, December 15
Hundreds of tenor and bass tuba players of all ages line up under the famous Christmas tree at The Rink at Rockefeller Center to play Christmas carols and other crowd favorites, while the audience sings along. The first Tuba Christmas was presented at Rockefeller Center in 1974, and this unusual Christmas tradition, now celebrated in hundreds of cities around the country, is a NYC favorite. FREE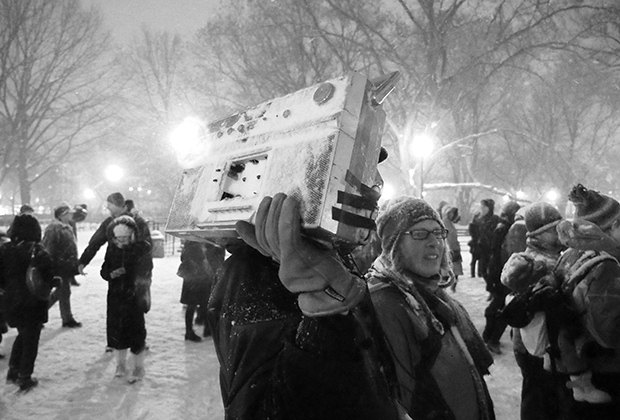 Phil Kline's Unsilent Night rocks New York on December 16. Photo by Taylor Davidson for the event
Unsilent Night — Greenwich Village, East Village
Sunday, December 15
An offbeat alternative to traditional Christmas caroling: Help create a "sound sculpture" by blasting the music of avant garde composer Phil Kline. Participants broadcast one of the four parts of Kline's "Unsilent Night" score on boom boxes, smartphones, or MP3 players as they parade from the West Village to the East Village. Download the music online, get the free app, or show up early to snag a free CD or cassette tape (remember those?). Participants should arrive at least 15 minutes before the kickoff. If you don't want to march you can always listen from the sidelines. FREE
Reading of 'Twas the Night Before Christmas — Washington Heights
Sunday, December 15
Get into the holiday spirit old-school-style with this century-old Christmas tradition at the Church of the Intercession, where Clement Clarke Moore's famous ode to Christmas will be read aloud. Afterward, enjoy caroling, a lantern-lit procession to the poet's grave at nearby Trinity Cemetery, a commemorative wreath laying, and complimentary hot cocoa. FREE
RELATED: 21 NYC Holiday Activities Every Kid Should Try Once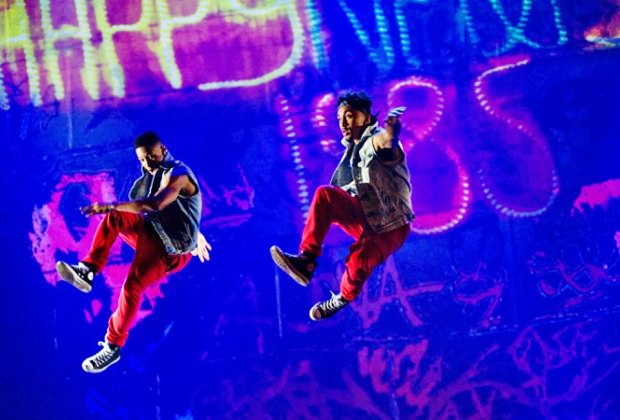 The Hip Hop Nutcracker infuses a new energy into an old favorite. Photo courtesy of the production
The Hip Hop Nutcracker — Flatbush, Brooklyn
Sunday, December 15
Want to introduce the kids to The Nutcracker but worried they won't stay awake for the big one at Lincoln Center? Well, start dancing like a Sugar Plum Fairy because we've got a great alternative for you. Tchaikovsky's iconic ballet is given a modern urban makeover in this high-energy show at the beautiful Kings Theater. Set on New Year's Eve in Washington Heights, this Nutcracker features a dozen hip-hop dancers, digital scenery, a DJ, and the legendary Kurtis Blow as special MC doing an opening set of old-school classics. A uniquely NYC holiday classic in the making.
Make Music NY Winter Solstice Procession — Citywide
Saturday, December 21
Celebrate the winter solstice and the first day of winter at one of many free, outdoor music-making celebrations. For the ninth consecutive season, Make Music Winter welcomes New Yorkers to sing, play, dance and march their way across the streets, plazas and parks in twelve participatory parades across all five boroughs of the city. Gather family and friends and head out to the High Line, Washington Square Park, Bronx Commons, and more. There's even a mobile Hallelujah Chorus traveling around town! All of these participatory experiences are FREE. Just show up and make some noise.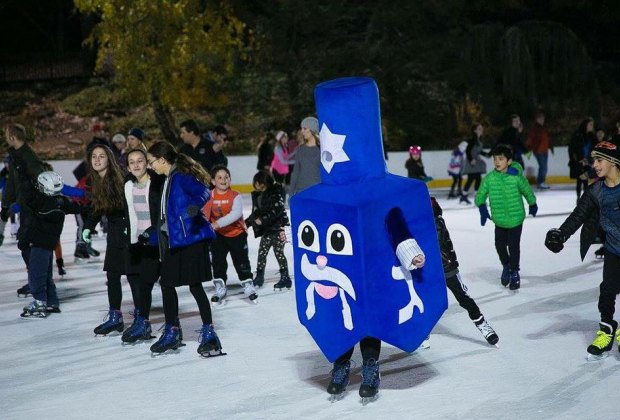 Join in the biggest Chanukah party in the city! Photo courtesy of Chanukah on Ice
Chanukah on Ice — Central Park
Sunday, December 22
Live music, kosher food, and a giant, hand-carved ice menorah. What's not to love? This annual celebration on Wollman Rink is a prime example of a holiday season event you need to sign up for ASAP, as it always sells out.
Kwanzaa 2019 — Upper West Side
Saturday, December 28
Celebrate the seven guiding principles of Kwanzaa at this vibrant annual festival at the American Museum of Natural History. This year's celebration will feature live musical performances, a drum call procession, and an international marketplace stocked with traditional gifts and holiday treats. Don't forget to check out the seasonal origami tree while you're there! FREE with suggested museum admission.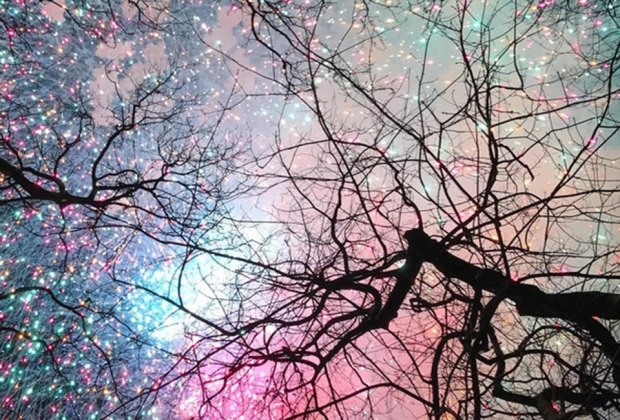 Ring in the new year in Prospect Park with fireworks and music. Photo courtesy of the event
Prospect Park's New Year's Eve Fireworks — Grand Army Plaza, Brooklyn
Tuesday, December 31
Join revelers at 11pm at at Grand Army Plaza for sparklers in the sky, live music, and more. FREE, but it's best to RSVP to if you plan to attend.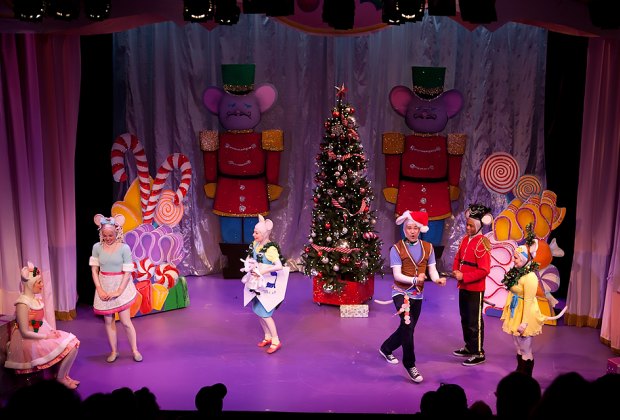 Angelina Ballerina Holiday at Vital Children's Theatre. Photos by Steven Rosen
Honorable Mentions
NYC always has so many incredible things going on, especially around the holidays, that it's difficult to include all the options. So here are 16 more cool events that are worth considering for your December calendar.
The Swedish Cottage Marionette Theater's seasonally silly original production, Yeti, Set, Snow! returns through February 23, 2020.
See everyone's favorite pirouetting mouse save the day in the charming Angelina Ballerina: A Very Merry Holiday Musical in Soho, through Saturday, December 28.
Hear Isaac Mizrahi narrate the tale that inspired Prokofiev's seasonal classic Peter and the Wolf at the Guggenheim, Saturday, December 7 through Sunday, December 15.
Enjoy Christmas in the Garden with Santa, wreath-making, and caroling at the Queens Botanical Garden, Sunday, December 8.
Launch objects 20 feet in the air with a seismic accelerator, walk on water, topple seven-foot tall dominoes, and more cool science stunts at the City of Science Festival on Sunday, December 15 in Park Slope, Brooklyn. FREE
Gather around the 32-foot-high World's Largest Hanukkah Menorah, across the street from The Plaza Hotel, for nightly lightings from Sunday, December 22 through Monday, December 30. Or join the crowd at Brooklyn's Grand Army Plaza for lightings of the Largest Menorah (still big, still bright, still beautiful, even if it's not a record-breaker...). FREE
Singers of all faiths can enjoy caroling under the arch in Washington Square Park on Christmas Eve. FREE
Not celebrating Christmas? Head to the Eldridge Street Museum's all-afternoon bash on December 25 for synagogue tours, scavenger hunts, art activities, and Yiddish music.
Hit the Queens County Farm Museum's annual holiday open house for tours, crafts, and freshly mulled cider in front of the fireplace from Thursday, December 26 to Saturday, December 28. FREE
A version of this post was published in 2017; it is updated annually.