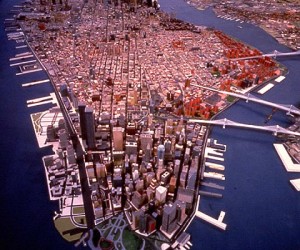 Cool Stuff for Families at the Queens Museum
There is a lot going on this summer at the sometimes forgotten Queens Museum nestled in Flushing Meadows-Corona Park and well worth the trip if you havn't been. This summer's events at the museum include an international film, dance and music series, free archery, scavenger hunts and lots of art making and viewing opportunities with the family.

The Queens Museum focuses on 20th-century works and is located right next to the Unisphere which is that awesome retro steel globe sculpture that was made for the 1964 World's Fair, check out Forgotten NY for some cool vintage photos and info on the Fair. And since school groups are the largest single community that visit the museum each year, they really appreciate and cater to kids and their staff is uniquely qualified to work with children.
As for getting there, while it is a bit of a trek, you can get there on the 7 train and the trade off is that once you are there its usually not too crowded and all their summer activities are free with admission ( $5 for adults, $2,50 for kids. Kids under 5 are free).


Passport Fridays from July 11 - August 22, 6:30 - 10 pm
The 4th Annual International Film, Dance and Music Series provides a jam packed night of free entertainment, just bring your picnic blanket to Flushing Meadows Corona Park and if it rains they move the venue inside the museum. Each evening focuses on a different country or region, the line up this year includes: West Africa, Brazil, Morocco, China, Ecuador, India, and Mexico. The best bet for kids is July 11 when the Ballet International Africans presents live drumming & West African dance by both their adult ensemble and children's troupe and an introductory workshop for those who want to learn some basic African dance. The film is Kirikou and the Wild Beasts which is animated but like all the films in the series it is subtitled making it not so great for kids (but perfect for sleeping babies). Dance and music programs begin at 6:30 pm followed by the film at 8 pm each Friday.
Weekend Scavenger Hunts for Kids
My favorite thing at the Queens Museum is their Panorama of NYC exhibit which was built by Robert Moses for the 1964 World's Fair and includes all the buildings that were constructed before 1992 in all five boroughs. Letting your kids loose to figure out where they live is a great way to teach kids about city geography and its just cool to see your building as a tiny model. When you go to the Museum on the weekend you can also participate in their scavenger hunt which gets kids to take a close look at the museum's permanent collection of World's Fair memorbilia and the Panorama. Plus, kids that successfully complete the hunt are rewarded with a prize from their gift shop.

Sunday Family Art Workshops - Sundays, July 6, 13, 20 and 27, 1:30 - 4:30 pm
Make art with the entire family without getting paint on the couch! You can drop in any time between 1:30 - 4:30 and work with museum staff and art materials on art projects and its all included with the price of admission. Children ages 5-12 along with their adult companions.

Art and Archery in the Park for Children - Saturdays, July 19 - August 9 11:30 - 1 pm
Create and decorate your own bows and arrows and targets and then participate in an Archery Competition on Saturday, August 16.

Painting at the Park Workshop Saturdays, July 19 - August 23 2:30 - 4 pm Create your own landscape painting with the help of an art educator. You can also borrow the Museums materials to finish.
Queens Museum
The New york Building
Flushing Meadows Corona Park, Queens
queensmuseum.org
718 592-9700

Find more must-see museums and hot spots in our Culture Guide.