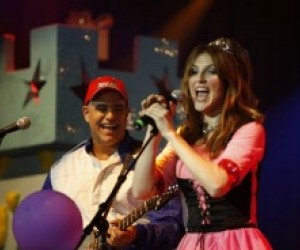 Best NYC Kids' Concerts for Fall 2011: 14 Rockin' Live Music Shows
While it's true that the season of free outdoor kids' concerts is over, there's plenty of music to look forward to this autumn. That's why we're kicking off our fall culture preview with a roundup of awesome New York City family rock concerts, featuring some of our favorite local kids' bands.

In addition to picking the best bets from well known kids' concert series like 92YTribeca's Bring Your Own Kid, we did the research and found a bunch of cheap and even free live shows. Out of the 14 we're highlighting, three are $10 or under per person and five are absolutely free!

With big names like Grammy winner Dan Zanes, Princess Katie & Racer Steve and Gustafer Yellowgold playing, we're looking to these shows as much as our kids are. So get ready to move and groove at the best kids' rock concerts in NYC.
Bubble Do The Beatles – Carroll Gardens
Sunday, September 25 at 4pm
Carroll Park
Smith, Court, Carroll and President Streets
FREE
The Brooklyn park hosts the final installment of its summer-long concert series, featuring local band Bubble, which is famous for its excellent covers of Fab Four classics. Although this show is free, it is a benefit concert for the green space and nearby PS 29, so donations are encouraged.

AudraRox – Red Hook
Sunday, September 25 at 2pm
Red Hook Flea
PS 15's school yard, 71 Sullivan Street between Richards and Van Brunt Streets
FREE
PS 15, an arts-focused elementary school, is hosting a flea market with wares and eats from local businesses, plus a set by NYC's own AudraRox at 2pm. Considering Audra's a music teacher herself, we're not surprised she wants to support this school.

Moona Luna – Prospect Heights
Saturday, October 1 at pm
Brooklyn Public Library, Central Branch, Dweck Center
Grand Army Plaza
FREE
Sandra Velasquez and her authentic Latin band will play bouncy, bilingual tunes from their debut CD Piñata Party.

Dan Zanes – Greenwich Village
Sunday, October 2 at 3pm
NYU's Skirball Center
566 LaGuardia Place at Washington Square South
$25
Kids' music legend Zanes doesn't need a special reason to throw a party. But he's got a great one this fall: He's releasing his long-anticipated new family album Little Nut Tree. We chatted with him about the CD earlier this year, and it sounds really fantastic and features a lot of special guests. So we suspect this concert will also be full of surprises. For a more intimate (and inexpensive) experience, catch Zanes for free at the Tribeca Barnes & Noble on Tuesday, September 27 at 11am.

Princess Katie & Racer Steve – Tribeca
Sunday, October 9 at 11am
92YTribeca
200 Hudson Street near Canal Street
$15, children under 2 free
My young daughters and I have been to a lot of amazing family concerts, but there's only one singer who gets my kids dancing, drooling and clamoring to get up on stage: the frenetic Princess Katie. This cute NYC pop-rock duo always encourage their fans to come dressed up. But this show is specifically titled "The Very Strange and Super Weird Costume Concert," so it's time to break out the Halloween outfits a bit early. If you can't make this concert, Princess Katie & Racer Steve are also playing at the Children's Museum of Manhattan on Sunday, October 16 at 2 and 3pm. Free with museum admission: $10.

Suzie Shelton – Park Slope
Sunday, October 9 at 12:30pm
Southpaw
125 Fifth Avenue St Johns and Sterling Places
In advance $8; at the door $10; children under 2 free
The lovely local singer-songwriter opens for Little Miss Ann Band, a Chicago husband-wife children's music duo. But we think Shelton could be the headliner here with her funky but sweet songs about scootering kids and other city fun.

Gustafer Yellowgold – Crown Heights
Saturday, October 15th at 1 and 2pm
Brooklyn Children's Museum
145 Brooklyn Avenue between St. Marks Avenue and Prospect Place
FREE with museum admission: $7.50
The mellow yellow fellow from the sun returns with new story-songs about his pal "Cheddar" the cat, a band of musical bees performing a concert in their "Beehive," his pet eel and his affinity for tube socks. Singer-songwriter Morgan Taylor's tunes are reflective, peaceful, goofy and gorgeous. You can also catch Gustafer at the Jewish Museum on Sunday, October 16 at 2pm. $16 for adults, $11 for children.

The Itty Biddies – Long Island City
Wednesday, October 19 at 10 and 11:30 am
LaGuardia Performing Arts Center
LaGuardia Community College
31-10 Thomson Avenue near 31st Street
FREE but must RSVP to 718-482-5151
This playful trio of harmonious NYC moms (including Saskia Lane from Dan Zanes' band) performs cabaret pop originals plus a gem of a Smiths cover, "Ask." Come nightfall, they become the adult-aimed Lascivious Biddies, but don't worry: Their daytime concerts are strictly rated G.

The Dirty Sock Funtime Band – Battery Park
Saturday, October 22 at 4pm
P.S. 89
201 Warren Street near the West Side Highway
$20 for adults, $15 for kids
When this band plays, it's more like a party than a concert. With more members than your average ska band, including the festively attired Mr. Clown and glitter-encrusted dancer Annie, the group gets kids hopping and singing along, and often invites them up on stage. This show is a benefit for the elementary school and also stars Cardone the Vaudeville Magician.

Alastair Moock – Tribeca
Sunday, October 23 at 11am
92YTribeca
200 Hudson Street near Canal Street
$15, children under 2 free
Music for toddlers can be unbearably banal and pandering, but that's not the case with this Boston-area songwriter. At this concert, Moock celebrates the release of his second album, These Are My Friends. With original songs about a confused alphabet and growing your own veggies combined with toe-tapping covers of kiddie classics "Ladybugs' Picnic" and Woody Guthrie's "Mail Myself To You," the CD manages to be a bit silly while remaining musically sophisticated. Moock is also playing at the New York Aquarium on Sunday, October 15 at 1:30 and 3:30pm. Free with admission.

The Deedle Deedle Dees – Williamsburg
Saturday, November 5 at 11am
The Knitting Factory
$10 per person, $20 for a whole family
We've got bad news: This is your only chance to catch these Brooklyn history buffs live in the city this fall. The good news: You get to help this Americana band celebrate the release of its new album Strange Dees, Indeed. Your kids will be so busy bopping to the group's bouncy tunes they won't realize that they're learning all about Marie Curie, Henry Hudson and the history of Bryant Park.

Anna Banana Band – Prospect Heights
Saturday, November 5 at 1pmBrooklyn Public Library, Central Branch, Dweck Center
Grand Army Plaza
FREE
Her years playing bass for David Weinstone's Music for Aardvarks concerts taught Anna Banana exactly what kids love best; robots, dinosaurs, monsters and parades. Now she writes perky pop songs about all of that and more with her own group, and we're big fans.

Brett Band for Kids – East Village
Sunday, November 6 at 4pm
14th St Y
344 East 14th Street near First Avenue
$25 per family in advance, $30 at the door
One of my family's favorite musicians performs what he hopes will be a CD-release concert. But even if his second album isn't quite ready, the preschool crowd will still love Brett Rothenhaus' upbeat songs about ice cream, jellyfish, toys and having all kinds of food all over your face.

Brady Rymer – Tribeca
Sunday, November 13 at 11am
92YTribeca
200 Hudson Street near Canal Street
$15, children under 2 free
This Grammy nominated kids' musician is never too busy to high-five a child and always puts on a rocking live show reminiscent of John Cougar Mellencamp and The Boss. Expect to hear songs from his uplifting CD Love Me For Who I Am, the Long Island native's finest album to date, which was inspired by kids with alternate learning styles.
Find out about additional seasonal activities in our Fall Fun Guide.