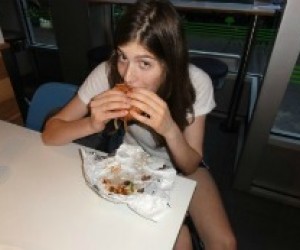 Best Burgers on the Upper West Side for NYC Families
So what if we Upper West Siders can't fire up the grill like our suburban friends? (Unless of course you've got one on your fire escape, like my neighbors do.) But really, who needs charcoal when we have so many tasty neighborhood havens serving up one of the most kid-friendly foods around: burgers.

The Upper West Side is a true carnivore heaven, with great places for families to fill up on this all-American favorite. Here are our picks for the best burgers in the area, all taste tested by my own family, which includes two ravenous, meat-eating teens.
Shake Shack
366 Columbus Avenue at 77th Street
We're getting this one out of the way first. Is it worth waiting in line for an hour for anything? My kids and I certainly think so. We frequent the Upper West Side outpost of celebrity restaurateur Danny Meyer's super-successful chain, which is particularly popular with families thanks to its proximity to the American Museum of Natural History. What keeps us patient is the anticipation of the juicy, house-ground, hand-formed, hormone-free beef patties. The signature Shack Burger comes slathered in Shack Sauce, a cousin of Russian dressing. We also love the crispy fries and thick shakes. I always marvel at the enthusiastic assembly-line staff, cheerfully serving thousands each day, usually with a smile.

Big Nick's Burger Joint
Unfortunately, this restaurant closed in 2013 after 51 years in business. A big loss for the neighborhood.
I've been going to this greasy spoon since my '70s childhood, so eating here is a very nostalgic experience for me. This joint serves up its namesake dish 24 hours a day. The burgers are always well-done, no matter how you ask for 'em, but still yummy. The menu is huge, so even the pickiest member of your family will be taken care of. Gruff old-style New York City service rounds out the experience.

Jackson Hole
517 Columbus Avenue at 85th Street
If beef is your thing, this is the place. Yes, your burger will arrive on a bun, but it's superfluous: The giant, softball-sized patty steals its thunder. In fact there's so much meat, my family rarely cleans our plates. We love dining here alfresco. The parade of strollers on the avenue offers good entertainment, as does watching fellow patrons attempting to fit the mammoth burgers in their mouths.

Five Napkin Burger
2315 Broadway at 84th Street
The signature 5 Napkin Burger consists of 10 ounces of chuck topped with gruyère, caramelized onions and rosemary aioli, which isn't kid-friendly. But there are lots of other burgers on the menu, plus salads, sushi and fish tacos. (My son usually skips the burger in favor of mac and cheese.) There's also a kids' menu with lots of choices, including a much more manageable six-ounce beef patty and a Kobe beef frankfurter.

Energy Kitchen
Unfortunately this chain closed all of its NYC locations in November 2013
Can a burger under 500 calories actually taste good? You bet! Local chain Energy Kitchen specializes in guilt-free fast food. All of the items on the menu are grilled, baked or steamed so there are no unhealthy choices. My teens like the Buffalo Chicken and BBQ Turkey burgers. I enjoy the Supreme Sirloin; while it's lacking in the juice department, the special sauce gives it a nice kick. There's a $4.99 kids' menu but a burger isn't an option.

Big Daddy's Diner
2452 Broadway at 91st Street
This retro-style diner boasts comfy red-vinyl booths, gumball machines, walls overloaded with pop-culture kitsch and a calorie-laden comfort food menu. The Daddy's Deluxe Burger is eight ounces of a blend of porterhouse and Angus chuck, accompanied by fries, slaw and pickles. My kids always opt for tater tots instead of fries. (The tots here are the best you'll ever have!) Other options include the Daddy O (a burger topped with jalapeno jack cheese, bacon and onion rings) and foot-long hot dogs. Yes there are salads, but they're covered in delicious (read fattening) dressing. The shakes are also great but huge, so consider sharing. Sign up for discount coupons at the local chain's website. They send out a lot of deals.

Five Guys Burgers and Fries
2847 Broadway near 111th Street
Columbia students keep this location of the popular chain quite busy. The menu is limited—burgers, hot dogs, fries and soda—but seriously good. Burgers and Cajun fries pair well. Everyone in my family likes the slider-like Little Hamburgers, which aren't just for kids. All of the toppings, including upscale options like grilled mushrooms, are free, so you can have it your way, plain or loaded, without shelling out more dough.

Island Burgers and Shakes
422 Amsterdam Avenue between 80th and 81st Streets
You don't have to go to midtown anymore to enjoy this spot's succulent burgers. There's now an outpost on the Upper West Side. What makes Island Burgers special is that all varieties of burgers (and there are many) can also be ordered as churascos: juicy, grilled chicken sandwiches. There are also interesting bread choices, including standard buns, whole-wheat pita, dark or light rye and sourdough. The basic burger is an eight-once beef patty with lettuce, tomato and onion, but other options have pesto, chili, guacamole and other toppings. Go at lunch for the $10 cash only special: a burger, chips and soda.

See more posts about eating in New York City.