Rock Out to a New Alice in Wonderland Musical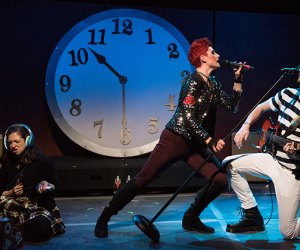 Lewis Carroll's trippy adventures of Alice in Wonderland have been adapted a lot. But often the magic of his nonsensical world gets buried under special effects and heavy-handed attempts at poignancy. Not so in Wonderland: Alice's Rock & Roll Adventure, a new family musical playing in NYC this March that retains the most celebrated vignettes from Carroll's books while adding catchy songs and a relatable story line about a tween anxious to come of age.
Produced by Atlantic for Kids, the family theater arm of the renowned Atlantic Theater Company, this 75-minute show invites audiences of all ages to experience a familiar tale from a fresh musical perspective.
Performed like a choreographed concert on a fairly bare stage (an oversize clock is the main piece of set dressing), Wonderland: Alice's Rock & Roll Adventure features a versatile cast of 10, all quadruple threats. They sing, dance, act, and play all the instruments, including some delightfully offbeat ones like a melodica, a toy piano, and a ukulele.
Though set today, the story is more or less how you remember it. A tweenage Alice (Lily Fryburg, charming and quirky), jealous of her independent older sister and exasperated by adults always telling her what to do, can't wait to grow up and stop being bored. So when a harried white bunny (Sam Saint Ours) unexpectedly dashes through her room, she's eager to follow him and falls down the proverbial rabbit hole into a new surreality.
RELATED: Best Winter Theater for NYC Kids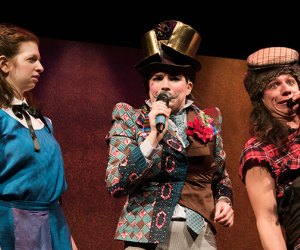 Alice confounded by the Mad Hatter's tea party.
Like the source material, the musical is episodic in nature as Alice makes her way to the Queen of Hearts' croquet party and meets lots of kooky characters en route (the Cheshire Cat, the March Hare, the Mad Hatter, the Caterpillar, and Tweedles Dum and Dee all appear). But it's the wonderful and eclectic songs by Michael Mahler and Rachel Rockwell (both well-known artists on Chicago's theater scene) that tie everything together. Stylistically, each one perfectly fits the character who sings it. Alice has a lovely pop ballad, Lazy Day, spelling out her yearnings. The Caterpillar croons a George Harrison-style Indian tune. The Tweedles deliver a Pogues-like Irish rock song. And the White Rabbit apes John Lennon's Liverpool accent. Meanwhile the group numbers, like the spirited opening "In Wonderland" and the Tommy-esque finale anthem "Believe in the Impossible" are traditional musical theater with a rock edge—though the volume stays way below 11 so as not to hurt young ears.
The main deviations from Carroll's original come toward the end, when Alice battles the Jabberwock (cleverly conjured via shadows, lighting, and sound effects), a stand-in for her fears, and subsequently bonds with a unicorn before waking up back at home. The message is clear: Kids shouldn't be in such a hurry to grow up, though it's parents who will probably be misty-eyed at that sentiment.
RELATED: Best Dine-In Movie Theaters in NYC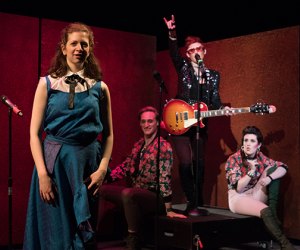 Alice finally meets the Queen of Hearts.
Wonderland: Alice's Rock & Roll Adventure is recommended for children ages 8 and older, and I think 8 to 10 is probably the sweet spot in terms of getting it. That said, the younger kids at the performance my daughter and I attended were attentive (Alice is a familiar story after all) and seemed to enjoy the songs and humor, even if they didn't follow the overarching narrative. Likewise, my almost 12-year-old didn't complain that the material was babyish. On the contrary, there is some really exceptional songwriting here and, as a theater lover, I think she appreciated that. I know I did. (If there were an original cast album, I would buy it!)
My one complaint is a technical one: The performers use hand-held microphones and often hold them up to other cast members' mouths. Unfortunately, they weren't always placed correctly, so a lot of the lyrics got lost. Little kids may not care as the music and the energetic staging should keep them engaged, but I was sad to miss so much. The costumes are also witty; instead of trying to look like the illustrations, they merely suggest the characters, ex. the Queen of Hearts sports a sequined coat with hearts and a shock of crimson hair, the Cheshire Cat has a suit jacket with yellow eyes all over it, and Alice's plaid school uniform transforms into a variation on her iconic blue dress.
More creative than your usual children's show, Wonderland: Alice's Rock & Roll Adventure is a great option for NYC tweens who aren't quite ready for Broadway but have long since graduated from preschooler productions. It fills a niche for elementary schoolers anxious to mature but who are still young at heart.
Wonderland: Alice's Rock & Roll Adventure is playing on weekends through March 26 at the Linda Gross Theater. Tickets are $20 for adults and $15 for children.
Top photo: The Queens of Hearts croons while Alice, still at home, jams to her stereo. All photos by Ahron R. Foster/courtesy of Atlantic for Kids.