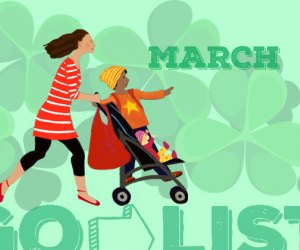 March GoList: Best Things to Do with NYC Kids This Month
It's hard to believe March has arrived, bringing with it signs of spring all around New York City, from budding daffodils to outdoor play. Our overflowing events calendar makes it easy for you to hit all the best spring-inspired events, including the Macy's Flower Show, girl-powered ways to celebrate Women's History Month, and of course St. Patrick's Day parades and children's activities as the city turns green March 17.
We've rounded up over a dozen must-hit happenings in our GoList, including the innovative Tilt Festival, the return of Pip's Island, and the opening of the fearsome new T.Rex exhibit at the American Museum of Natural History. We're also celebrating Dr. Seuss on March 2 with nearly two dozen wacky activities.
Don't forget to get a jump on spring break planning with our Getaways and Day Trips Guide, as well as our roundup on Spring Break Camps for NYC Kids. Grab early bird summer camp rates by perusing the rest of our Summer Camp Guide, which includes FREE camps and brand-new ones for the 2019 season.
Now get your calendars ready! Here are the top things to do with kids in New York City this March.
As always, if an event piques your interest, click through to our listing for all the details, including addresses and times. And keep in mind: In NYC, really cool things to do with kids often book up quickly, so buy your tickets ASAP or, in the case of FREE events, arrive as early as possible to beat the crowds.
Be sure to sign up for our free newsletters to get weekly picks in your inbox.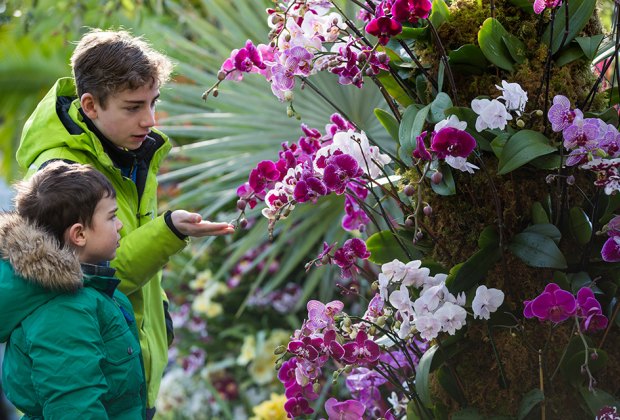 The Orchid Show will showcase thousands of orchids. Photo courtesy of the New York Botanical Garden
New York Botanical Garden's Orchid Show — the Bronx
Friday, February 23–Sunday, April 28
Need a break from winter's gray landscape? Think: greenhouse vibrancy. Now in its 17th year, The Orchid Show showcases thousands of dramatically displayed orchids in the Enid A. Haupt Conservatory. This year's show theme is a salute to Singapore, where the orchid is the national flower.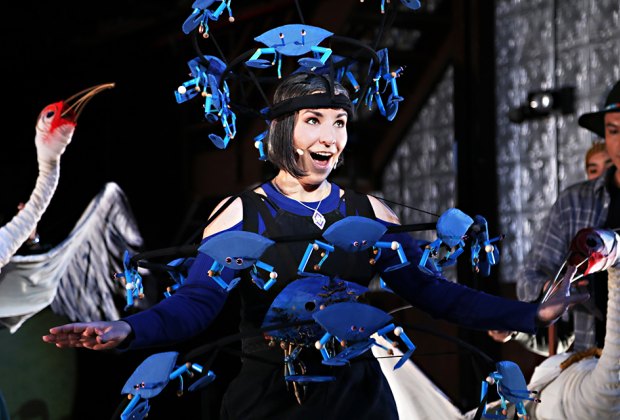 Meet Ajijaak, a young whooping crane attempting her first migration in Ajijaak on Turtle Island. Photo by Theo Cote
Ajijaak on Turtle Island — Upper West Side
Friday, March 1–Sunday, March 10
The spectacular puppets in this hour-long show were created by Heather Henson, daughter of late Muppet master Jim Henson. She's partnered with Native American storyteller and musician Ty Defoe to create this fable about Ajijaak, a young whooping crane attempting her first migration and encountering the challenges of climate change. On March 2, an autism-friendly performance will be offered.
RELATED: 31 Best Events for NYC Toddlers and Preschoolers This Winter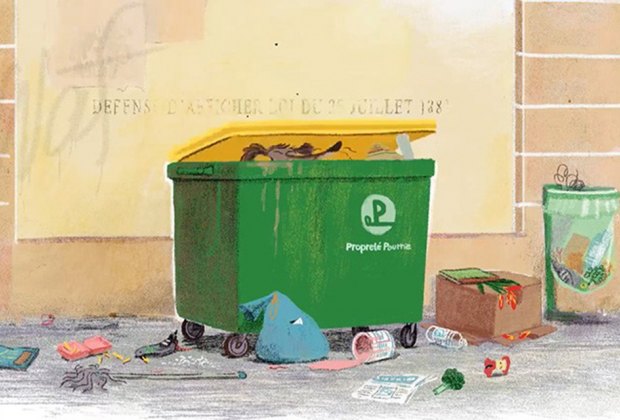 Marc Boutavant's new book Dumpster Dog shows kids that accepting differences is a key to better understanding one another. Illustration by Marc Boutavant via the Tilt Festival
Tilt Festival – Citywide
Saturday, March 2–Sunday, March 24
Returning for its fourth year, this French cultural and art festival puts kids' entertainment center stage with theater, dance, music, and loads of interactive workshops. We're especially excited for the Dumpster Ball on March 9, a dance party and drawing celebration inspired by the new book Dumpster Dog by Marc Boutavant. Kids and adults are invited to attend in their craftiest "recycled" get-ups!
Beauty and the Beast — Upper West Side
Saturday, March 9
The beloved classic about an enchanted beast redeemed by a clever and kindhearted woman is brought to life by the National Marionette Theatre at Symphony Space. Founded in 1967, the troupe is famous for its gorgeous, hand-crafted puppets and colorful scenery.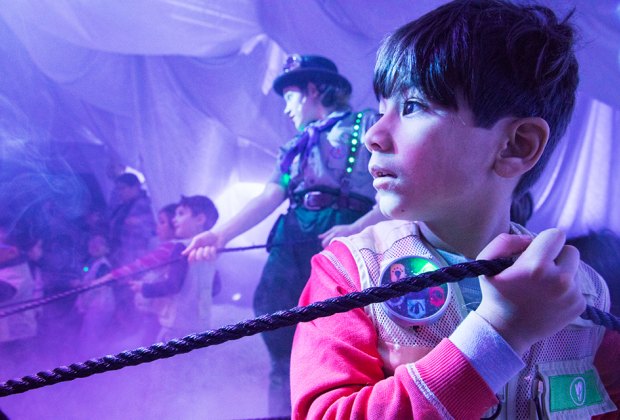 Help Pip and his island pals save their home from the evil Joules Volter in Pip's Island. Photo courtesy of the production
Pip's Island — Midtown West
Starts Monday, March 11 for an open run
We raved about this high-tech, immersive adventure for kids a few years back, and this month it returns to NYC in a custom-built space with an all-new adventure. Young audiences are designated "assistant explorers" as they try to help Pip and his island pals save their home from the evil Joules Volter. No seats here—families are guided through various environments by characters and the story line is enhanced by animated sequences.
RELATED: Best Winter Theater for NYC Kids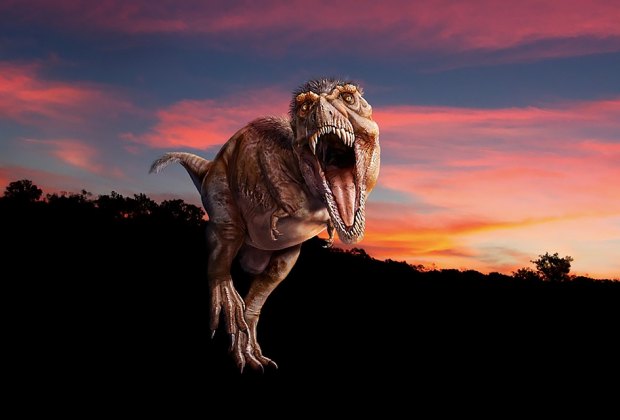 T. Rex: The Ultimate Predator opens in March at the American Museum of Natural History. Illustration by Zhao Chuang courtesy of Xian Yiniao Age Culture Media Co.
T. Rex: The Ultimate Predator — Upper West Side
Monday, March 11 through August 2020
The American Museum of Natural History's new interactive exhibition dedicated to the dino everyone loves to fear lets kids see the Tyrannosaurus Rex in a whole new way. Way beyond fossils and casts (although there are plenty of those too), displays include life-sized models, animations, and a "roar machine." Perhaps most impressive: an interactive VR experience, which lets you help build a T. rex skeleton and then watch it come to life .
Jedi Academy — Upper West Side
Saturday, March 16
In this interactive intergalactic experience inspired by the Star Wars universe, padawans are invited to Symphony Space to "train" with Master Panniken Moonjumper, played by the comical David Engel. The emphasis is on wacky games and slapstick, so it's best for elementary schoolers. Costumes and lightsabers are encouraged, and may the farce be with you.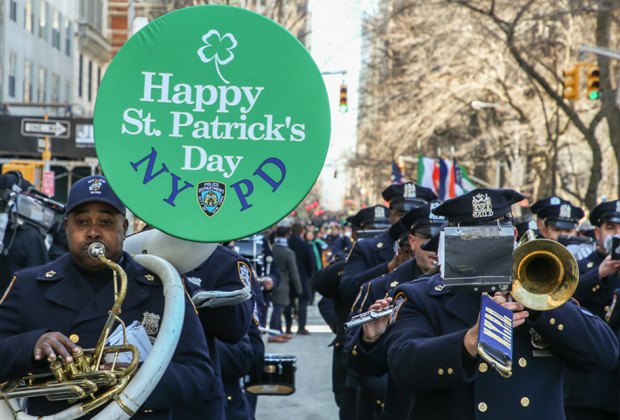 The annual St. Patrick's Day parade in Manhattan marches up Fifth Avenue. Photo courtesy of NYCGo
St. Patrick's Day — Citywide
Sunday, March 17
Everyone feels a bit Irish around St. Patrick's Day. While Manhattan's iconic parade marches up Fifth Avenue on the day before St. Pat's proper—Saturday, March 16—there are many parades and celebrations throughout the month. A family-friendly favorite is the Irish Arts Center's FREE St. Patrick's Day Open House on Sunday, March 10, where you can sample classes, pick up some Irish words, or learn a new dance step.
The Pop-Ups — Upper West Side
Sunday, March 17
There's not much we love more than a good family dance party, and this special family Purim concert at the Jewish Museum—costumes encouraged—featuring Grammy-nominated, Brooklyn-based kid-rockers The Pop-Ups promises to be a blast. Other Purim festivities this month include a family dinner and a concert at the 92nd Street Y, as well as Purim carnivals at the Park East Day School and West End Synagogue.
Macy's Flower Show — Midtown West
Sunday, March 24–Sunday, April 7
Every year, Macy's over-the-top installation of colorful blooms ushers in spring in the city. This year's theme, "Journey to Paradisios," is an intergalactic floral adventure that space-alien-obsessed kids should love, with out-of-this-world elements, cool creatures, and sci-fi-inspired displays all created with blossoms and natural materials. FREE

Percy Jackson: The Lightning Thief —Upper West Side
Thursday, March 28–Sunday, March 31
Middle-grade fans of the bestselling Percy Jackson books by Rick Riordan will enjoy rocking out to this musical, based on the first novel in the series, which hits the Beacon Theater this month (we loved it when it played off-Broadway in 2017). The show's theme of finding strength in your differences and being true to yourself should resonate with tweens and teens, too.

PJ Masks Live: Save the Day! — Flatbush, Brooklyn
Saturday, March 30–Sunday, March 31
Catboy, Owlette, and Gekko fly into action in this toddler- and preschooler-friendly live production at the beautifully restored Kings Theater in Brooklyn. Tunes, super hero derring-do, and a brand-new villain will have fans of the popular Disney Junior show bouncing in their seats.
90-Second Newbery Film Festival — Midtown East
Sunday, March 31
For the annual Newbery Film Festival contest, kid filmmakers create short movies that tell the entire stories of Newbery award-winning books in about 90 seconds. The screening at the main branch of the New York Public Library showcases movies made by kids in New York as well as some of the best from around the country, and is hosted by children's authors James Kennedy (The Order of Odd-Fish) and Newbery Honor winner Rita Williams-Garcia (One Crazy Summer).
Honorable Mentions
NYC has so many amazing things going on, it's often difficult to choose. Here are 9 more cool events worth considering for your March calendar.
The annual BAMKids Teknopolis Festival continues through Sunday, March 10 with interactive installations that combine technology with creativity.
No need to wait until October for trick or treating: Join the costumed, candy-collecting fun at the "Danish Halloween" celebration of Fastelavn at Scandinavia House on Saturday, March 2.

Break out the beads and get ready to dance to the sounds of the Black Tie Brass Band at the Mardi Gras Celebration presented by the Rock and Roll Playhouse at Brooklyn Bowl on Sunday, March 3.
Head to East Harlem's Museum of the City of New York on Sunday, March 3 to celebrate women's history with its Herstory Day family program, which includes crafts, art-making, and performances celebrating important women in our city's history.

Superheroes, villains, and superfans unite at Big Apple Comic Con March 9-10. Kids 8 and under are FREE, and this year's special guests include Chris Rankin, the actor who played Percy Weasley in the Harry Potter films.

The gentle comic antics of Olive and Pearl at BAM March 15-18 make a sweet introduction to live theater for very young audiences, with special Relaxed Performances on March 15 and 18 adapted for children with sensory processing conditions, autism, and learning or intellectual disabilities.
The Magic School Bus rides into town on Saturday, March 23 in an interplanetary musical adventure at the Tribeca Performing Arts Center.
Makerspace NYC opens a new location in Brooklyn Army Terminal this month with a metal shop, wood shop, 3D printing equipment, and more. At a Maker Family Program in the new space on Saturday, March 23, kids 9 and up can make Balloon Cars with an adult's help.
Lego lovers and master-builders-in-training won't want to miss the weekend-long Lego building blowout at Brick Fest Live, March 30-31 at the New York Hall of Science.
And remember to check our Event Calendar as we're always adding new listings.