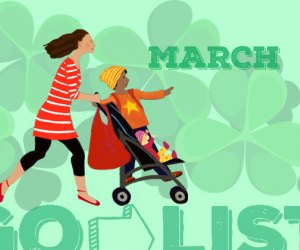 March GoList: Best Things To Do With NYC Kids
It's hard to believe March has arrived, bringing with it signs of spring all around New York City, from budding daffodils to outdoor play. Our overflowing event calendar makes it easy for you to hit all the best spring-inspired events, including the Macy's Flower Show, girl-powered ways to celebrate Women's History Month, and of course, St. Patrick's Day parades and children's activities as the city turns green on Tuesday, March 17.
We've rounded up 10 must-hit happenings in our GoList, including a trio of stage shows, a sky-high attraction opening, and a pair of new exhibitions at two of our favorite museums.
Don't forget to get a jump on spring break planning with our Getaways and Day Trips Guide, as well as our roundup of Spring Break Camps for NYC Kids. You can also grab early bird summer camp rates by perusing our Summer Camp Guide, which includes FREE camps and plenty of fresh picks.
Now get your calendars ready! Here are the top things to do with kids in New York City this March.
As always, if an event piques your interest, click through to our listing for all the details, including addresses and times. And keep in mind: In NYC, really cool things to do with kids often book quickly, so buy your tickets ASAP or, in the case of FREE events, arrive as early as possible to beat the crowds.
Be sure to sign up for our free newsletters to get weekly picks in your inbox.
RELATED: Superpowered Metropolis Debuts at CMOM

Paige in Full is a visual mix-tape that blends poetry, dance, visual arts, and music to tell the tale of a multicultural girl growing up in Baltimore, Maryland. Photo courtesy of the artist
Sunday, March 7
Writer, choreographer, and performer Paige Hernandez blends her talents in poetry, dance, music, and mixed-media to bring her life story to the stage. Chronicling her upbringing in the Charm City, Hernandez shares a universal tale of self-discovery. Showtime is at 2:15pm, but the artist leads a hip-hop workshop beginning at 1pm.
RELATED: 27 Great Spring Break Camps for NYC Kids

The Nature of Color debuts at the American Museum of Natural History. Photo by C. Chesek/courtesy of AMNH
Monday, March 9
The American Museum of Natural History debuts a new exhibition dedicated to the colors of the rainbow and the role pigmentation plays in nature. Explore why some organisms have evolved to survive by blending in and others thrive when they stand out. Learn where the colors of the rainbow come from, what makes diamonds shine, and why humans place emphasis on one color or another across cultures, assigning varied hues different meanings.
Wednesday, March 11
New York's got its share of observation decks, but none are quite as bold as The Edge, which makes its debut this month. The triangle-shaped outdoor deck is suspended 100 floors above the city streets at 30 Hudson Yards. If the highest outdoor observation deck in the Western Hemisphere isn't daring enough, consider stepping out onto its glass floor. Good luck summoning the courage to gaze down.
RELATED: Five Reasons to Visit the Empire State Building With Kids

A fun new musical based on the books Rosie Revere, Engineer; Iggy Peck, Architect; and Ada Twist, Scientist by Andrea Beaty comes to the Tribeca Performing Arts Center. Photo by Jeremy Daniel Photography
Saturday, March 14
Based on the book series by Andrea Beaty, this energetic musical celebrates STEM topics by presenting them through a precocious, lovable trio of characters: Rosie Revere, Iggy Peck, and Ada Twist. Their passion for engineering, architecture, and science, respectively, is infectious. Produced by TheatreWorks USA and presented at the Tribeca Performing Arts Center, the show aims to inspire the next generation of innovators.
RELATED: Survival: The Exhibition Brings Real-World Lessons to City Kids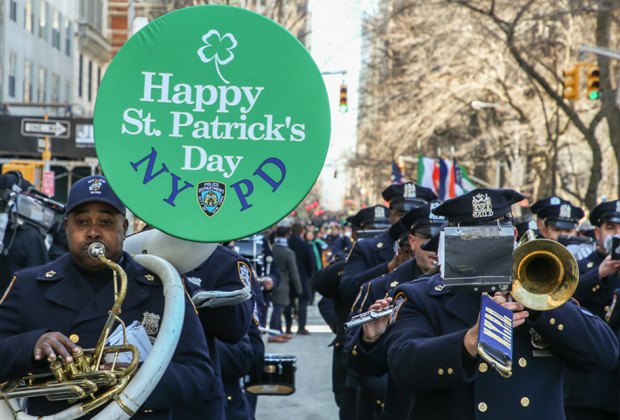 The annual St. Patrick's Day Parade marches up Manhattan's Fifth Avenue. Photo courtesy of NYCGo
Tuesday, March 17
Everyone feels a bit Irish around St. Patrick's Day. Unfortunately, Manhattan's iconic parade has been postponed for the first time in its 258-year history, but there are other parades and celebrations throughout the month. Another family-friendly favorite, the Irish Arts Center's St. Patrick's Day Open House on Saturday, March 14, has also been canceled.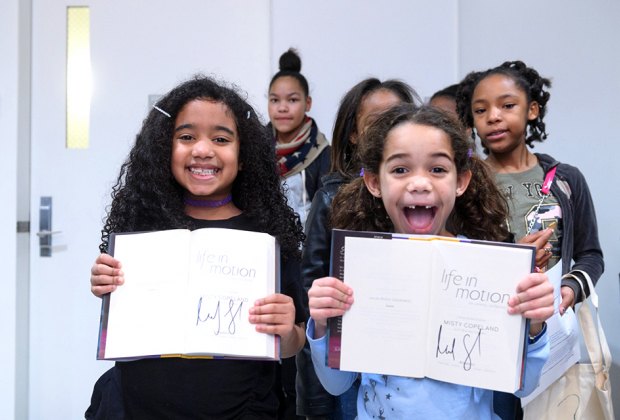 Join the Museum of the City of New York for its annual Herstory Day full of activities to learn about inspiring women. ​Photo courtesy of MCNY
POSTPONED: Herstory Day — East Harlem
Sunday, March 22
The Museum of the City of New York gives girls their due with its annual Women's History Month celebration. Meet Priscilla Edwards, associate head coach of the Providence College women's basketball team, who is as much a star off the court as she is on it. An educator and entrepreneur, Edwards inspires athletes to become multi-talented stars in their own right. Following her keynote address, participate in a basketball skills workshop, craft a sweatband or headband, hone your sideline-reporting skills, and go on a scavenger hunt through the brand new City/Game: Basketball in New York exhibit. Pre-registration is requested, but not required.
Sunday, March 22–Sunday, April 5
Every year, Macy's over-the-top installation of colorful blooms ushers in spring in the city. This year's theme, "Voyage to Oceanum," takes visitors on a deep-sea inspired dive into the bright, coral-filled world. Expect to see a stunning interpretation of marine life brought to life in the iconic department store. FREE
RELATED: FREE Things To Do in March With NYC Kids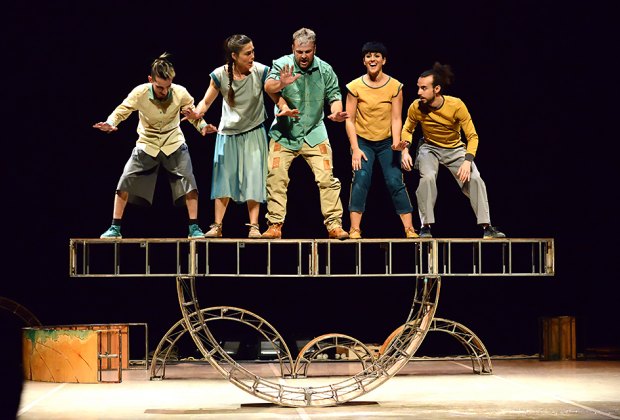 Five performers leap, dive, dance, and juggle through a puzzle-like world of pillars and arches that constantly unfolds into new possibilities in Esencial as part of BAMkids Spring 2020 season. Photo courtesy of BAM
Saturday, March 28-Sunday, March 29
Spanish cirque company Vaivén Circo takes over BAM Fisher with an acrobatic display, dipping, diving, dancing, and juggling its way through a puzzle-like world full of ever-changing obstacles. The high-energy performance tells a story of teamwork and problem-solving. A relaxed performance on Sunday afternoon is geared toward a neural-diverse audience.
Sunday, March 29
Catch the future stars of Cirque before they're under the big top at this circus variety show that highlights the talents of the well-known troupe's youth programs, which teach up-and-coming talents throughout the Empire State. All performers are under 21 years of age. Expect to see everything from professional-quality performers to first-timers sharing their talents, which range from acrobats to unicyclists, contortionists to clowns, and dancers to divas.
RELATED: The Met With Kids: Exploring NYC's Biggest Art Museum

Making The Met, 1870–2020 features more than 250 superlative works of art of nearly every type, from visitor favorites to fragile treasures that can only be placed on view from time to time. Photo courtesy of The Met
Opens Monday, March 30
Taking your kids to The Met is always an unforgettable experience, but the esteemed institution celebrates its 150th anniversary this year and the big kick off to the celebration is this can't-miss exhibit. The exhibition highlights 250 works from the museum's collection, from visitor favorites to fragile artifacts rarely placed on public display. Woven throughout it all, you'll learn about transformative figures in the museum's history who have helped steward and shape the institution.
Honorable Mentions
NYC has so many amazing things going on, it's often difficult to choose. Here are nine more cool events worth considering for your March calendar.
Visit the Fraunces Tavern for a month-long celebration of women's history with special docent-led Women of the Revolutionary War tours every weekend.
Catch and immersive production of The Twelfth Night at El Barrio's Artspace. Performances run weekends from Friday, March 13-Sunday, March 22.
Canceled: Celebrate Pi Day at the Museum of Math on Saturday, March 14.
Channel your inner nerd at the Weird Science Fair at Clay Pit Ponds State Park on Saturday, March 14. FREE
Canceled: Enjoy some girl-powered tunes at the Joanie Leeds album release party at CMOM on Saturday, March 14. Female-focused folk songs are sung, and revelers celebrate the centennial of women's voting rights, International Women's Day, and RBG's birthday.
Canceled: Build your child's library at the Brooklyn Book Bodega on Sunday, March 15. FREE
Postponed: Get inside your head at Brain Day at the New York Hall of Science on Friday, March 20.
Canceled: Head to the New Victory Theater to catch the classic story Treasure Island as presented by the puppet masters at Carlo Colla & Sons Marionette Company. The show opens Friday, March 20.
Canceled: See the National Theatre perform Dr. Seuss's The Cat in the Hat word-for-word at the Brooklyn Public Library on Saturday, March 28.
And remember to check our Event Calendar as we're always adding new listings.