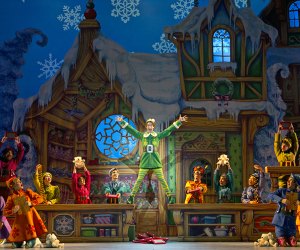 Best NYC Holiday Shows for Kids: Elf, Charlie Brown, and More
'Tis the season to get the gang all dressed up to see some holiday shows. While there are plenty of spectacles to splurge on like the Radio City Christmas Spectacular and all those Nutcrackers, if you've got young children you may not want to blow all of your bucks on theater tickets.
That's why our roundup includes a range of productions, from inexpensive, low-key offerings perfect for fidgety preschoolers, to extravaganzas that are worth the investment. Bonus: We've got the scoop on how to save money on a few of the higher-priced offerings.
From live stage adaptations of holiday classics such as A Charlie Brown Christmas, Tim Burton's The Nightmare Before Christmas, and the movie Elf, to tot-friendly fairy tales and Hanukkah tales, to amazing magic tricks, here are our top 14 holiday shows for NYC families.
If an event piques your interest, be sure to click through to our listing for all the details, including address, time, and pricing.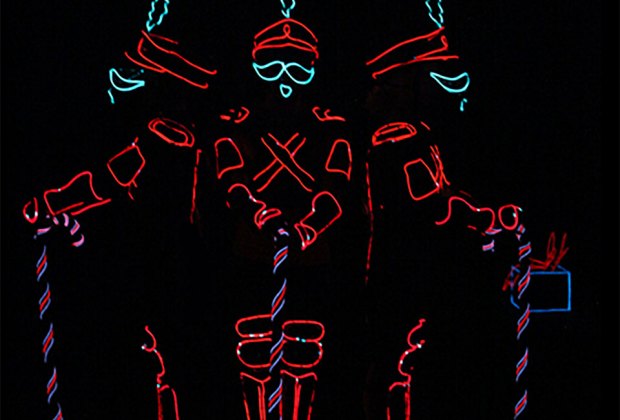 Catch a holiday theme in glow-in-the-dark style with the Very Electric Christmas. Photo courtesy of Lightwire Theater
A Very Electric Christmas — Corona
Sunday, November 26
Ages 6-10
The always dazzling Lightwire Theater of America's Got Talent fame brings this eye-popping, glow-in-the-dark holiday show to the Queens Theatre. A young migrating bird named Max gets separated from his parents and ends up alone at the North Pole at Christmastime. To get home, he must go on a fantastical seasonal adventure full of caroling worms, dancing poinsettias, mischievous mice, and an evil Rat King. Any similarities to The Nutcracker are completely intentional in this holiday tale in which all the characters are illuminated—literally.
Jason Bishop: Believe in Magic — Midtown West
Friday, December 1-Saturday, December 30
Ages 6 and up
For the past few years, the New Victory has presented circus spectacles to celebrate the season. But this year, the theater takes a turn toward the magical with illusionist Jason Bishop. His act was a big hit at the New Vic last year, and he's devised some brand-new tricks for this holiday run, including a jaw-dropping onstage disappearance and an indoor snowstorm. Now that's a magical celebration.
Seven In One Blow, or the Brave Little Kid — West Village
Friday, December 1-Tuesday, December 19
Ages 4-10
An offbeat stage variation of a Brothers Grimm fairy tale, this 16th annual Axis Theatre Company production follows the misadventures of Kid, a young boy who kills seven flies in one shot and gets caught in a tangle of lies surrounding his feat. In the end, he learns about love and kindness, with help from the children in the audience, and his mom played by Debbie Harry (yes, from Blondie!) who appears on film.
Tim Burton's The Nightmare Before Christmas: In Concert Live-to-Film — Fort Greene
Wednesday, December 6-Thursday, December 7
Ages 6 and up
For all you families (like mine) who prefer Nightmare Before Christmas to A Christmas Story and its sentimental ilk, this is for you! Watch the movie with thousands of other fans on a massive screen at Barclays Center while some of its original stars sing along with you. Yes, Danny Elfman (the songwriter and singing voice of Jack himself!), Catherine O'Hara (Sally), and Ken Page (Oogie Boogie) will be there in person, accompanied by a full choir and orchestra. What's this? What's this? The best holiday gift for goth families ever! Save money on tickets via Goldstar.
Jack & the Beanstalk — Lower East Side
Wednesday, December 6-Saturday, December 23
Ages 5 and up
Don't let the familiar fairy-tale title fool you: This is not your average kid show! From the outrageous minds of married artists Mat Fraser, a disabled actor, writer, and activist, and Julie Atlas Muz, a feminist burlesque performer, comes this holiday spectacle at the Abrons Arts Center promoting "radical joy and equality in all forms." While the couple and their cast of 20-plus downtown luminaries usually make art for the 21-and-over set, they're looking to bring their signature sense of abandon and boundary breaking to their first all-ages show (it's rated G, they swear!). Get ready for tap-dancing animals, puppets, pie fights, pop music, cross-dressing, and lots of in-your-face fabulosity. I already have my tickets to this one!
Bagels from Benny — Upper East Side
Friday, December 8-Sunday, December 17
Ages 3-8
Inspired by Aubrey Davis' picture book of the same name, Bagels from Benny isn't a holiday show per se, but it's a heartwarming Jewish tale for those who celebrate Christmas with Chinese food and a movie. Aimed at the sippy-cup set, this interactive musical at 92Y is about Benny, a little boy who loves the bagels at his grandfather's bakery. One day his grandpa tells Benny he should thank God for the carb-loaded treats, which inspires the child to leave a bagful of bagels in the synagogue every week. Could it really be God who's eating them all? And to think Santa only gets cookies one night a year!
RELATED: 12 Must-Do Holiday Events for NYC Kids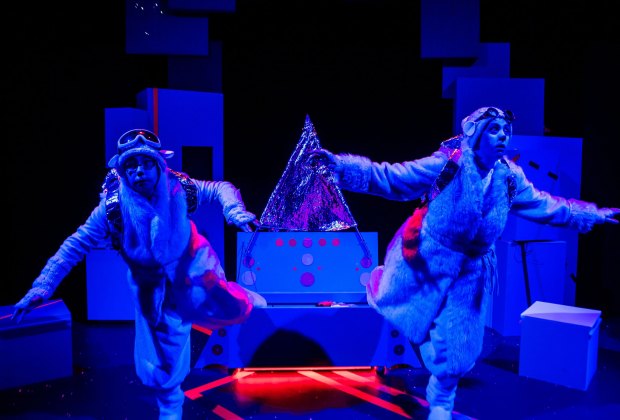 Tots can watch The Polar Bears Go Up at Lincoln Center. Photo by Richard Davenport/courtesy the production
The Polar Bears Go Up — Lincoln Square
Saturday, December 9-Sunday, December 17
Ages 2-5
Lincoln Center Kids presents a sweet seasonal adventure for very young audiences. Just like your tots, these polar bears are adventurers, too, and love to explore, especially that enticing sky above their heads! The fuzzy creatures climb trees, hop on clouds, and reach for the stars on this fantastical journey as they race each other all the way to outer space.
Judy & the Maccabees — Upper West Side
Sunday, December 10
Ages 4-11
Although we call them "holiday shows," let's face it: Hanukkah gets the short end of the candlestick when it comes to the spotlight. That's why I'm glad the Poppy Seed Players are around. This inventive troupe mounts engaging family musicals that bring the stories behind Jewish holidays to life. In this fun new take on the old Festival of Lights tale, Judy is a headstrong girl who joins the Maccabees to fight for religious rights. They dismiss her at first, but ultimately she becomes a major player in the struggle. A great way to introduce kids of all backgrounds to the meaning of Hanukkah (no, it's not gifts!).
Elf the Musical — Midtown West
Wednesday, December 13-Friday, December 29
Ages 6 and up
Cheers' George Wendt stars as Santa in this holiday musical based on the 2003 Will Ferrell comedy of the same name. The show debuted on Broadway in 2010 and returns to the Theater at Madison Square this December. Like the film, the tuner follows the journey of Buddy, a young human boy raised as one of Santa's elves. Once grown, he realizes he doesn't fit in, so he leaves the North Pole to find his birth father—and himself. I saw it with my daughter a few years back and we both found it charming with funny songs and great dancing. Best for school-age children, the show really captures the joyful spirit of the season. Save money on tickets via Broadwaybox.com.
La MaMa Kids: Winter Wonderland Presentation — East Village
Saturday, December 16
Ages 3 and older
The legendary avant-garde arts center celebrates the season with an offbeat interactive experience created by some of its most playful resident artists. This immersive performance features site-specific works throughout the multilevel theater, all inspired by the winter wonderland theme. Leave your expectations at the door: This genre-busting installation includes acting, puppetry, storytelling, dance, and music.
RELATED: Best Nutcracker Shows for Families in NYC This Year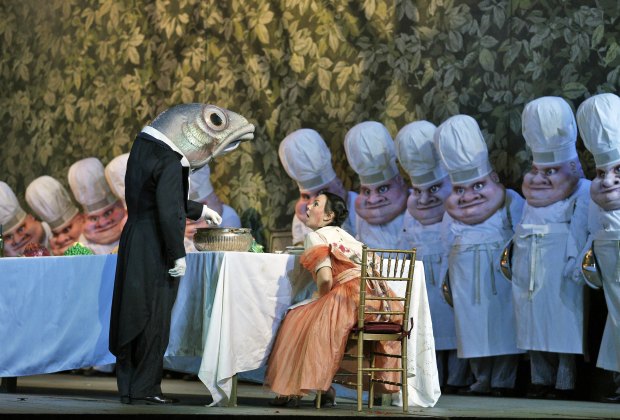 See a kids opera, Hansel and Gretel, at The Metropolitan Opera this year. Photo courtesy of the opera house
Hansel and Gretel — Lincoln Square
Monday, December 18-Saturday, January 6, 2018
Ages 8 and up
If you've been hoping to expose the kiddos to opera, this is a great starter production. It's a familiar story performed in English so school-age children should be able to follow the plot. Engelbert Humperdinck's music is sweeping and grand. And the design is delightfully over-the-top: Just check out those larger-than-life chefs! It's definitely a commitment in terms of time (over two hours) and money, so be sure to heed the age minimum.

Peanuts fans can revel in the live version of A Charlie Brown Christmas. Photo by Reiko Yanagi/courtesy the Secret Theater.
A Charlie Brown Christmas — Long Island City
Thursday, December 21-Saturday, January 6, 2018
Ages 3 and up
Sure, you can watch it on TV, but this stage adaptation of the beloved Peanuts holiday special is so much more engaging live. The Secret Theatre's production is true to the source material, and features Vince Guaraldi's memorable score as Charlie and his pals discover the true meaning of Christmas. Get ready to sing along to "Christmas Time Is Here."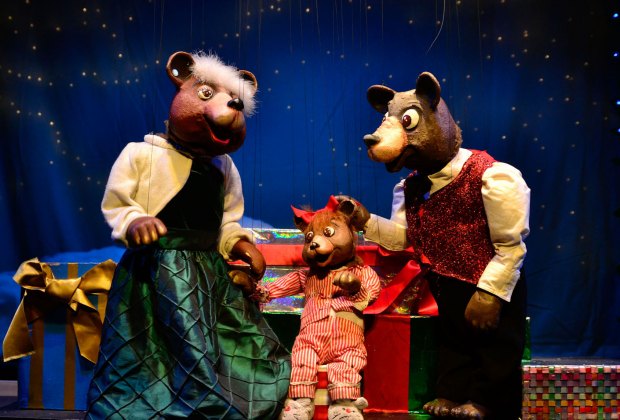 The Three Bears Holiday Bash is a seasonal tradition at the Swedish Cottage Marionette Theatre. Photo by Justina Wong/courtesy the production
The Three Bears Holiday Bash — Upper West Side
Through Saturday, December 30
Ages 3-9
The three bears and all their fairy-tale pals are back at Central Park's Swedish Cottage Marionette Theatre for its annual seasonal variety show. This spirited marionette performance celebrates all the holidays, whether you observe Christmas, Kwanzaa, or Hanukkah. A perfect theatergoing experience for very young audiences.
The Snow Queen — West Village
Saturday, December 30-Sunday, January 14, 2018
Ages 7 and up
Hans Christian Andersen's seasonal story (and the loose basis for Frozen) comes alive in an inventive new production by Blessed Unrest. No puppets or moralizing to kids here. Developed in the prestigious New Victory LabWorks program, this is the first show for families developed by this stalwart downtown company, which is known for its physical theatre work. So expect a visceral experience as you follow a courageous young trying to save her BFF from a frozen wasteland.
Top Image: Elf the Musical offers family laughs at The Theater at Madison Square Garden. Photo by Joan Marcus/courtesy the production.