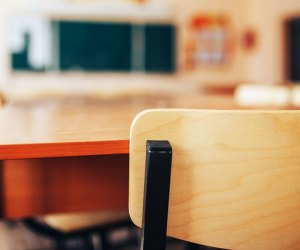 New York City Schools Close Due to Coronavirus Uptick
In the midst of the rising COVID cases, New York City Mayor Bill de Blasio and Schools Chancellor Richard Carranza have announced New York City Public Schools will close temporarily beginning Thursday, November 19.
"We do need to close our schools for the coming days," Mayor de Blasio said at a late-afternoon press conference. "No one is happy about this decision because so much good work has been put into opening the schools to begin with and making them so safe. We set a very clear standard, and we need to stick to that standard. I want to emphasize to parents and educators, to staff and to kids, that we intend to come back. We intend to come back as quickly as possible."
The school closure is the latest development in a roller-coaster back-to-school season for New York City families, marred by delayed starts and changes to opt-in rules for blended learning.
The closure comes as the city's coronavirus seven-day average hit 3 percent on the nose, a threshold the mayor has long cited as the standard for closure. The city has been flirting with the threshold for more than a week, and city hall has been warning parents to have backup plans in place since last Friday, November 13.
The news was first shared with principals in a Wednesday afternoon email from Chancellor Carranza and later confirmed by a tweet from the mayor's office.
"As you are aware, the City is experiencing elevated rates of COVID-19," Carranza wrote in his email to principals. "Last summer, as we prepared to open our school buildings for in-person teaching and learning, we established a threshold of 3% COVID-19 test positivity rate for the City using a 7-day rolling average as a trigger for closing our school buildings and transitioning to fully remote learning. We established this threshold because of our commitment to health and safety for all of our DOE community above and beyond everything else.
"As of this morning, November 18, the City has now reached this threshold of test positivity citywide and, as a result, the DOE will temporarily close down all public school buildings for in-person learning."
New York City's public schools, the largest district in the nation, was an outlier among big-city school districts in being able to offer any in-person learning this school year, and both the mayor and chancellor emphasized this current closure is seen as a temporary measure.
"We want to get students back in our schools as soon as is safely possible," Chancellor Carranza said. "This is our No. 1 priority and our No. 1 job. ... We're committed to making sure our students have what they need to be successful. I want to remind everyone that school is still in session; we're just pivoting to remote learning."
While all public schools in the city will close, private schools and charter schools are not included in the order. Likewise, though the early childhood classrooms operated by the DOE in public school buildings will close, those operated by community-based organizations in non-DOE buildings can remain open.
When Will New York City Schools Reopen?
At a minimum, the mayor advised families to prepare for schools to be closed through the Thanksgiving holiday and promised further direction on what standards the city will have to meet to reopen schools in the coming days. One thing is certain: The mayor emphasized the need for an even broader testing strategy when schools reopen, so parents of blended learners are again reminded to sign the testing consent form. The closure comes just days after the opt-in period for blended learning closed; students who had previously been all remote were given a two-week window to opt into blended learning for the remainder of the school year and would be eligible to return to school buildings on Monday, November 30, if they are reopened at that point.
Where Can Parents Find Help During NYC Schools Closure?
Families who are without childcare during the closure can apply for space at the city-run Learning Bridges sites. Priority will be given to children of essential workers, and if more seats are needed, the city has the capacity to ramp up the number of available slots.
City school buildings will remain open in some capacity and offer FREE to-go meals to students and their families daily from 9am-noon at any NYC school building. From 3-5pm, New Yorkers of all ages can pick up FREE meals at 260 community meal sites across the city.
Additionally, parents can expect to hear from their school principal about dates for remote learning materials pickup.
Families in need of a remote learning device can request one online.