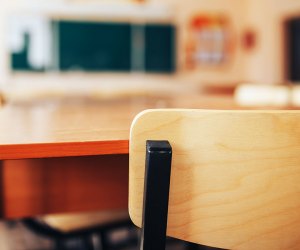 NYC Delays Start of In-Person Learning For Most Students Yet Again
New York City has changed its return to school plans yet again, delaying a return to in-person learning for most children. The city now plans to phase-in its hybrid learning plan. Hybrid learners were scheduled to return to classrooms beginning Monday, September 21.
Early education students in the DOE's 3K and pre-K programs, plus those in District 75 schools who have opted for hybrid learning, still return to the classroom beginning on that date. Students in elementary and K-8 schools return to buildings Tuesday, September 29, while those in middle and high schools, secondary schools, and transfer and adult education centers do not return until Thursday, October 1.
While in-person reporting dates have changed, the official first day of academic instruction has not: All students begin a full remote schedule Monday, September 21. Students are currently in the midst of a three-day virtual orientation period leading up to the official first day.
"For months, teachers, principals, and school staff have been working hard to make sure our students have the education they deserve while putting health and safety first," said Mayor Bill de Blasio. "Today, we are announcing the latest in our larger plan to re-open schools the right way and give working-class families the in-person education they've asked us to deliver."
De Blasio also announced plans to bring an additional 2,500 educators into the system, adding to the 2,000 he had previously said would be hired. While the new hires infuse the system with 4,500 new instructors, that's less than half the 10,000 union leaders claim are needed. More teachers may be brought in to support the staffing needs of middle and high schools.
"The safety of students and staff is always the first priority," said UFT President Michael Mulgrew. "Our buildings must be ready, and testing and tracing procedures must be in place. A phased reopening — and making sure, despite budget challenges, that we have enough staff — can help ensure that safety."
The New York City school system is the largest in the nation, and the only large district attempting to bring students back into the classroom this fall. Plans have shifted multiple times since the hybrid-learning plan was announced in July. The first day of school was long-planned for last Thursday, September 10.
There has been plenty of pushback from educators and union leaders. The latest controversy surrounding reopening came this week when it was revealed that the city's guarantee of live instruction had been significantly scaled back.