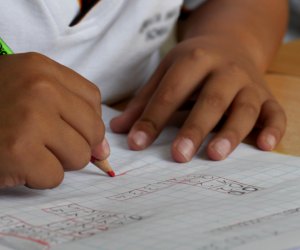 NYC Schools Delay Reopening
New York City has pushed back the start date for its public school children to Wednesday, September 16, Mayor Bill de Blasio announced Tuesday. The move is part of an agreement between the city and the UFT, which had long been pushing for enhanced safety protocols before schools reopened, even threatening legal action and laying the groundwork for a strike if its safety concerns weren't addressed.
In-person instruction will not begin until Monday, September 21, meaning all students will start with remote learning.
"This is a great day for every public school student in New York City," said Mayor Bill de Blasio. "We face a return to school unlike any in our city's history, but New Yorkers have made it possible because of their extraordinary work fighting back COVID-19. Our agreement puts the health and safety of our 1.1 million students, teachers, and school staff above everything else. We couldn't be more excited to get our young people back to the classrooms where they learn best."
Educators are expected to return to classrooms Tuesday, September 8, but now have an additional four days to prepare before engaging students.
"Starting on the 16, there's going to be a three-day transitional period," de Blasio said. "For those three days, instruction will be remote for all students. There will also be additional preparation for teachers and staff. Then, on September 21, Monday, the school buildings open full-strength. We go to blended learning, as has been discussed previously of students coming into the building. What would have happened on September 10 now happens on September 21."
The three-day remote transition period will be utilized to prepare students to engage remotely, review safety protocols, and gauge social-emotional well-being.
In the days leading up to the reopening deal, one of the major demands from the UFT was requiring testing for all individuals—students and staff alike—who entered school buildings. In announcing the deal, Mayor de Blasio acknowledged that a mandatory, random testing program would be instituted.
In October, and all months following, schools are required to randomly test 10-20 percent of their in-school population, both adults and students. Parents will be asked to sign consent forms at the beginning of the year and be notified ahead of time if their child is selected for the random testing.
In addition, the mayor reminded parents and staff members that COVID testing is available free of charge at 200 sites city-wide. Beginning immediately, 34 of those sites will prioritize access to testing for DOE students, teachers, and staff. Results are promised in 24-48 hours.
UFT President Michael Mulgrew, who appeared at City Hall with the mayor and Schools Chancellor Richard Carranza, applauded the efforts. "New York City will now have the most aggressive policies and the strongest safeguards of any school system in the nation," Mulgrew said.