Mayor Says NYC Schools Will Open Despite Educator Pushback
With New York City barreling toward reopening of schools this fall, the plan set forth by Mayor Bill De Blasio and Schools Chancellor Richard Carranza has received plenty of pushback from educators and other stakeholders. The city's hybrid model, which combines in-person and remote learning, may have seen its most vocal opposition this week as some school leaders implored the mayor to reconsider the in-person start date to allow more time for teacher training and planning.
Currently, students are expected back in the classroom on Thursday, September 10; teachers would report just two days prior, which presents a learning curve in setting up classrooms to accommodate smaller, more socially distant seating arrangements, while also tackling the planning challenges of teaching a blended model.
Yet, despite the pressure, the administration seems set on its plans, which were given the green light by New York Governor Andrew Cuomo last week.
On Tuesday, August 11, principals from Brooklyn's District 15 voiced their concerns, asking for an in-person start date of Monday, September 21, and encouraged a phased-in approach to bring students back to school buildings, writing, "We desperately want to return to schools, we know that kids and parents need schools open and rely on us for critical services, but we cannot let that cloud our judgment and push for a hastily planned unsafe return that delivers a mediocre educational experience."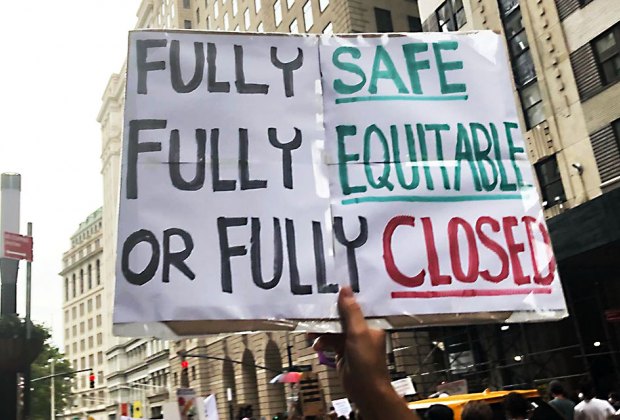 With an increasing number of hurdles to cross, the United Federation of Teachers (UFT) is concerned for the health of their members and students. Photo courtesy of MORE-UFT
In a separate letter Wednesday, August 12, Mark F. Cannizzaro, president of the Council of School Supervisors and Administrators echoed the sentiment, and alleged the union was "without sufficient answers to many of the important safety and instructional questions we've raised on behalf of school leaders and those they serve."
Mayor de Blasio pushed back during his Thursday press briefing, though, saying, "I always listen when my colleagues and labor raise a concern, when folks who are experts in their field, raise a concern. I've been talking to a lot of educators, a lot of parents, but I've also sat down with Michael Mulgrew [UFT president] with Mark Cannizzaro to hear out their concerns. But I think the most important point is that I really believe our schools are crucial for our kids, there is nothing that replaces in-person learning, our school coming back is part of how our whole city comes back and we've been planning for months to start the day we were already planning on as we would have normally. So we'll keep discussing the concerns and trying to address them, but we have a whole month until school begins."
One major concern was also a talking point Thursday as the mayor announced all school buildings would have an onsite nurse by the time school starts. A partnership with NYC Health + Hospitals will allow an additional 400 nurses to be hired and trained to staff school buildings.
For his part, Chancellor Carranza stood firm in his position, too.
"I've been a teacher, I've been a principal," Carranza said. "As a principal, the weight I felt of responsibility for my communities was vast. Not unlike the weight, I feel as a chancellor right now in charge of this entire system. So I get it and I understand why you want definitive answers, but just think about all of the moving pieces associated with the beginning of this school year and how different that is."
While the school year will be undoubtedly different, Mayor De Blasio emphasized repeatedly the importance of getting children back into school buildings for in-person learning but noted there still plenty of work do be done by key stakeholders, even those raising the concerns.
"Right now, all over New York City principals are getting ready, assistant principals, teachers, everyone's getting ready to do their job," De Blasio said. "You can have deep concerns. You can raise tough questions, but people are still going to do their job."
Next on the horizon: Schools are required to submit their schedule selections and reopening plans to the DOE by Friday, August 14; parents can expect to hear more clear scheduling plans for individual schools as soon as next week.
For more information on the 2020-21 school year, or to register for a DOE info session on school reopening, visit the Return to School website.