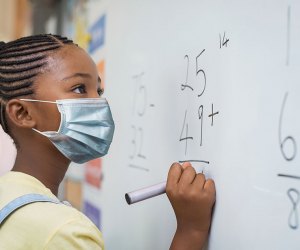 NYC DOE Changes Opt-in Rules for Blended Learning
In a fall marred by more schedule changes than consistency, the New York City Department of Education announced another major change Monday: Parents who had previously opted for remote-only instruction now have just one single two-week period to opt-in to blended learning for the remainder of the school year. The opt-in period runs from Monday, November 2 through Sunday, November 15. Parents had previously been promised quarterly opt-in periods throughout the school year.
The change caught many by surprise and sparked ire from parents concerned about making such a choice at a time when coronavirus clusters have been in the news.
"The pandemic has caused so much uncertainty in every aspect of life, and for families who needed a bit more time to feel comfortable sending their children back, now is that time," said Schools Chancellor Richard Carranza. "This will be the only time to opt-in. Let me repeat that—this will be the only time to opt-in, which is a change from what we originally had said over the summer. We think that this is better for the sake of stability for all students, for families, and educators. So, we urge any family who is considering it to take advantage of this opportunity to do so now."
Students who choose to opt back into blended learning would return to classrooms during the weeks of November 30 or December 7, depending on each school's schedule.
One DOE promise still stands: Anyone who chooses the blended-learning model during this opt-in period can transition to a remote-only schedule at any point during the school year. Parents who wish to switch their learning preference to blended learning during the opt-in period can do so by visiting the Learning Preference Survey on the Return to Schools website.
In announcing the change, Mayor Bill de Blasio emphasized that parents will have ample opportunities to hear from the DOE to have any questions about blended learning answered. The DOE calendar lists a pair of upcoming town halls to begin answering those questions.
One key statistic parents may consider is the coronavirus rate in city schools. The DOE lists the results of its coronavirus testing on its website. The most current data shows a .14% positivity rate, representing 58 positive tests out of 40,963 tests conducted from Friday, October 9 through Sunday, October 25.