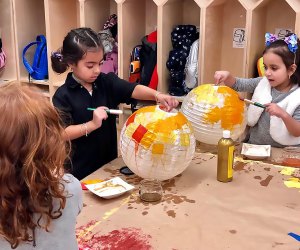 Looking for a Preschool in Chelsea? Start Here.
Are you just a parent, standing in front of a preschool, asking it to let your child in? We know that sometimes conjuring the right preschool fit is almost as daunting as getting your kid into the right college, but the odds are excellent that you'll find a great spot for your little one, and if you're in the Chelsea neighborhood, you're in luck. This famously family-friendly downtown NYC neighborhood offers plenty of wonderful options for preschool-searching parents.
Before you launch your hunt for a preschool in the Chelsea neighborhood, it helps to know what kinds of questions to ask on a preschool tour, and how other NYC parents decided on a preschool. There are also a few terms to know: Our list below sorts preschool options by type, including Traditional Preschools (which follow the NYC school calendar), Year-Round Preschools (which are in session during the summer and holiday breaks), Cooperative (which requre a time investment from parents), Dual-Language (Mandarin and Spanish preschools are popular), Religious, and Montessori or Reggio-Emelia (which both focus on child-led learning). ​
And even though it is strongly recommended that your start your search early (at least a year in advance), remember that spots do open up. Ask about wait lists if you're late to the process or new in town. Good luck!