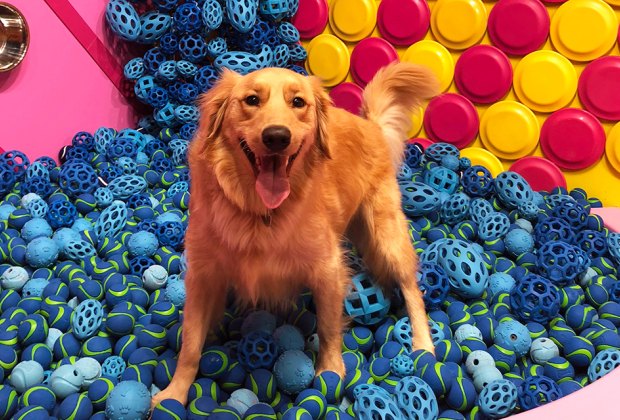 Pop-Up Museum for Dogs and Dog Lovers Opens in NYC
Raising kids in New York City isn't without challenges, but it's certainly never dull. Each weekend, we have the luxury of choosing between a variety of playgrounds, museums, and events—and lately, it seems like the city has been awash in Instagrammable popups. In the past six months alone, new museums and experiences devoted to dreams, candy, color, tea, and even optical illusions have opened here.
But it's New York, which means there's always room for one more cool thing to do. Since my family is always on the hunt for dog-friendly activities, we were excited to check out Human's Best Friend, a new pop-up experience for dogs and the people who love them, located in the West Village. Read on for an inside look at NYC's latest pop-up for pooches—and their paparazzi.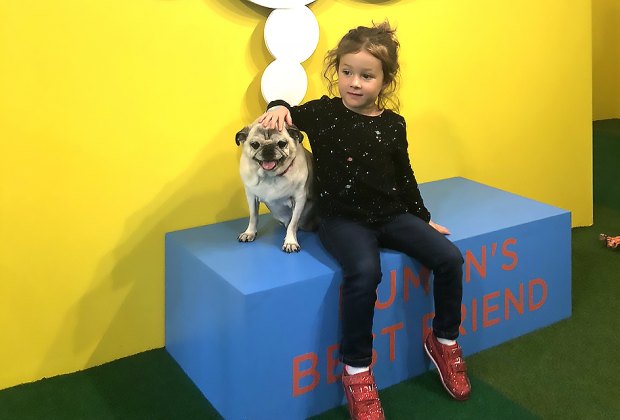 You can visit Human's Best Friend to play with your own dog, or just come for the pets and snuggles. Photo by the author
Human's Best Friend was created to celebrate the love of dogs. Visitors can travel through a series of technicolor environments and play zones. Our personal favorites were the "Toy Pit" (exactly as much fun as it sounds) and the "Water Bowl," a bigger-than-life bowl where your dog can play with more blue tennis balls than he could have imagined in his wildest dog dreams. There is plenty of space for kids and dogs to run around, and an opportunity to climb on mountains of toys and dance through a rainbow tunnel. Get your cameras ready, because it's all just too cute.
My daughter and I were shown around the vibrant space by one of the creators, Brian Tovar, on a gorgeous Saturday afternoon. The place was packed with adorable pups and my daughter couldn't stop squealing with delight. We had our senior pug Lola in tow, who definitely commanded the room.
RELATED: Cat Cafés in NYC Where Kids Can Cuddle, Pet, and Play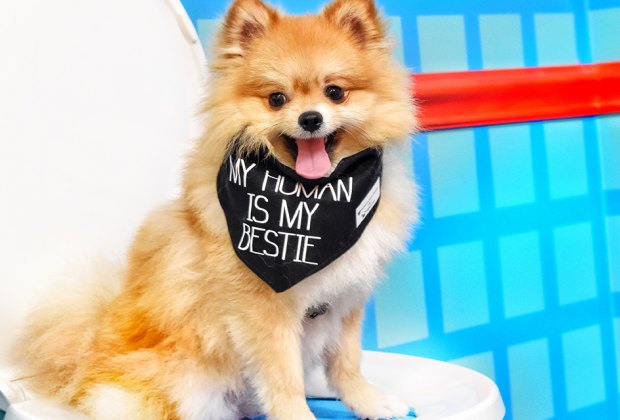 Discover larger-than-life play zones designed for dogs and their humans.
The staff was extremely welcoming and assured me that the exhibit is intended for children and adults alike. Larger dogs are kept away from children and smaller dogs by the staff members in each room. That said, Human's Best Friend is best for kids who are accustomed to being around animals. You don't have to have a dog, so it's perfect for those who want to stop by to get their puppy fix without the commitment.
Weekends are busy, which means more adorable dogs to interact with, but it could also mean standing in line. Saturday visitors get a free BarkBox and weekday visitors receive a Petmate dog toy.
The pop-up has partnered with 12 different rescue organizations and features adoptable dogs in the space for you to snuggle. If you're not in the market to adopt, but want to help out, there are opportunities to volunteer and foster. Ten percent of profits go directly to benefit partnering rescue orgs.
Human's Best Friend is open now through November 12, 2018 at 15 Seventh Avenue at the corner of West 12th Street. The experience isn't cheap. Tickets can be purchased online; prices are $29 per person or $39 for one person and a dog. Kids under 2 are FREE. The experience is open Thursdays and Fridays, from noon to 8pm, Saturdays from 10am to 8pm, and Sundays from 10am to 6pm.
Unless noted, photos courtesy of Human's Best Friend
Human's Best Friend Pop-Up
15 Seventh Avenue
New York, NY 10011