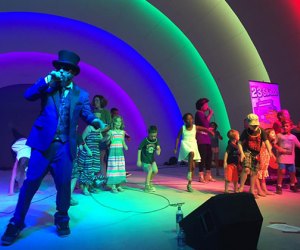 22 Free Outdoor Kids' Concerts in NYC This August
NYC's FREE summer concert season comes to its annual close in August, but it goes out with a bang. We've rounded up more nearly two dozen no-cost shows for families and kids that are worth the time, energy, and travel.
Since most of these performances take place in parks and playgrounds, you can make a day of it by packing a picnic and soaking up some complimentary culture.
Click through to our listings for all the details, including times, locations and recommended ages. Remember, all of these shows are FREE.
Moona Luna at SummerStage Kids – Springfield Gardens, Queens
Monday, August 1
Rochdale Park hosts kindie rocker band Moona Luna, a spinoff of the grown-up group Pistolera. Charismatic frontwoman (and mom) Sandra Lilia Velásquez croons bouncy bilingual tunes that should keep kids and parents bopping long after the last note is played. Can't catch them today? See Moona Luna in Manhattan on Tuesday, August 2, or Brooklyn on Wednesday, August 3.
Michael and the Rockness Monsters at SummerStage Kids–Staten Island
Monday, August 1
Head to Willowbrook Park as SummerStage Kids' jam-packed month of performances kicks off with Preschool of Rock founder Michael Napolitano's feel-good band. Michael and the Rockness Monsters will make the stage disappear and invite the audience on a pirate-like adventure through songs.
RELATED: Free Things to Do with Kids in August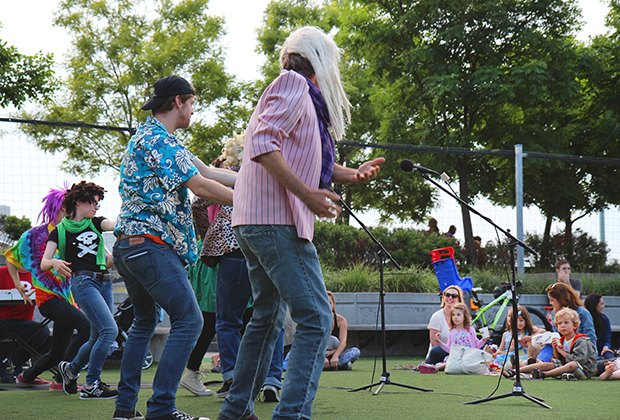 Story Pirates hit Hudson River Park for a round of hilarious children's sketch-comedy musicals. Photo courtesy of the park.
Story Pirates at Hudson River Park's Pier 25–Tribeca
Monday, August 1
This zany troupe keeps audiences of all ages giggling with hilarious sketch-comedy mini-musicals inspired by kids' stories. Arrive early to romp at Pier 25's state-of-the-art playground and mini-golf course.
Hopalong Andrew at the Central Library Plaza – Grand Army Plaza
Tuesday, August 2
Crooning cowboy Hopalong Andrew sings classic cowboy and folk favorites. A one-man band, expect to see him play a guitar, banjo, harmonica, or start drumming on his suitcase during this concert held in the plaza outside the Central Library. Hopalong Andrew also plays Fort Greene Park on Wednesday, August 3.
Winard Harper & Jeli Posse at SummerStage Kids – Sunset Park, Brooklyn
Wednesday, August 3
If you're in the mood for a little swing, head to the Sunset Park Recreation Center for jazzy stylings of Winard Harper and the Jeli Posse. The group also plays Wednesday, August 10 at Martin Luther King Jr. Playground.
Divas 3 Music at SummerStage Kids – Long Island City, Queens
Thursday, August 4
Inspired by the vocal stylings of the Supremes and Martha and the Vandellas, Divas 3 Music brings its soulful sounds to this SummerStage Kids performance in Queensbridge Park.
RELATED: Free Outdoor Family Movies in August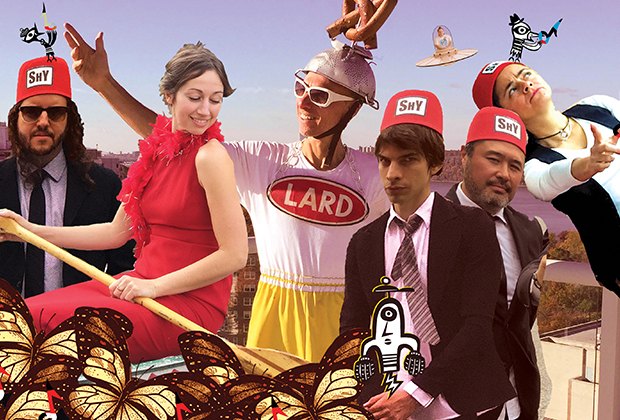 The wacky Lard Dog & The Band of Shy comes to Flushing Meadows. Photo by Steven Erdman/courtesy of the Human Lard Dog.
Lard Dog & The Band of Shy at SummerStage Kids – Flushing Meadows, Queens
Thursday, August 4
Watch as lead vocalist Steven Erdman transforms into his alter ego, the Human Lard Dog, and takes you on a musical journey with his Band of Shy. Prepare to immerse yourself in his absurd world full of catchy tunes and multimedia elements sure to entertain audiences old and young.
Broadway in Bryant Park – Midtown
Thursdays, August 4 & 11
Head to Bryant Park for a lunchtime concert featuring the stars and music of Broadway. Come on August 4 for performances from Beautiful, An American in Paris, Avenue Q, and Holiday Inn. On August 11, hear music from Phantom of The Opera, Something Rotten, Cagney, and Ruthless.
Alastair Moock at Summer on the Hudson – Upper West Side
Thursday, August 4
Riverside Park South wraps up its weekly performance series with a visit from Grammy-nominated artist Alastair Moock. Moock's music runs the gamut of genres, and he promises an entertaining time for "the whole family: kids, parents, even discerning pets."
Mil's Trills at SummerStage Kids – Staten Island
Friday, August 5
Be prepared to chip in at this show at Bloomingdale Park: Mil's Trills leads an interactive performance that invites audiences to join in with her music and, most importantly, to make new friends with fellow fans.
Shira & Friends at Pier Kids Performance Series – Brooklyn Bridge Park
Sunday, August 7
Vocalist Shira Kobren closes out this summer performance series with a rocking, interactive concert that will get kids and grown-ups alike up and grooving. Its mix of original diddies and all-time favorites will put a smile on your face as you wile the day away. Catch Kobren on Tuesday, August 9 at the Central Library Plaza in Brooklyn.
Secret Agent 23 Skidoo at SummerStage Kids – Springfield Gardens, Queens
Monday, August 8
Secret Agent Skidoo takes over the SummerStage at Rochdale Park, offering a quirky combination of hip-hop, fun, and witty lyrics to share his Grammy-nominated music with the masses. Also playing Thursday, August 11 at Van Cortlandt Park.
Harlem Swing Dance Society at Live at the Archway – Dumbo
Thursday, August 11
Dance the evening away underneath Manhattan Bridge as the Harlem Swing Dance Society takes to the stage and floor. Lessons are included in this outing. If you can't make it tonight, catch one of the other Live at the Archway performances, taking place Thursdays through September 29.
Great Jazz on the Great Hill – Upper West Side
Saturday, August 13
Head to Central Park's Great Hill to catch the Jazzmobile for an afternoon of jazz, swing and blues. Pack a picnic or indulge in the onsite food trucks. Whatever you do, plan to stay and sway to the music and enjoy the on-site family activities.
SummerStage Family Day at East River Park – East Village
Sunday, August 14
Celebrate the music of Earth, Wind and Fire with DJ Spinna and enjoy a concert by kid-friendly R&B band Shine and the Moonbeams at this SummerStage production.
Rolie Polie Guacamole at Hudson River Park's Pier 25 – Tribeca
Monday, August 15
Sure, the name is goofy, but this Brooklyn-based band is serious about making quality kids' music, with whimsical, NYC-centric songs, including "Don't Poop on Me Pigeon" and "Botanic Garden" that fuse folk, classic rock and ska. Rolie Polie Guacamole plays Tuesday, August 16 at Brooklyn's Central Library Plaza.
Shine and the Moonbeams at SummerStage Kids – Flushing Meadows, Queens
Thursday, August 18
If you missed this kid-friendly R&B band at SummerStage's Family Day in East River Park, catch it today as it headlines its own show. Can't get enough of its soulful sound? Catch the band on Tuesday, August 23 at the Central Library in Brooklyn.
Robbi K & Friends at SummerStage Kids – Staten Island
Friday, August 19
Bloomingdale Park provides the backdrop for a joyful, jamming jazz session with Robbi K & Friends. Enjoy classic and original songs as well as jazz's trademark improvisation in this fun-filled concert that will get audiences off their feet and bopping around.
Funkytown Playground Band with Aly Sunshine in Bryant Park – Midtown West
Saturday, August 20
Head to Bryant Park's reading room for this book-inspired sing-along with fun and educational music based on the book Free to Be...You and Me.
RELATED: August GoList: Best Things to Do in NYC with Kids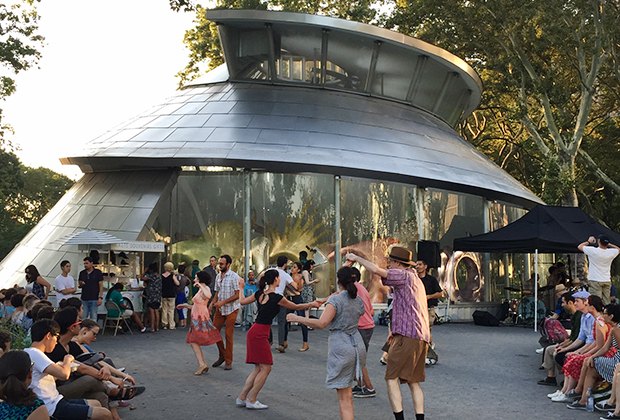 Listen and dance to swing music, then take a turn on the carousel. Courtesy of SeaGlass Carousel.
Ethel String Quartet at Live at SeaGlass – Battery Park
Sunday, August 21
One of our favorite new new kiddie attractions introduced this weekly concert series in July. While not expressly aimed at kids, all ages are welcome, and this performance takes place at a more family-friendly afternoon time than its usual Friday night affairs. Of course, you'll be hard-pressed to get the kids to settle in for Ethel String Quartet's jazz if you don't shell out for a spin on the carousel. But let's face it, that's a small price to pay for some culture!
Singin' Stories with Caroline Cutroneo – Staten Island
Friday, August 26
Join librarian Caroline Cutroneo for this story-time-turned-concert and raise your voices in unison to bring some of your favorite books to life at the Greenbelt Nature Center. Cutroneo brings her musical story stylings to the site every Friday in August.
One Love Gospel Ensemble at Harlem Meer Performance Festival – Harlem
Sunday, August 28
Hosted by the Central Park Conservancy, music takes center stage every Sunday in August. Come at month's end for an afternoon of gospel, ranging from traditional to modern classics.
Find more FREE seasonal activities in our Summer Fun Guide.
This post, originally published in August 2015, is updated annually.
Top image: Past performance of Secret Agent 23 Skidoo. Photo courtesy of the band.