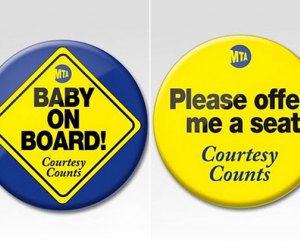 MTA Hands Out Baby on Board Buttons to Pregnant Straphangers
When a female subway rider offered her seat on the uptown 6 train to one of our Mommy Poppins editors who was well into her third trimester of pregnancy, the gentleman beside her suddenly came to life.
"Oh sorry, didn't know if you were pregnant or just fat." Dude. A new MTA pilot program launched on Mother's Day 2017 aims to clear up that, ahem, confusion.
The Metropolitan Transportation Authority, which includes NYC's subways and buses, but also the Long Island Rail Road and Metro-North Railroad, will provide two types of wearable buttons for anyone who requests them due to a temporary or permanent disability: "Baby on Board!" or "Please offer me a seat." Both buttons carry the slogan "Courtesy Counts," and are designed to "encourage customers to move their feet and offer a seat for pregnant riders, seniors and those with a disability who are seeking seats," according to a MTA statement.
The bright yellow, standard-size buttons are expected to provide an immediate visual cue, so fellow train and bus riders know the individual hovering nearby would appreciate a seat, and not just the designated "priority seats" for those with disabilities, but any seat. Anyone can request a FREE button by filling out a form at http://mta.info/courtesy. No documentation of your condition is required.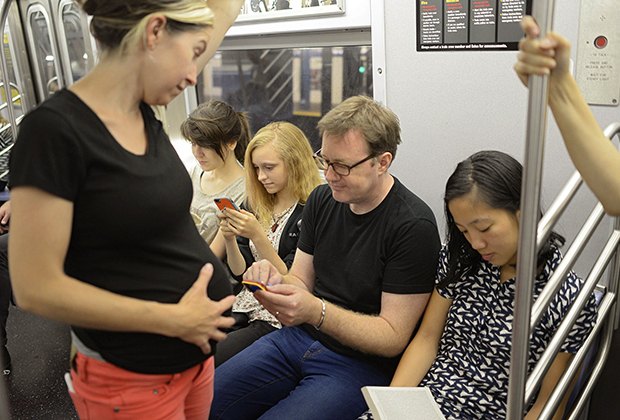 On the subway's increasingly crowded trains, it can be hard to score a seat, even while pregnant. Photo by Richard Yeh/courtesy of WNYC.
Pregnant New Yorkers who might have an achy back, feet, or pelvis, nausea, dizziness, unsteadiness on their feet (let us count the ways!), have seen all the excuses as they've entered a crowded train: suddenly everyone is asleep, or deeply engrossed in their phone, tablet, or book. No one looks up. One of our writers rode the F train from Brooklyn into Manhattan for her final prenatal checkup at 41 weeks. Not a single person rose to give her a seat. "These buttons are seriously overdue," she says.
No penalties will be doled out as a result of the program, and it is only a pilot program, running just until Labor Day. Yet, it is yet one more step in the MTA's ongoing courtesy program, "Courtesy Counts," which has delivered frank signage to passengers like "Don't Be a Pole Hog" and "Stop the Spread," aka manspreading. As the country's largest metro system, perhaps it's a trend that will catch on?
"I'm optimistic," Beth DeFalco, chief spokesperson for the MTA, told Mommy Poppins. "I think that New Yorkers want to be courteous. I think this removes that awkward conversation of having to ask, "I'm sorry—Are you pregnant?"
DeFalco says the agency will use the pilot program to gather feedback from riders and that it will assess whether or not to extend it past Labor Day based on that feedback and reaction, as well as how many buttons are ordered and other variables.
Ordering your button? Take a selfie with it, and share it with us on Facebook. #BabyOnBoard
Top image: Passengers of the MTA can choose from among two buttons. Image courtesy the MTA.