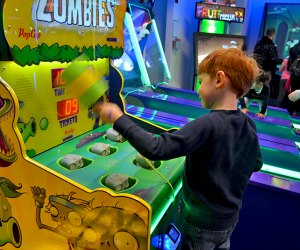 9 NYC Arcades for Kids Birthday Parties
Arcades are an ideal place to celebrate a kid's birthday. Blinking lights, spinning wheels, ringing bells, and mechanical jingles give arcades a festive atmosphere, and the assortment of amusements offers something for everyone. Even if your child isn't the biggest video game enthusiast, most gaming parlors offer air hockey, skee-ball, and basketball games, too—some even have laser tag, escape rooms, or other challenges. These kid-pleasing party spots are full service, so hosts only have to provide a cake or cupcakes. Many offer games that award tickets redeemable for prizes to fill a goody bag.
Our list of nine arcades for kid birthday parties features spots across New York City, from Manhattan to Staten Island, plus a mobile arcade that comes to you. Read on for all the details.
Looking for more birthday party ideas? Check out our NYC Party Guide or directory of birthday fun suppliers.
Chinatown Fair — Chinatown
8 Mott Street
This NYC institution, made famous for its tic tac toe-playing (and winning) chicken, opened in the 1940s. The arcade was closed for a revamp in 2012, and while the new space isn't the slice of nostalgia grown-ups remember (most noticeably, the chicken has retired), today's kids don't seem to mind. The modernized Chinatown Fair offers 40 games, including Guitar Hero and Jurassic Park, along with skee-ball, driving games, and shoot-'em-up games, plus tabletop games such as air hockey. Birthday parties require a 10-kid minimum and cost $15.99 per guest. The standard package includes a $35 game card, a slice of pizza, and soda for each guest, some decorations, paper goods, and 1,000 tickets for the guest of honor at the prize redemption area. Hosts supply cake or cupcakes and are welcome to bring additional food and beverages. The standard party is held during the arcade's regular hours; private parties can be booked for an additional fee.
RELATED: 16 Great Parks and Playgrounds for NYC Kids' Birthdays

Chuck E. Cheese's arcade may be the closest thing to kid nirvana ever invented. Photo courtesy of Chuck E. Cheese
Chuck E. Cheese's — City wide
Multiple locations; visit the website for the location nearest you
When my son turned 5 he begged for a Chuck E. Cheese party. He had been invited to so many at the restaurant/arcade, it was almost a coming of age for the kindergarten set. The dining area is surrounded by video and arcade games and a playground. Booking a party here couldn't be easier; everything is done on its website. While hosts furnish the cake, Chuck E. Cheese provides everything else. Three packages ranging from $19.99 to $29.99 per child include pizza and unlimited soda, at least 30 play points for each guest, festive paper goods, and a reserved semi-secluded space for two hours. My son loved his party, especially his trip to the ticket blaster to snatch up what he could for the prize redemption area. Buy extra play points as those 30 go fast.
Dave & Buster's — Times Square
234 West 42nd Street
When kids have outgrown Chuck E. Cheese, it may be time to move on to Dave & Busters. Parties are similar in style but with a more grown-up vibe. Dave & Buster's has hipper games, and more of them; tween-appealing food options such as sliders, pretzel dogs, BBQ potato chips, and soda served tableside in a 2-foot tube all with flashy Times Square ambiance. We hosted my son's 11th birthday here, and while it was chaotic, he and his friends loved it. Parties start at $23.49 per guest and include food, beverages and $10 worth of game play. Cakes are available for an extra fee. Get a package offering as much game play as possible and consider economizing on the food. In my experience, kids don't care too much about eating when video games are available. Beware: Party package prices listed on the Dave & Buster's website are not for NYC. Parties here are more expensive. Reservations can be made online with your preferred date, time and options, and are confirmed in minutes.
Funtopia USA — Middle Village, Queens
66-26 Metropolitan Avenue
This old-school arcade and play center doesn't offer straight gaming parties, but has 150 kid-favorite amusements on site, including bumper cars and a bowling alley. Each party package includes game tokens. Kids enjoy a 20-minute disco dance, unlimited time in an age-appropriate play space, pizza, and soda. Parties range from $405 to $485 for 11 children. Goody bags and extra bells and whistles are included at the higher price. Parents supply the birthday cake.
RELATED: 10 Birthday Party Spots for Thrill-Seeking NYC Kids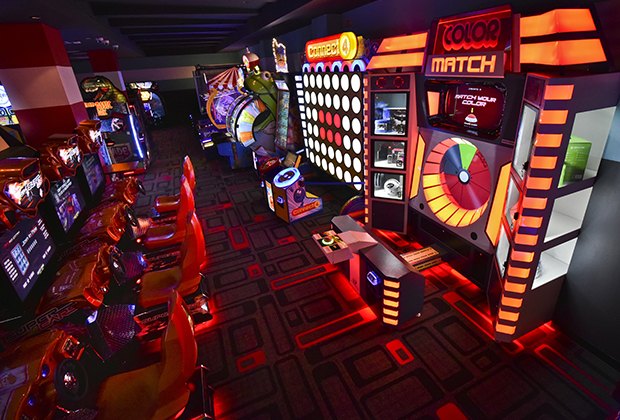 Hit the arcade at Bowlmor Times Square for a bowling shindig. Photo courtesy of Bowlmor
Bowlmor — Chelsea, Times Square
Chelsea Piers, Pier 60, West 23rd Street at the West Side Highway
222 West 44th Street
Both Bowlmor locations offer arcades games along with their namesake bowling. The Chelsea Piers venue has a small arcade adjacent to the laser tag arena and Times Square's third floor houses an arcade. While neither location offers a standalone arcade party, all bowling parties include electronic cards for the games and time to give them a spin. Parties start at $38.99 per child and include bowling shoes, alley rentals, food and beverages, and $5 worth of arcade play. Additional arcade games can be purchased separately. Book a party online.
Fun Station USA – Staten Island
3555 Victory Boulevard
This one-stop romping spot that's been around since the 1980s offers a video game arcade, batting cages, small carnival rides, ball courts, a virtual reality simulator, and a gated toddler area. It offers a variety of options, including an arcade-focused package, where each guest gets 40 tokens for game play. The arcade party also includes a ride on the virtual simulator, three additional carnival rides, pizza, soda, and ice cream cake. A 10-child party starts at $349.95 on weekdays and $379.95 on Fridays and Saturdays.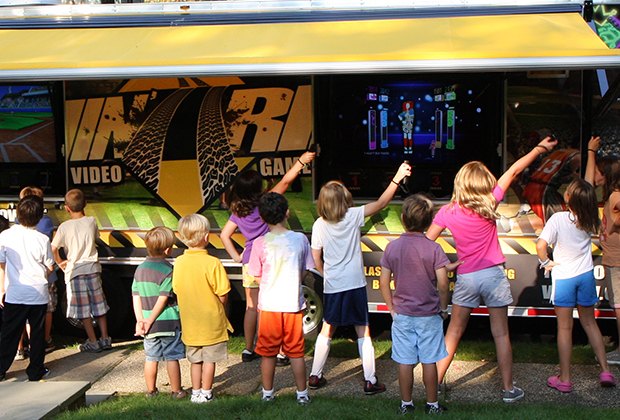 Kids can play outdoors or inside during a party with the mobile Gamin' Ride bus. Photo courtesy of Gamin' RIde
Gamin' Ride — Anywhere you want!
888-36-GAMES
This party comes to you, provided you have somewhere to park the 55-foot Mobile Video Game Theater. The unit is too big for most driveways and the company prefers to park street-side anyway, which is great for city dwellers lacking access to a driveway. Consider negotiating with a business owner, religious organization, or park to let you park it for a few hours. It may require some scouting. The unit comes with 16 vibrating seats, consoles, and a library of popular video games, plus several televisions outside so more kids have a chance to play. Food and beverages are not included, nor are they allowed in the theater.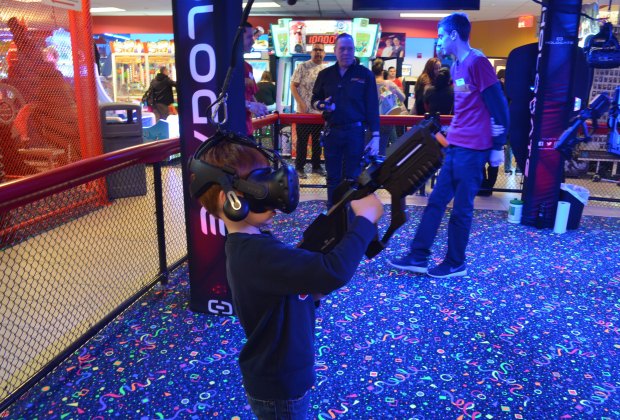 Children and adults will have tons of fun in Hologate Virtual Reality. Photo by Sydney Ng
Laser Bounce — Glendale, Queens
80-28 Cooper Ave
In addition to a bounce area, laser tag, and virtual reality, this Queens spot has an impressive arcade. Kids can enjoy classics like Pac-Man and Skeeball, as well as newer favorites. Party packages for a group of 10 children start at $299.95 and include 45 minutes of unlimited games and 60 credits for prizes.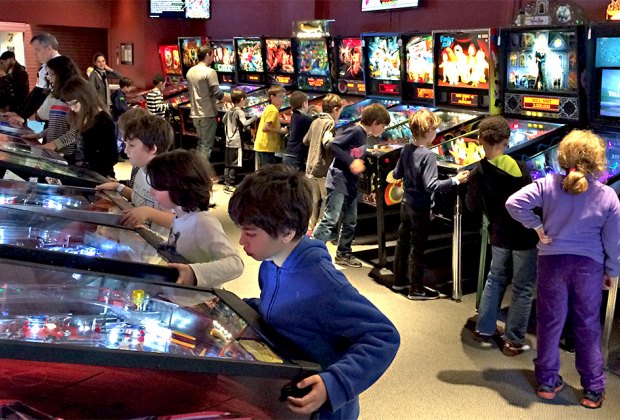 Kids of all ages can get in on the action at Modern Pinball. Photo courtesy of Modern Pinball
Modern Pinball — Kips Bay
362 3rd Avenue
If you have a kiddo who loves pinball, look no further than the Modern Pinball Interactive Museum and Party Place. With over two dozen modern and classic pinball machines, kids will be well entertained. Semi-private parties for 10 children start at $459 and include unlimited gaming on all machines. This spot has a VIP party room and more expensive packages if you want to add food and decorations.
This post, originally published in April 2016, has since been updated.