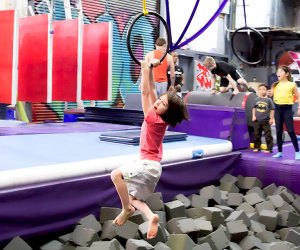 10 Heart-Pumping, Thrill-Seeking Activities for NYC Kids
I've got three kids with three decidedly different personalities. Even though my youngest is just a toddler, it's clear she's a daredevil at heart, never content to sit still for long and always looking for a challenge sure to scare me. She's already got me thinking of activities to thrill her spirit—safely of course. If you've got a like-minded child who refuses to keep her feet on the ground and operates at hyper-speed, New York City is filled with activities to satisfy young thrill seekers, from rock climbing to surfing to trapeze and more. Read on for 10 activities that will get kids' hearts (and yours!) pumping.
Get a Vertical Workout: There are a handful of indoor rock-climbing gyms that host sessions just for kids and families. One of our favorites is DUMBO Boulders, which offers a summer camp and group lessons. Meanwhile, Everyday Athlete's Brooklyn Height's location has family open climb sessions on weekends, and also offers kids' classes, birthday parties and camp.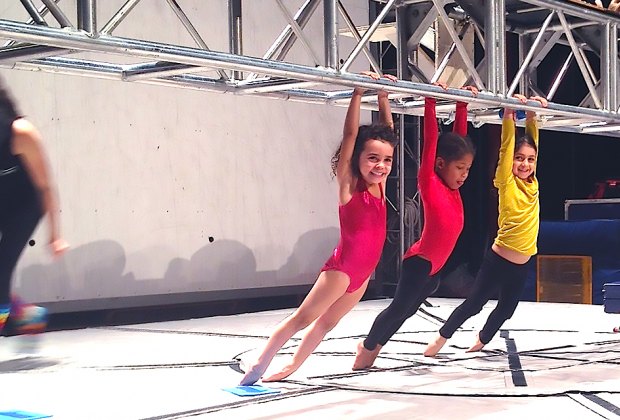 Kids can explore all the amazing things their bodies can do at STREB Extreme Action Company. Photo courtesy of STREB
Swing Through Space: Aerial arts are so popular in this city, we've already written a whole post about classes in which young ones can learn how to fly and flip through space. Most spots offer more than just trapeze; kids can learn to defy gravity on other apparatuses like silks, ropes and the aerial hoop, a.k.a. lyra. The STREB Extreme Action Company also offers "Kids Popaction" classes where young movers get to explore how their body moves through a combination of physical conditioning, daredevil stunts, acrobatics and aerial arts.
Go to Battle: Grab your (fake) gun and suit up for a friendly family laser tag battle. NYC is home to five laser tag arenas, including Staten Island's Indoor Extreme Sports, an offshoot of the Long Island City, Queens mainstay. Live in Manhattan? Bowlmor Chelsea Piers has a smaller laser tag course featuring replicas of NYC landmarks.
Channel Your Inner Ninja: If you've got an American Ninja Warrior wannabe, this is the sport for you. During the warmer months, NY Parkour sponsors classes at the East River Park Amphitheater on the Lower East Side. If you can't wait, check out the indoor classes at Williamsburg's Brooklyn Zoo. No, we're not talking about the place with the animals in Prospect Park; this 4,500-square-foot facility offers parkour classes for kids and school-break camps, plus open gym time to children who've been instructor-approved.
Embark on an Outdoor Adventure: If your kid prefers the great outdoors to extreme sports, the Urban Park Rangers have many engaging programs, from wildlife walks, to overnight camping in city parks, to canoeing, hiking and wilderness survival classes. Space is always limited and advance registration is usually required. See the Urban Park Rangers' registration page for upcoming outings.
RELATED: The NYC Tween Go List: 14 Adventures to Conquer Adolescent Eye-Rolls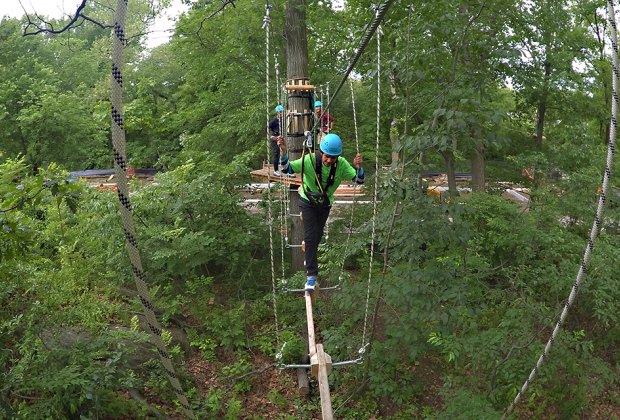 Climb among the treetops at the Bronx Zoo's Treetop Adventure. Photo by Megan Maher
Conquer an Adventure Course: If your children are age 8 or older, head to the challenging ropes course at Alley Pond Park Adventure Course in Queens. Participants work together to scale high- and low-ropes courses, perform trust falls and fly across the zip line. Families can hit the course for FREE on Sundays at 9:30am and 1pm, May through October, weather permitting. Note that in July and August, advance registration is required. Or head to the Bronx Zoo to try the Treetop Adventure featuring ropes courses and a zip line that runs more than 400 feet across the Bronx River and back – 50 feet above the water!
Catch a Wave: No, you don't have to head to the Jersey Shore or a more tropical locale to get your water sports on. Rockaway Beach is the one NYC shore where surfing is permitted. If your kids are new to the sport, a handful of places offer surfing lessons in season. Or you can try it on your own with a rental board from Rockaway Beach Surf Shop. After all, who has room to store a surfboard in a tiny city apartment?
RELATED: Brain-Boosting Playgrounds That Build Mental and Physical Skills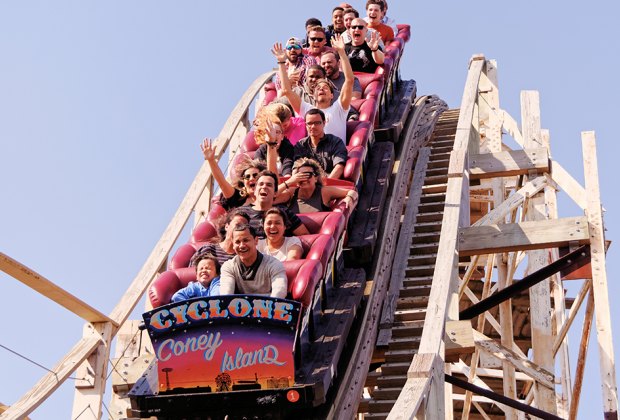 This classic roller coaster never disappoints! Photo courtesy of Coney Island
Take a Spin on the Cyclone: Have a need for speed? Look no further than Coney Island, where kids can ride the historic Cyclone roller coaster, an experience so special, it's No. 28 on our list of 100 things to do in NYC with kids. Of course, Coney Island has plenty more thrills, from the Wonder Wheel to the Thunderbolt.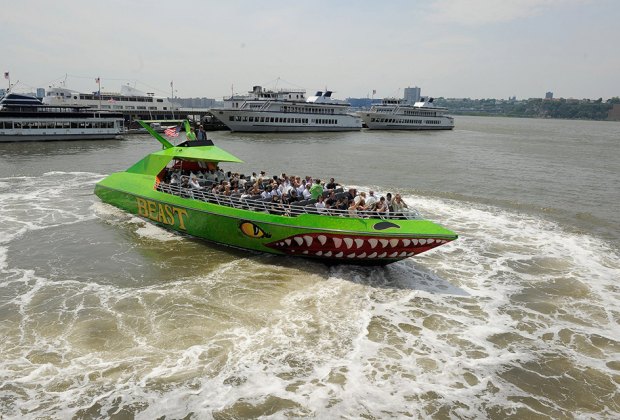 Speed along the Hudson River on The Beast. Photo courtesy of the Circle Line
Hit the Water: You've no doubt seen the Circle Line Cruises peacefully sailing around Manhattan, but there's no thrill in that. Instead, take a wild ride on The Beast (from midtown) or The Shark (from Battery Park). Each speedboat ride whisks you around New York Harbor for 30 minutes worth of wild, wave-pounding fun. Save this for a hot day, because you will get wet!
Take Flight: My husband purchased a helicopter ride for my birthday a couple of years ago, and while it was definitely a bit terrifying for me, it was an experience I loved sharing with my son. I'll never forget the view of the Verrazano-Narrows Bridge, or how incredible NYC looked from above. Several firms offer helicopter tours from the Downtown Manhattan Heliport, which will take you on tours of varying lengths.
Bonus: many of these thrilling options offer birthday parties. Book one and you'll be the coolest mom in town!
A version of this post was published in 2015; it has been updated. Ros Muggeridge contributed additional reporting.