Best Things To Do in NYC in September 2021 With Kids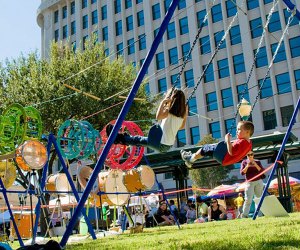 Ah, September. The kids are heading back to school, Rosh Hashana and Labor Day collide, Broadway is reopening with live theater, and the Richmond County Fair returns with rides, games, and plenty of live music. We've found many more things to do, too, including the Big Umbrella fest popping open at Lincoln Center. Smithsonian Museum Day returns after a bit of a hiatus, and the Union Square CAMP store is launching kids into outer space.
We'll keep your weekends focused on fun with our Activity Calendar, and our Fall Fun Guide is ready for the change of seasons, too.
As always, if an event piques your interest, click through to our listing for all the details, including addresses and times. And keep in mind: Really cool things to do with kids often book up quickly, so register or buy your tickets ASAP.
Subscribe to our newsletters to get stories like this delivered directly to your inbox.