Best of September: Top Things To Do in NYC with Kids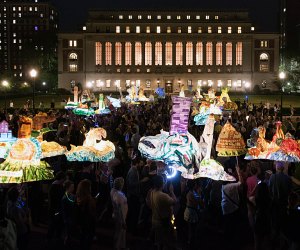 Labor Day kicks off September's activities, launching New York City's season of apple picking, fall festivals, pumpkin patches, and corn mazes.
The kids are heading back to school, but there's still plenty of time for fun. The Richmond County Fair, the West Side County Fair, and the Queens County Fair all return with rides, games, and plenty of live music, unicycles are wheeling all over town, and trains are parading through Brooklyn.
All that, and the Big Umbrella fest is popping open once again at Lincoln Center, Smithsonian Museum Day invites families to explore some of NYC's favorite museums for FREE, and Morningside Lights sparkles in Morningside Heights
Looking to get away? We've found 30 fall day trips from NYC. We promise to keep your weekends focused on fun with our Family Activity Calendar, and our Fall Fun Guide is ready for the change of seasons, too.
Get our picks for every weekend in your inbox—sign up for our newsletters.
As always, if an event piques your interest, click through to our listing for all the details, including addresses and times. And keep in mind: Really cool things to do with kids often book up quickly, so register or buy your tickets ASAP.