Our Ultimate NYC Bucket List is Now a Free Printable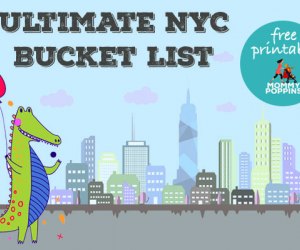 What should we do today? It's the age-old dilemma anyone with kids faces. And even though New York City is seemingly overflowing with things to do, somehow it's still possible to feel at a loss.
Of course, we hope our website, event calendar, Go Lists, newsletters and many guides help you find inspiration whenever you need it, but we also know that sometimes you just want the answer to stare you right in the face. That's why we've made our most popular 100 Things to Do with NYC Kids Before They Grow Up list into a handy printable sheet that you can stick on your fridge (or wherever people stick things now that fridges are often stainless) and access at any time. We've cut down the list to just the top 50 things that are doable on any given day (although some are seasonal). If you need details on the activity just go to the short URL listed on the page and you can click to find all the deets for your activity.
We hope this will inspire you to try some things you haven't done, help you fill an empty day with something awesome, and make it even easier to remember you live in the greatest city in the world! You can download or print our FREE Ultimate NYC Bucket List PDF here. Just click the printer button in the top right to print or click to download to your computer.