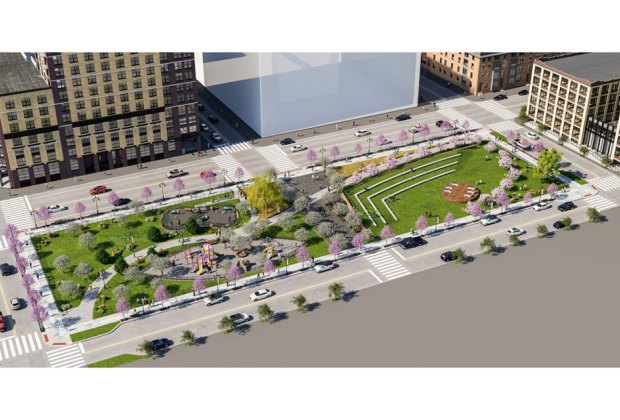 New Playgrounds, Splash Pads, Skate Park Coming to Jersey City in 2020
If you're dreaming of warmer weather and spending time outdoors, put these new and upgraded Jersey City parks and playgrounds on your radar: Families will have several new and improved playgrounds with splash pads and toddler-friendly features to enjoy in 2020, along with a new skate park, thanks to upgrades recently announced by city officials.

A 12,000-square-foot skate park is coming to Berry Lane Park. Rendering courtesy of the City of Jersey City Parks Department
Little shredders can look forward to a new Tony Hawk–inspired skate park to open at Berry Lane Park later this year. Funded in part by a grant from the Tony Hawk Foundation, the 12,000-square foot, poured-concrete skate park and pavilion will be the largest skate park in New Jersey. Featuring half pipes, curbs, a backyard bowl, multiple ramps, and A-frames, the skate park is a long-awaited addition to Berry Lane Park. The 17-acre park, located on the site of former rail yards and industrial facilities, is already home to a playground and splash pad, basketball and tennis courts, and a baseball and soccer field.
Coles Street Park
In the rapidly developing area between the Holland Tunnel approach and the Hoboken border, Jersey City has partnered with Manhattan Building Company to construct Coles Street Park, across from SoHo Lofts and the Cast Iron. The 1.5-acre park bordered by 16th and 18th Streets will feature an enclosed playground, two dog runs, a tree-lined path, and a stage for live music and events. The Manhattan Building Company, developer of multiple residential towers in the area, will spend $2 million to construct the park in 2020.
Van Vorst Park
This downtown park is slated for upgrades to the playground equipment and surface, with added shade for the sandbox and a synthetic lawn area.
Pavonia-Marion Park
A major overhaul will include expanding the playground and repaving the basketball courts. Fencing, more trees, benches, picnic tables, and chess tables will also be added.
Canco Park
Located near Journal Square, Canco Park will get a new soft playscape area for toddlers, new fencing and benches, and a charging station.
Ferris Triangle
This Greenville section park will receive a new play structure, splash pad, and fitness loop.
LaPointe Park
LaPointe will get an updated splash pad and solar-powered park benches to provide charging stations.
For even more Jersey City fun, don't miss our highlights of Liberty State Park. And check out all our favorite parks and playgrounds for New Jersey families