Best Roller Skating Rinks in New Jersey for Kids and Families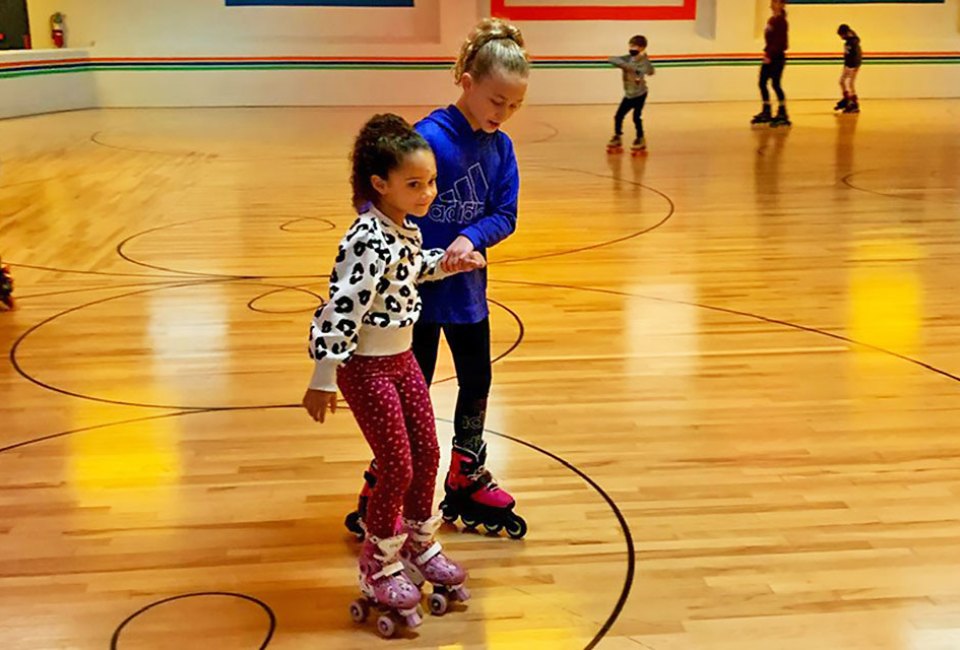 4/21/23
- By
Kaylynn Chiarello Ebner
New Jersey's wonderful roller skating rinks will get the kids moving and serve up a nostalgic reminder of your own childhood.
Roller skating rinks offer the perfect place to throw a rad party or spend a mega-fun afternoon indoors with the kids. Check out the roller skating hot spots throughout NJ that we've rounded up below–Spandex pants are strictly optional. We've got more fun indoor places to play on this list of 40 indoor activities in New Jersey, plus tons more fun in our Guide to Indoor Play Spaces.
Subscribe to our newsletters to get stories like this delivered directly to your inbox.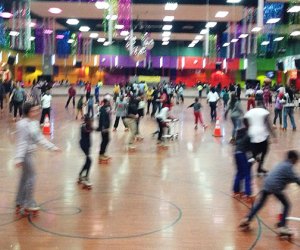 A DJ spins and so can you at the Branch Brook Park Roller Skating Center. Photo courtesy of the rink
Best Roller Skating Rinks in Northern New Jersey
One of the largest roller skating rinks in the tri-state area, Branch Brook offers three-in-one family fun that features a huge roller skating rink (1,000 people can fit at once), a fully stocked cafe, and an arcade. Skate the night away to music played by a live DJ, and enjoy disco lighting at special times. Lessons and birthday parties can be arranged.
Take a step back in time with this old-school roller skating rink, complete with a wooden floor and heavy skates. Public skate sessions are held on Fridays, Saturdays, and Sundays. The rink also offers roller skating lessons (private and group) and a competitive artistic roller skating club.
Skate the day away to music and when you are ready to take a break, they also boast an extensive video game arcade and full service snack bar.
RELATED: 20+ Unique Kids Birthday Party Venues in New Jersey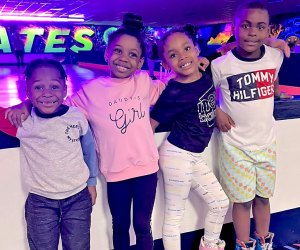 United Skates Jackson has arcade games and theme nights. Photo courtesy of the rink
Best Places to Roller Skate in Central New Jersey
This quaint wooden roller skating rink offers a variety of open skate options; check its Facebook page for times. Admission for parents is FREE during daytime sessions.
From roller hockey to an arcade, this facility has everything to keep a roller skating aficionado happy. Look for "Dollar Day" on Mondays, featuring $1 admission (and $2 Tuesdays!).
This quintessential roller skating rink gives you all the essentials: music, special lights, a snack bar, and arcade games. Themed evenings include family hip-hop and R&B skate.
The outdoor roller skating rink at Roosevelt Park is for ice skating in the winter, but it transforms into a roller skating rink in the spring and fall. Located around the corner from the Menlo Park Mall, this roller skating rink is a perfect way to enjoy the great outdoors. Rolling skating is open from April-June and September-October. Check the site for specific dates and hours.
Woodbridge Community Center is an amazing facility complete with a gym, pool, mini-golf course, batting cages, and—of course—a roller skating rink. In addition to open-skate sessions, quad or in-line skating lessons are available. Encircling the rink is a fun arcade where kids can win tickets for prizes.
Best Roller Skating Rinks in Southern New Jersey
This lively roller skating rink has speed-skating lessons and inline recreational roller hockey.
This huge roller skating rink offers open family skate sessions as well as special events such as costume character skate and roller derby practice.
This is an excellent choice if some members of your family don't like skating because it has games and an indoor play zone ($5 extra) complete with a pretty cool climbing structure! Monday evenings there is hockey and dollar skate, Tuesday is $2 skate, and Friday during the day they host home school skate.
Roller Rinks Near NJ
Just across the border in Pennsylvania and minutes from NJ towns like Phillipsburg, the 115-year-old Bushkill Park recently reopened its roller skating rink. The original wooden floor from the 1920s is still in use, and there are other rides and attractions if you want to make a whole day out of it!
This post was originally published 2013 and has since been updated.
Sign up for the Mommy Poppins Newsletter today!