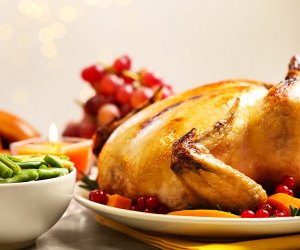 Where to Find Free Turkey Giveaways or Thanksgiving Dinner in NJ
As Thanksgiving approaches, finding gratitude can be a challenge during this overwhelming year. Some families may not have the financial means to enjoy the holiday meal they deserve, but help is available to those in need. Many churches, soup kitchens, and charities throughout New Jersey offer FREE turkey giveaways or full, hot Thanksgiving dinners this season. Read on for details on where to find these services, and if you're fortunate enough to have a full pantry and pocketbook, keep in mind that many of these nonprofits need help more now than ever, so consider reaching out to donate.
In addition to helping families fill their Thanksgiving table, we've also rounded up a collection of resources and organizations ready to supply FREE toys for the upcoming holiday season.
Be sure to click through to each organization's site for full details, including event times, before heading out.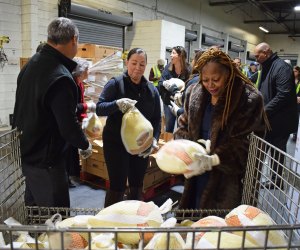 The Community FoodBank of New Jersey works directly with more than 1,000 partner agencies across 11 counties to provide food and other services to their communities. Photo courtesy of the organization
Where to Get a Free Thanksgiving Turkey in New Jersey
Community FoodBank of New Jersey – Hillside
31 Evans Terminal Road #1
CFBNJ's mission is to fight hunger and poverty in New Jersey by partnering with local food pantries, soup kitchens, and shelters. To ensure every New Jersey family has a Thanksgiving meal, CFBNJ hosts its annual Turkey Drive on Saturdays, November 14, 21, and 22, in various locations statewide. Visit the website for donation and pickup locations.
7th Annual Thanksgiving Food Drive of Ocean County – Beechwood
816 Mizzen Avenue
Non-perishable food donations, frozen turkeys, and gift cards are being collected through Thursday, November 19, for Ocean County families. Those who would like to receive food should use the message button on the Facebook page or contact feedoceancountynj@gmail.com to request assistance.
Bradley Food Pantry – Bradley Beach
605 Fourth Avenue
The Bradley Food Pantry provides the Jersey Shore community with bags of groceries five days a week. The pantry distributes turkey and fixings to pre-registered families on Friday, November 20. Contact the organization for information about donating or receiving frozen turkeys.
RELATED: 10 Thanksgiving Dinner Takeout Spots in New Jersey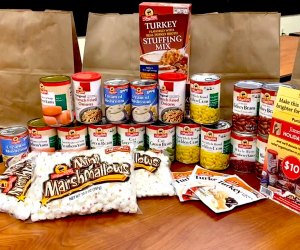 Jimmy Sumas Holiday Meal program donates meals kits to hunger-relief organizations across New Jersey. Photo courtesy of the organization
Jimmy Sumas Holiday Meal Program – Multiple Locations
'Tis better to give than receive with the Jimmy Sumas Holiday Meal Program, which makes it easy to purchase a "holiday meal bag" at your local ShopRite. Meal bags are then distributed to local hunger relief organizations nearby. Donations are also accepted online.
Galilee Baptist Church Turkey Giveaway – Trenton
440 Martin Luther King Jr. Boulevard
Tuesday, November 24
All are welcome at this church-sponsored Thanksgiving free turkey giveaway. There is a one-turkey per family limit.
Charitable Organizations Serving Thanksgiving Dinner in New Jersey
YMCA Raritan Bay Area – Perth Amboy
357 New Brunswick Avenue
Saturday, November 21
Radiant Community Church hosts a generous Thanksgiving Festival with a free hot Thanksgiving dinner accompanied by live music, plus free winter jackets and shoes are distributed.
Faith Community UMC – Bayville
526 Atlantic City Boulevard (US Route 9)
Thursday, November 26
The annual Thanksgiving dinner becomes a takeout meal this season. Meal pickup takes place from 1-2pm on Thanksgiving Day. Please contact the church office at 732-269-9850, and leave your contact information, plus the number of meals you want to pick up. A confirmation call will be returned. If you are homebound and need delivery, accommodations can be made.
Food Bank Network of Somerset County – Bridgewater
120 Finderne Avenue
Thursday, November 26
The Food Bank's annual Thanksgiving dinner becomes a takeout meal this year at PeopleCare Center for Nonprofits. Please reach out to the food bank for information on how to receive or donate food items.
St. Elizabeth Ann Seton Church – Three Bridges
105 Summer Road
Thursday, November 26
The church organizes Thanksgiving takeout meals, featuring turkey, side dishes, and dessert, available between 12-3pm on Thanksgiving Day. Local families may also request delivery. Requests for meals should be made by Friday, November 20, by calling or texting 908-391-0316 or emailing thanksgivingdaydinner@gmail.com.