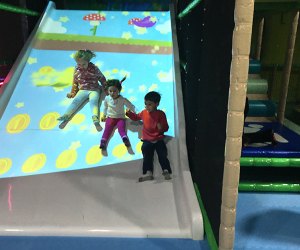 Best New NJ Destinations for Kids That Opened in 2019
As we prepare to count down to the new year, we're looking back at all the wonderful new kid attractions that opened in New Jersey over the last year. We added a few new indoor play spaces, a cool playground outfitted with accessible equipment for kids of all abilities, and a museum dedicated to our iconic symbol of freedom, the Statue of Liberty.
If you didn't get enough shopping during the holiday season, swing by the newly re-imagined Toys R Us store at Garden State Plaza. American Dream finally opened in October—and even though there's only one store open so far, between the amusement park, indoor ice skating rink, and indoor ski slopes, you'll find plenty to do.
Read on for the coolest, brightest, and best new offerings for NJ kids.
New Indoor Places To Play
All In Adventures – East Brunswick
Brand-new to Brunswick Square Mall, All In Adventures takes the traditional escape room experience to new heights. For starters, you check in at an airport-like lobby to choose your room, or adventure. Destinations range in difficulty from the Bermuda Triangle to Houdini's Magic Cell. Once your trip is booked, your crew searches for clues, solves puzzles, and unlocks boxes to find your way out. The room themes routinely switch out, so there's always a new mystery to solve. Look out for Superhero's Adventure coming soon, sure to be hit with your kiddos.
Jungle Jim & Jane – Atlantic Highlands
Cute and colorful, this Jersey Shore indoor play space opened right in time for cold-weather season. Jungle Jim & Jane puts a new spin on indoor playgrounds with unique equipment and high-tech games that let kids go wild and have fun in a safe space. Kids will love monkeying around the play maze, slides, ball pit and tree swings. Dedicated spaces for little ones offer the same thrills as the bigger-kid zones. Come summer, this is definitely a spot to flag as a backup when rain threatens to derail a beach vacation.
RELATED: January GoList: The Best Things To Do with Kids in NJ in January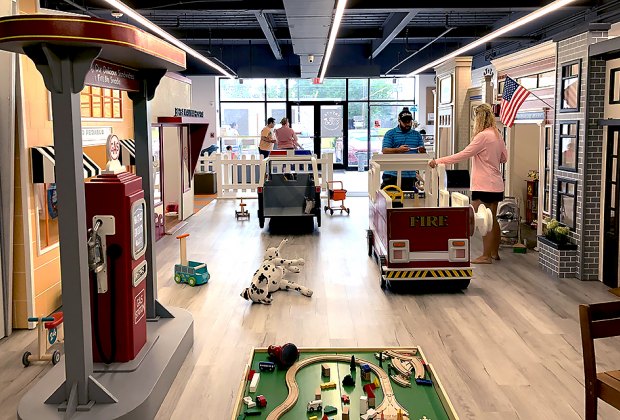 Tay+Te Imaginative Play is an indoor play space for children ages 0-7. Photo by Danielle Hallibey
Tay + Te Imaginative Play – Northvale
Since opening in May, this super clean, creative, and modern indoor play space in Bergen County has been bringing smiles and then some to local families. From the organic grocery store to the animal hospital, pizza parlor to the full-service repair and gas station, the vignettes that make up this kid-envisioned municipality are engaging, enriched, and packed with fun. Open play is held daily, and there's a coffee bar on site for snacks and drinks as well.
RELATED: Free Indoor Play Spots for NJ Kids

All children can benefit from outdoor play at the newly-opened Watsessing Accessible Playground. Photo by Margaret Hargrove
New Outdoor Places To Play
Lake Barnegat Inflatable Water Park – Forked River
Winter has only just begun, but we're already dreaming about summer. If you didn't get a chance to visit last season, a trip to this inflatable water park should be at the top of your next summer must-dos. The "hydro-playground" for swimmers ages 8 and older combines water slides, bouncy climbers, floating balance beans, monkey bars, and more slippery challenges. Opening day 2020 hasn't been announced yet, but it's safe to assume this floating oasis will be ready by the time your kiddos get out of school in June.
Linden Splash Playground – Linden
Another warm-weather favorite we couldn't get enough of in 2019 was Union County's largest sprayground. This 11,000-square-foot water playground opened in May to rave reviews—and even longer lines. The FREE water-ful wonderland has 33 attractions, including slides, sprinklers, sprayers, a dumping bucket, waterfall, pirate ship, and a giant water serpent. We predict even bigger crowds next summer, and since the park only allows 500 guests at a time, we suggest you arrive as early as possible in the day once it reopens in May.
Watsessing Accessible Playground – Bloomfield
All children can benefit from outdoor play in a park or playground, and lucky for us, an accessible playground designed with the needs of kids with physical and developmental disabilities in mind opened last summer in Watsessing Park. With inclusive features such as wheelchair-friendly surfacing and ramps, a seated merry-go-round, special swings, and much, much more—kids of all ages and abilities will enjoy this all-access playground. I should know: since it opened in August, my own daughter has been at least 10 times!
New Places To Shop & Play
American Dream – East Rutherford
After more than two decades—seriously!—American Dream finally opened its doors in October. Well worth the wait, Phase One of the mega-mall definitely caters to the young (or young at heart). The Nickelodeon Universe Theme Park features the steepest roller coaster in the world. There's also an NHL-regulation ice skating rink (The Rink) and a ski and snow park (Big SNOW). A water park, aquarium, LEGOLAND, and movie theater will later add to the excitement. In the meantime, the first of American Dream's 350 retail stores opened in late-December, and it's a department store–sized candy store called IT'SUGAR.
Toys R Us – Paramus
The beloved toy store is back and better than ever. After filing for bankruptcy and shuttering all stores nearly two years ago, the NJ-based franchise bounced back right in time for the holiday shopping season with a grand opening at Garden State Plaza on Black Friday. The new store concept is even more interactive than before. Toys are displayed outside the box so kids can play before you buy, plus there are different stations around the store encouraging kids to learn and play at the same time. Now that the holidays are over, I can't wait to take my daughter for our first visit and relive some of my fondest childhood memories.
New Museum
Statue of Liberty Museum – Liberty Island
If you haven't visited Lady Liberty lately, the 26,000-square-foot Statue of Liberty Museum on Liberty Island offers families a new way to learn the rich history of the 135-year-old structure, and what the iconic statue represents to the country and the world. Kids can take interactive tours, explore smaller statues made from Legos and M&Ms, and even climb a replica of Lady Liberty's feet. The museum is also home to the original torch and numerous touchable artifacts. Admission is included with your ferry ride, no additional tickets or reservations required.