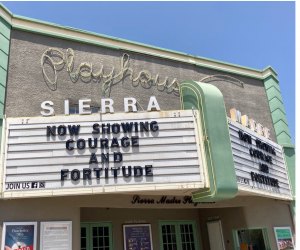 The LA Heroes of 2020 that Helped Parents Survive a Crazy Year
To say 2020 was a tough year for parents is an understatement. Now that it's (thankfully!) nearing a close, we wanted to look back at some of the people, places, and things that helped make it possible to keep some semblance of sanity. Parents suddenly became teachers, chief playmates, and head chefs, and it was not easy. But happily, events got creative, parents got plucky, and kids mastered ways to play and socialize online. So, as we ring in 2021, we just wanted to say a huge THANK YOU to everything that helped us survive a year like no other.
Check out our list of heroes below, and then head over to Facebook to tell us what helped you get through 2020! Or email us, and we can follow up with a post to thank YOUR favorites.
1. The Los Angeles Weather
In the middle of drought season it's more likely to see people doing a rain dance than praising the sunny skies. But in a year that saw indoor events and playspaces close (and then maybe open for a minute, and then close again), the ability to go outside every single day was a gift. Hiking, biking, going to the beach, neighborhood walks—and now skiing and sledding—have been sanity savers for parents and kids.
Thank you to our fine feathered friends who kept kids entertained this year. Photo by the author
2. The Gardens of Los Angeles
Special shout out to the only places that never really closed, the gardens. Like the Arboretum, with 127 acres of ample space to allow social distancing, and plenty of peacocks to provide a little entertainment. And South Coast Botanic Gardens, who gave us all a lovely GLOW. Descanso, with the wishing tree (boy, did we make some wishes).
3. Only in LA Landmarks
In a year when a trip to Trader Joe's passed as excitement, it was remarkable that locals could still do things on any given day that most people only get to do on vacation. Horseback ride under the Hollywood sign? Yeah, that stayed open. So did the swan paddle boats at Echo Park Lake. And even without paying a penny, families could walk alongside landmarks like the Hollywood Walk of Fame or Rodeo Drive—and without the pesky tourists in the way.
4. The Lakers
Thank you Lakers for giving our city something to cheer about! It was a fitting tribute in the year we lost one of our greatest sports figures (we miss you Kobe).
Kids across the city cheered on local heroes to two (count 'em) championships. Photo by Porter K.
5. The Dodgers
And then the Dodgers followed it up with a second championship just a few weeks later. LA bleeds blue!
6. The Bioluminescent Tide
Remember April? It feels so long ago, but the Bioluminescent Tide (algae bloom, red tide, sea sparkle—whatever you choose to call it) reminded us that nature can be cruel with fires and pandemics, but it can also be magnificent. Slipping away to the beach at night to watch the waves roll in electric blue was just about the best thing going.
7. Drive-thrus
The drive-thrus are a totally new phenomenon, one that filled the gap left by haunted houses, tree lightings, and Santa sightings. They saved the two biggest holidays for kids this year! Sure, drive-thru experiences have popped up all over the country, but we suspect that the ones in SoCal are just a little bit bigger and brighter, due to all the Hollywood talent here helping out behind the scenes.
Drive-in movies got everyone out of the house this year! Photo courtesy of CBF Productions
8. Drive-in Movies
While the drive-in flourished in Los Angeles starting in the 1930s, due to skyrocketing real estate prices, they have mostly fallen by the wayside. Well, 2020 brought them back in a big way, as they are the ultimate in socially distanced entertainment. Here's hoping they stick around!
9. CSAs & Farm Boxes
That gorgeous weather we mentioned? Since it's good for growing things, that means California's Community Supported Agriculture boxes are the best and most varied in the country, year round. Getting local fresh fruits and vegetables (not to mention meat, milk, and eggs) delivered fresh weekly is a perk not every city can boast.
10. Farms and Farmers Markets
When we needed to get out of the house, that same fresh fruits and veg could be found on the farm or at local farmers markets.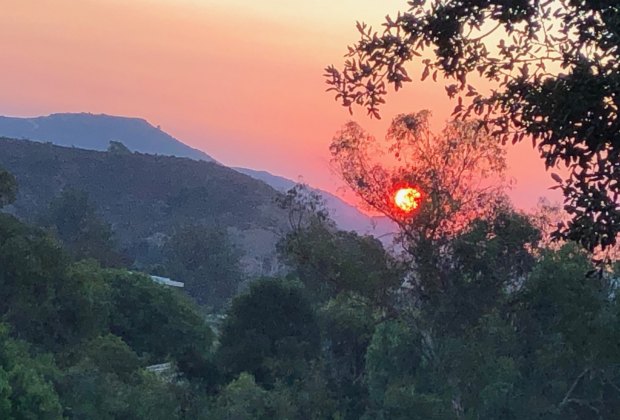 It was worth getting up early to see the sunrise all summer. Photo by the author
11. Sunrise
Yes, the fires made the air unbreathable, but they made sunrises and sunsets eerily spectacular. (Do you have Sunrise, Sunset stuck in your head now? Sorry about that!)
12. LA Restaurants and Takeout
Los Angeles has some of the best, and most varied, food in the world. So supporting local businesses by ordering takeout became a win-win. While hopefully helping a favorite spot stay afloat in tough times, parents could take a break from cooking and eat a variety of fabulous foods. And boy oh boy, did LA eateries get creative, with family feasts, holiday meals, and even cocktails to-go.
13. LA's Car Culture
As Angelenos we live in our cars, so we're used to social distancing. This year cars became important for more than getting around town; for some of us they became escape pods for a little me time (and podcast listening).
Love does rule! Photo by Roberta Brown
14. The Los Angeles Community
People often say that LA isn't a city but a series of intertwined small towns and communities. This year, those smaller pieces came together in peaceful protest and support. The community came out in strength together to march, protest, and even clean up the streets and paint uplifting murals over boarded-up windows. May we never forget that feeling of togetherness as we move forward.
15. Streaming Services
How could we have survived without Netflix, Zoom, Jackbox, Amazon, Disney+ and all the dozens of other ways that media could zip magically into homes to entertain kids (and parents, after the kids went to bed!). When puzzles were sold out and squabbles were at an all-time high, everyone could agree that Baby Yoda was the cutest. When the trip to Grandma's house in the summer got cancelled, she could still read a bedtime book over Zoom, or play Yahtzee or Uno on Skype. And while technically the streamers aren't only for people in LA, most are headquartered here, so we're claiming them.
16. Digital Library Services
Oh, how the library closures hurt. They are places to play, attend storytimes, and check out books and media. But when access to libraries ended, libraries (county and city) began promoting their digital catalogs. For kids who prefer reading actual books, our beloved bookstores got creative with recommendations and curbside pickup.
17. Neighbors
In Los Angeles, we're used to checking on our neighbors after fires, earthquakes, mudslides, and other natural disasters. So it's really not a surprise that neighbors all over Los Angeles helped each other with grocery store trips, sharing baked goods, forming schooling pods, and creating end of driveway jam sessions and cocktail hours. But it sure is heartwarming to experience. We want to give a special shout-out to the neighbors who decorated their houses to the eyeballs, helping to save Christmas.
18. Teachers
This year teachers came in all shapes and sizes. From the amazing ones at our schools who worked tirelessly to learn how to teach kids online, to college kids home from school who helped working parents juggle school schedules, to the free, live tutors available online at LA County libraries—thank you to all the teachers! (And that includes parents who have had to re-teach themselves math this year. Thank you Khan Academy for making that possible. Speaking from experience here...)
The silver lining of online school is that kids have all mastered technology (far beyond their parents).
19. Our Kids
They bravely missed kindergarten (and middle and high school) graduations, 5th grade sleep-away field trips, summer camps, and friends. They made the best of it with drive-by birthdays and socially distant trick-or-treating. They have pitched in on chores, have become their own tech support (because who can figure out Schoology?) and learned to thrive in tough times. In short, they're amazing.
20. Frontline Workers
And of course the biggest heroes of all are our frontline workers! This year that included hospital personnel, firefighters, grocery store employees, delivery drivers, postal workers, pediatricians who diagnosed teething issues over Zoom, busdrivers who literally kept our city moving, and many more people, too. Thank you all!